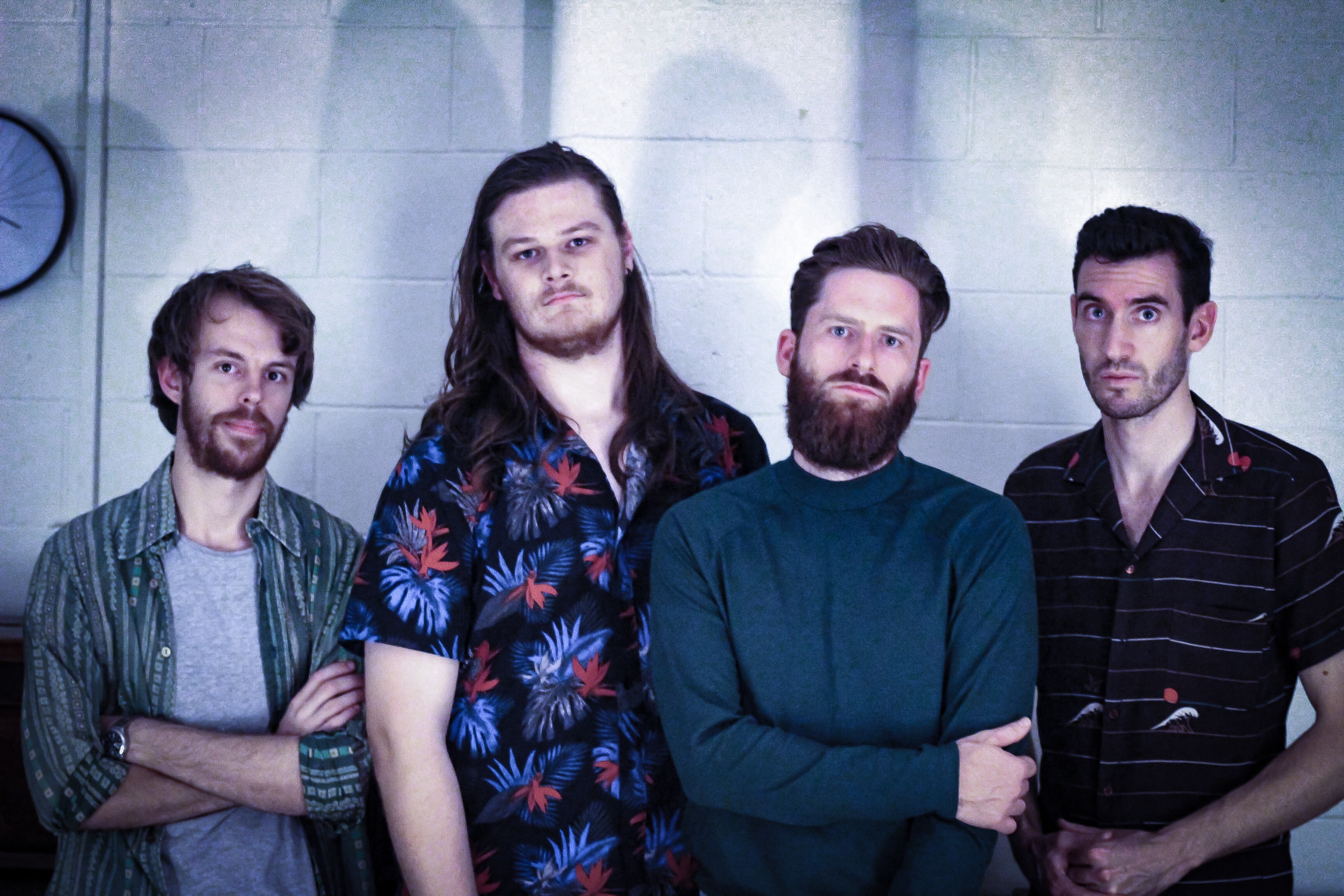 Tiny Castle do more for the guitar-pop genre than simply resurrect it. Their forward thinking approach and social disillusion on their debut single, 'Bad Dreams', has allowed them to move past the threshold and enter a new upper echelon on music royalty in Brisbane. After premiering their debut track, we got to know Tiny Castle a little more.
This is your debut single. As a band, what goals did you have to check off with this first release?
Our main goal was to debut with something that represents the sound we're aiming for, which is loud, raw and a nod to the music we grew up listening to. We're hoping it's well received, if people like it that's a major plus. We also wanted to make sure we had a solid live show to back it up, so we've been working towards getting our live set up to snuff. We also self-produced the single, it was a bit of a test of workflow, but it came together really easily.
As a debut single, is this the purest expression of Tiny Castle's sound? Or is there more exploration to come?
It's a good taster of our current musical tastes, but that's not to say it won't evolve. As a band we're still exploring the various avenues of instrumentation and sounds but Bad Dreams is a great example of what we love writing and our shared unhealthy obsession with the Roland Juno. Our approach to writing is that we don't want to just sound like every other 'rock band', we want to always push the envelope while still being appealing and relatable. We have the freedom of recording at Chris' studio, which means we can experiment and try things in terms of recording without the pressure of watching the clock in a commercial recording studio. We can use the money we would spend at a studio to go towards other equally important things, such as supporting our local brewery's and pizza shops…
The synths in the track are more than a welcome addition. Sonically, why the decision to add synths in with guitars?
Because James owns a Roland Juno haha. But seriously, we felt this was a common thing in music in the '80s and '90s, so it's not a ground breaking concept. We wanted to be a bit different to all of the other 'guitar bands' around and bring back those older synth tones and present them in a fresh and relevant way. Some of our biggest influences are a result of growing up listening to our parent's record collections. Bruce Springsteen, Dire Straights and INXS are some of these bands we listened to growing up and constantly reference while writing and recording. That said we really love and admire bands like The War on Drugs, Something for Kate, Holy Holy, The National and Gang of Youths. As a band we like how big analogue synth tones blend harmonically with guitars and drums, it's something that's been lost a bit but now is being revived.
Coming from two other well-known bands in Brisbane, how does it feel to start from scratch all over again?
It's refreshing because we're playing what we want to without the pressure of appealing to a single audience. Not to say that we weren't playing what we wanted in our other bands but we found that we all have common and contrasting influences and are on the same wave length, plus we're all little bit older and a little bit wiser. It's an opportunity to try new things with the advantage of learning from our mistakes in our previous bands and being able to hit up friends we've made as a result of playing in those bands. It's a really great affirmation for us with all the support we've had in such a short time of being a band and playing shows. Although we've forgotten how tedious it is to setup social media accounts, ABN stuff and other admin things, but it's gotta be done.
The band's inception is noted to come from shared visions. What are those visions?
Like all bands, we hope to play to people who enjoy our music and share the stage with those who we admire. We all work boring day jobs but the dream is, and has always been, to play music with mates full time. Rowlesy had a dream once where he was inside his own dream and it didn't make any sense. We're planning on releasing more music very soon and playing some shows interstate with our friends, and we look forward to making new friends along the way!
You've been around the live scene heaps before this release. What's going to change in the live set now that the single is out, if anything?
Chris' suggestion of wearing skin tight lycra body suits was quickly shot down. We're coming out of the honeymoon phase of being a band so we're really focusing on how we translate live and playing around with different ideas of flow. For example when we play World live, James uses a vocoder to do an ambient extended intro which really captures the audience and sets the atmosphere for the set. We've also been tightening up transitions between songs and paying attention to our set list and how it's experienced by the audience. Ultimately our goal for live shows is to get people dancing and enjoying themselves instead of wishing they were at home watching better homes and gardens.