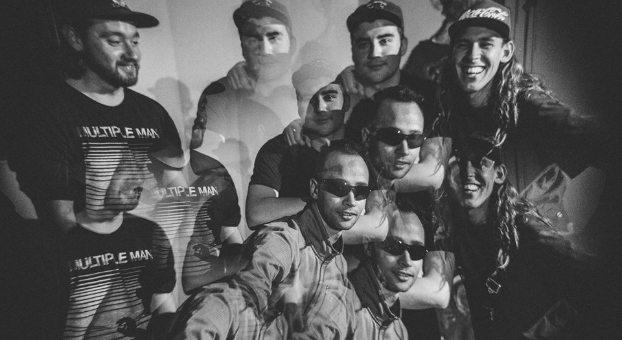 Sydney four-piece You Beauty are coming to the end of their four-date national tour to celebrate the release of their second album. 'Illywhacka', released at the end of 2015, follows in the footsteps of their first concept album 'Jersey Flegg', but this time delves into the murky world of online dating. To celebrate its release, the boys hit Sydney, Melbourne, and Wollongong, with the last stop in Brisbane this Saturday and we had a chance to chat with them before they head our way.
'Illywhacka' has been receiving great reviews, how are you feeling about it nearly 4 months after its release?
Very good thanks for asking. Relaxed actually, it's put there, it's yours, you can do what you like with it, it's your problem now.
Faster Louder described you as "cult heroes", how does it feel being a cult hero?
I guess it's a bit like being a real hero but the paparazzi aren't clued in so we can still go get milk and stuff. It's nice when someone gets a prison style You Beauty tattoo, that's ace. Or when someone travels from Perth to see you play on the east coast, that's a very pleasant feeling.
You released the album on vinyl on January 16th, what made you go down the vinyl road?
Gotta have one for your mum but they only do minimum runs of several thousand. So there's a bit of extra stock so to speak. Also you can't cuddle an mp3 and say 'you are me, I am you' after you spend months and months in the closet recording the damn thing.
You're in the middle of the 'Illywhacka' launch tour, what can people expect from your live shows? 
Much the same as anytime. We were trying to get backup singers but it didn't pan out, keen for next time definitely but this time will be the straight YB experience, any song you want.
Are there any songs you're most looking forward to playing live? 
Everywhere I Wanna Go is quickly becoming the new Off The Bench ('Jersey Flegg'), so that's always a good one to get all the grommets siked. But the slower ones like Can't Say It are a good challenge as well cause it's way easier to play the pumped up ones, you gotta really hold a crowd on a ballad.
What is your best tour memory?
In an old band Flyn asked a 14 yo maccas employee to heat up his jam donut. She put it in the microwave for like 5 mins and when he took a bite the molten jam went all over his face and he was screaming and had horrific burns, wonderful times.
And your worst? 
Next time Flyn ate a jam donut he had it cold. Very boring.
What's your favourite Aussie venue to play?
Played The Tote last week, classic oz rock venue but they have gotten rid of the famous pole in the middle of the floor which is a bit sad. Love a dodgy pub show in Brissy though, vibe before venue ya know?
If you went full diva and could request absolutely anything on your tour rider, what would it be?
This is boring but it's so far away from the reality of us pleading for another jug before an encore that I have no idea? I like hard cheeses, let's go with that. And don't forget the crackers otherwise we ain't going on.
Your Sydney and Wollongong shows were free, which was a nice little treat for fans. Like all good Internet scams, was there a catch?
Yes there was a mandatory tshirt and record spend. They've been pretty good with that.
What is You Beauty getting up to in 2016?
Going surfin, making pottery and chillin with the cat. That's me anyway, couple of shows throughout the year other than that keeping it quiet I reckon. Unless the boys pull some new tunes out and we get siked for the third record…
You Beauty play The Foundry this Saturday, February 13th. Info HERE.