Radolescent Share Some Rowdy Tour Stories After Announcing Upcoming Headline Tour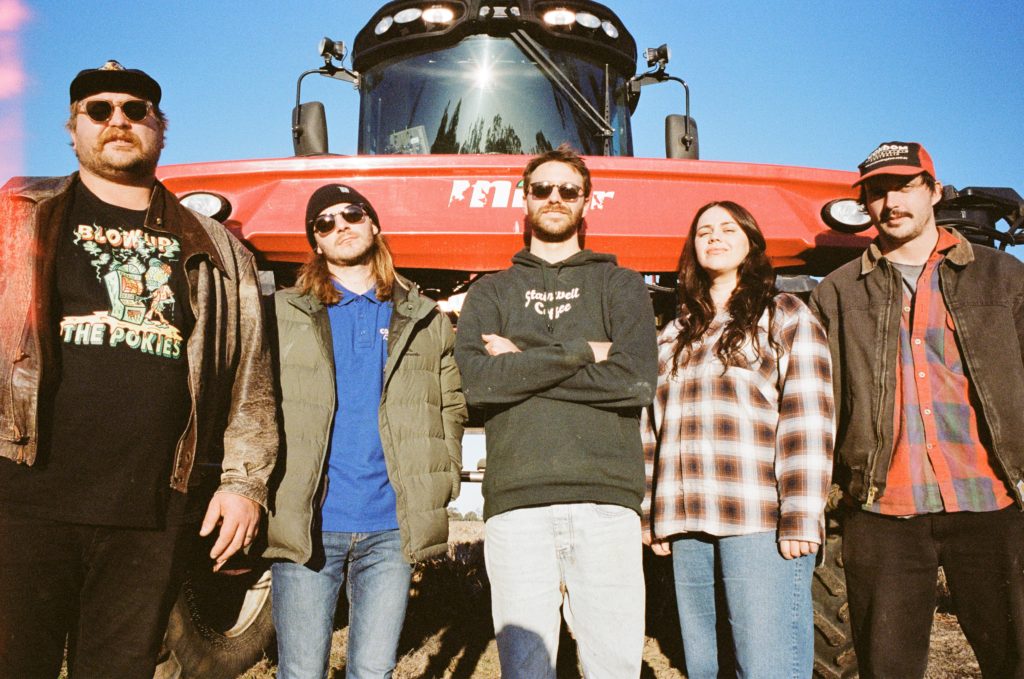 In honour of their new single 'Tough' and upcoming headline tour, local legends Radolescent have put together some of their best stories from the road.
The beloved 5-piece have received huge support from Triple J, Rebel FM and community radio over the years, and have amassed over 450 000 Streams across Spotify and Apple Music. They've played extensively around the country- headlining shows and sharing stages with the likes of Dune Rats, Bad//Dreems, Private Function, Press Club and Beddy Rays, and become renowned for their raucous, energetic live sets that get heads banging, hips moving and grounds shaking.
RELATED: Bootleg Rascal's Top Five Sh*ttest Beaches
This latest offering of fuzzy surf rock comes in the form of 'Tough', a track which explores the complexities of skewed perspective. In their own words, "'Tough' is a song akin to the feeling of someone close to you becoming a stranger right before your eyes – a probing sense that maybe they weren't the person you thought they were, while also reeling from the fact maybe you weren't the person they hoped you were either. The confusion of hope amalgamated with the harsh realities of what a relationship can truly be in its day-to-day, is what 'Tough' explores. We all wear a disguise and 'Tough' explores where yours ends and where those around you begin." 
Read below for some fun stories from their time on the road:
1 – Shoobs Powers through (Ade) 
Vibes were high in Adelaide after the final show of the "On Ya Bike Tour" with Beddy Rays and Soft Dingaz, so much so that shoobs ended up pulling an all nighter. It wasn't until our 8am flight the next morning that he finally showed up at the airport, still drunk as a newt. He was all good until half way through the flight when he had to make a dash to the plane lavatory for a tactical vom, it only took him a second to realize he had forgotten to pull down his mask. 
2 – Kerrod "Having a quiet one"
It's common knowledge that if Kerrod mentions he's "Having a quiet one" it will be undoubtedly followed by him proceeding to get absolutely obliterated at a rate that is both impressive and alarming, leaving us all marbling at this ability to be the quickest one to get drunk.
3 – Tassy detour
After all flights out of Hobart were grounded due to the Brissy flooding, the entire crew from Beddy Rays & Rado, with a little more than hope and a prayer, crammed into the smallest Irish pub in hobart. Met with guinness stew and a 12 strong irish fiddle band, what was a disaster turned out to be one of the biggest highlights of the tour.  
4 – Beddy rays tour
After playing countless opening slots to empty rooms, we finally got to tour Australia with our best buds Beddy Rays. They put their neck on the line to take us on tour instead of the much easier option of a local band and we honestly couldn't be more grateful. Sightseeing, beer drinking and constant ragging on one another, it was a dream for us both for years so it was nice to tick it off the bucket list.
5- Press club mysterious spew.
Driving home from Brisbane, Isaac the saint offered to be deso driver for the night. Obviously taking advantage of the nicety, the rest of the band proceeded to pound an absurd amount of   margarita daiquiris into the earth – Rachel, thinking it was a good idea to try and keep up with the much larger Shoobs! All was fine until about half way home from Brissy to Gold Coast, Isaac's car started to smell and we all couldn't figure out why.!? Not only did Rachel redecorate the interior of Isaac's car with partially digested pizza and margarita, but both her and Kerrod conspired to cover it up. The poor Camry has never been the same again. 5 people, half an hour and a car full of spew that just ain't it!
Listen to 'Tough' out now & catch these guys for one of their infamous live sets (and inevitable shenanigans) at the dates below!
RADOLESCENT TOUR DATES
Friday 23rd September, The Zoo Brisbane Ticket link
Supports: Sunday Sesh, The Splints
Friday 7th October, Cherry Bar, Melbourne Ticket link
Supports: Radium Dolls, The Darrans
Sunday 9th October, Mary's Underground, Sydney Ticket link
Supports: Radium Dolls, The Darrans
Friday 21st October, The Northern, Byron Bay free entry
Supports Radium Dolls, Sunday Sesh
Sunday 23rd October, Vinnies Dive, Gold Coast tickets
Supports Radium Dolls, Sunday Sesh