Red Hot Chili Peppers Release Eccentric New Video for 'Dark Necessities'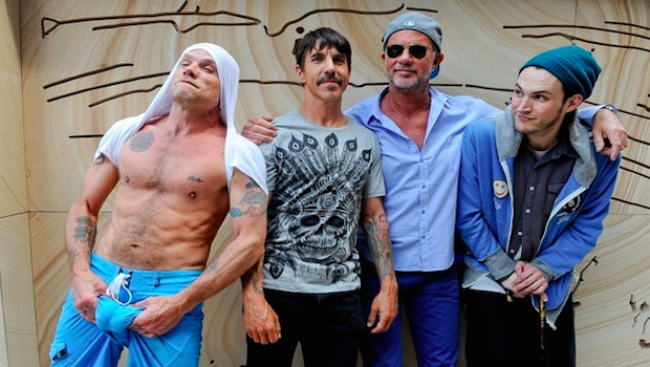 The Red Hot Chili Peppers have earned a reputation over the past few decades as one of the wackiest and unique bands going around, and their latest video for Dark Necessities is no exception. Dark Necessities, the latest single from their new album 'The Getaway', features all the quirky visuals fans have come to expect from their videos, whilst at the same time maintaining a fairly serious vibe.
The video features the band members loonily dancing around a house, with frontman Anthony Kiedis and bassist Flea dressed half naked in wacky costumes. Scenes with the band are alternated with footage of a group of female skateboarders skating around a city. Whether or not the video has a distinct meaning behind it I'll let you be the judge.
The song itself feels particularly saccharine as melancholy piano chords interweave with the soulful vocals of Kiedis to make for a rather sentimental tune. The song is backed up by the, as always, funky slap bass of Flea and the driving drums of Chad Smith. Josh Klinghoffer, who joined the band in late-2009 after the departure of John Frusciante, has had massive shoes to fill as guitarist of the band. The impressive guitar work in Dark Necessities no doubt shows Josh has what it takes, and has truly become a member of the band.
The past week has been the week of the Chili Peppers. As well as a new album and single which have so far met the approval of fans and critics, the band took a ride with English television personality James Corden for his 'Carpool Karaoke' segment. The video which includes shirtless guys, a wrestling match and (as the title suggests) karaoke has racked up over 10 million views so far on YouTube.
Not all is as it seems however, as Kiedis once again made news when he revealed that he saved a baby's life during filming. Kiedis recalled;
"We were eating Mexican food on the corner, and a woman came out of her house holding a child saying 'My baby, my baby can't breathe!'. We all ran across the street and I thought 'I'm gonna try a little baby CPR'. So I started rubbing her stomach, her eyes rolled back into place and the ambulance showed up, and we went back to Carpool Karaoke". Not only a brilliant musician, but a hero as well! What more could you ask for.
You can watch the new video for Dark Necessities here!
Get the new album 'The Getaway' here!