Redhook Return With Explosive New Jam, 'Tourist'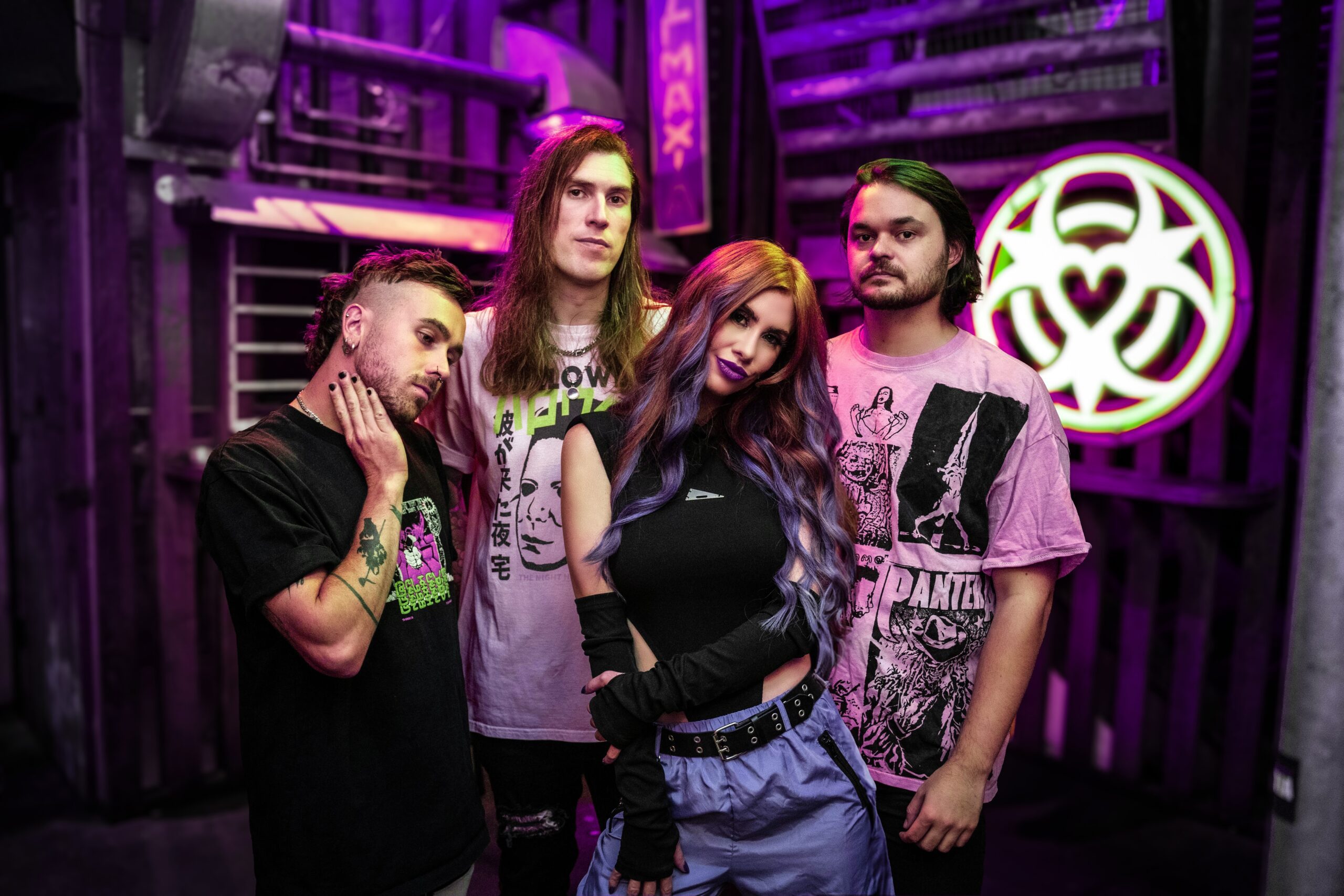 After dropping their critically praised debut album' Postcard From A Living Hell' in April, Eora/Sydney-based alt-rock shapeshifters RedHook have just returned with their unapologetic new single 'Tourist'  – produced by Stevie Knight (Stand Atlantic) and mixed by James Paul Wisner (Underoath, Paramore).
Inspired by a quote from pop culture dad figure Ron Swanson (Parks & Recreation), 'Tourist' is a heavy alt-rock anthem about walking away from a relationship with an emotionally manipulative narcissist. The track is saturated with dark, string-drenched ambience and the searing vocals of frontwoman Emmy Mack.
Emmy talks about the inspiration behind 'Tourist':
"I wrote the lyrics and top-line for 'Tourist' in the middle of our tour with In Hearts Wake last year while going through a breakup of a two-year relationship. But it was more than just a breakup; it was a grueling process of digging the shrapnel of two years' worth of nuclear love bombing out of my heart and processing the shattering revelation that this person who had so aggressively and relentlessly professed to love me, and who had worked so hard to sell me on the dream of a happy future together, had been lying and cheating the entire time. So this is my Olivia Rodrigo moment, the pour-your-guts-out breakup anthem, the song I wrote for myself to stay strong, walk away, and not get lured back in by any more lies or emotional manipulations."
'Tourist' comes packing a slick, cabaret-inspired music video, filmed and edited by previous 'Imposter' music video collaborator Colin Jeffs of Ten Of Swords Media inside Eora/Sydney's iconic Lansdowne Hotel. The stylish, performance-based clip features Emmy burning a bunch of authentic love letters in a symbolic gesture of letting go, healing and moving forward.
The release also comes as RedHook gears up for a huge Aussie summer festival season, including performances at Spilt Milk alongside Post Malone and Dom Dolla and Tarntanya/Adelaide's Froth and Fury Fest alongside Sunk Loto and Suicidal Tendencies. They'll see out the year with a performance at Emo Never Sleeps NYE at the Royal Melbourne Hotel.
This follows on from a jam-packed 2023 live schedule across which has seen RedHook tour Australia supporting legendary rockers The Smashing Pumpkins and Jane's Addiction, before completing their biggest ever, largely sold-out headline tour, which included a recording of triple j's Live At The Wirelessat their sold-out Naarm/Melbourne show at the Corner Hotel.
Along with this, the band toured the UK and Europe for a third time, supporting Stand Atlantic and performing live at the 20th Anniversary of Download UK and Czech Republic's Rock For People. They've also previously played Germany's Rock am Ring and Rock im Park, and Australia's Yours &Owls, Groovin the Moo, Good Things and UNIFY Gathering festivals.
Their debut record' Postcard From A Living Hell' peaked at #10 on the ARIA Album Charts and was triple j's Feature Album. Previous releases have also received immense support from the likes of Spotify, Apple Music, Amazon Music, BBC Radio 1 (UK), Kerrang! (UK), triple j Unearthed, NME,Hysteria Magazine, Kill Your Stereo, MANIACS and Wall of Sound.
'Tourist' is available worldwide now.
UPCOMING FESTIVAL APPEARANCES
SAT 18 NOV |FROTH AND FURY FEST, TARNTANYA/ADELAIDE SA
SAT 25 NOV |SPILT MILK, NGUNNAWAL/CANBERRA ACT
SUN 26 NOV |SPILT MILK, KOMBUMERRI/GOLD COAST QLD
SAT 2 DEC |SPILT MILK, WADAWURRUNG/BALLARAT VIC
SUN 3 DEC |SPILT MILK, WHADJUK/PERTH WA
SUN 31 DEC |EMO NEVER SLEEPS NYE, ROYAL MELBOURNE HOTEL, NAARM/MELBOURNE VIC