Redhook Team Up With Yours Truly For The Breakup Anthem, 'Imposter'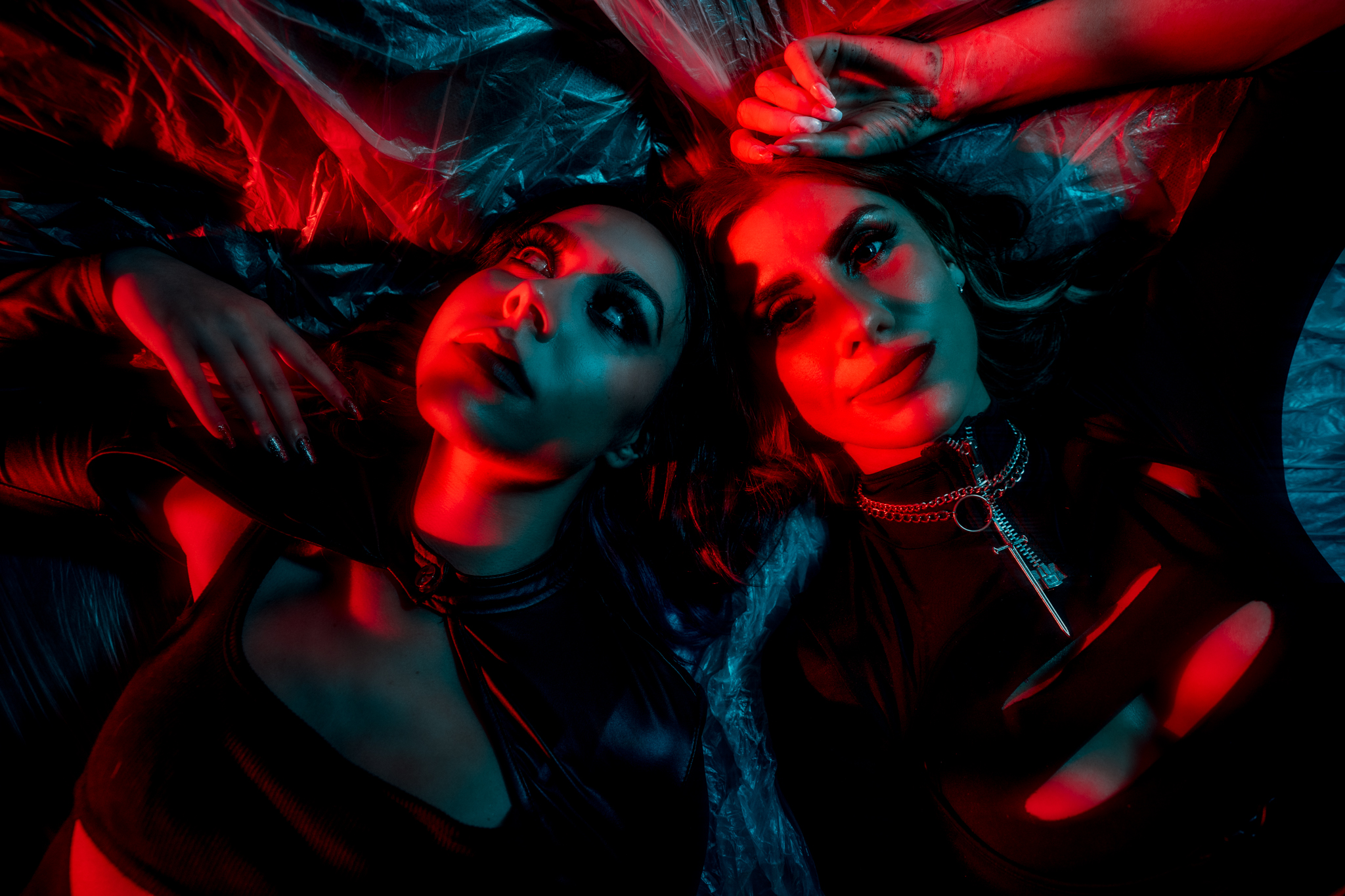 Two of the most prominent women in the Australian heavy music scene, RedHook's Emmy Mack and Yours Truly's Mikaila Delgado, join forces on 'Imposter' – the flagship single from alt-rock shapeshifters RedHook's forthcoming debut album 'Postcard From A Living Hell', which is slated for release on Friday, April 21.
Produced by Stevie Knight (Stand Atlantic, Yours Truly) and mixed by James Paul Wisner (Underoath, Paramore), 'Imposter' is a dark, empowering break-up anthem driven by alien synths, heavy guitars, and striking lyrics. Packed with memorable one-liners such as "Never believed in lizard people / Til I discovered your scales", "Hearts change like the weather / And now it's raining on you", and "We used to freak / But now you freak me out", 'Imposter' uses the sci-fi trope of body snatching as a metaphor to articulate a traumatic experience that both Emmy and Mikaila share; watching someone you love change into a completely different person, before a heartbreaking trail of their past lies and deceptions starts to unravel before your eyes.
Emmy explains the inspiration behind the track:
"There's no head-fuck quite like discovering that the person you love most, and who you think you know better than anyone else, has been lying to you and manipulating you the entire time. At first, it feels like death, you grieve for the person you loved as if they've died, and yet somehow they still exist. It's almost as if some kind of evil, alien life force has taken up residence inside their body and is walking around wearing their skin. Eventually, it causes you to question your own sanity; you question whether that person who meant so much to you ever really existed at all."
On the topic of tapping Yours Truly for the collab, she adds:
"This song was already so special to me and one of my absolute favourites off the record. We approached Mikaila to be involved because we love Yours Truly so much and thought her voice would sound amazing on the track. But what I didn't realise was that she'd actually been going through an eerily similar situation to mine in her own personal life. We trauma-bonded a lot during the process of putting 'Imposter' together and the extra vocal parts and lyrics that Mikaila added still give me goosebumps every time! She took this song to a whole new dimension and I'm so grateful to her for it. This is our joint break-up anthem and we hope it empowers other people who've been through similar nightmarish bullshit to stay strong."
The song also comes packing a quirky, science fiction-inspired music video directed by Colin Jeffs of Ten of Swords Media (Make Them Suffer, Alpha Wolf), which takes its cues from cult sci-fi flicks like 'Species' and 'Jennifer's Body', as both women slowly morph into deranged lizard monsters with a taste for human flesh.
RedHook are set to embark on their biggest national headline tour yet, presented by triple j. The band will be visiting fans across 11 regional and metro stages in Jinibara/Maroochydore, Meanjin/Brisbane, Jellurgal/Burleigh Heads, Goomburrup/Bunbury, Boorloo/Perth, Tandanya/Adelaide, Ngunnawal/Canberra, Naarm/Melbourne, Dharawal/Wollongong, Mulubinba/Newcastle and Eora/Sydney this April and May, with support from Bad/Love, Belle Haven and Grenade Jumper. Tickets available HERE.
They will also be joining The World Is A Vampire Tour, supporting alternative rock pioneers The Smashing Pumpkins across the country, alongside Jane's Addiction and Amyl and The Sniffers.
'Imposter' follows on from 'Off With Your Head', 'Soju' feat. Sly Withers, 'SAY' and 'Jabberwocky', which will all feature on the forthcoming 'Postcard From A Living Hell' LP, available for pre-order HERE.
'POSTCARD FROM A LIVING HELL' TOUR 2023
With special guests
Bad/Love, Belle Haven and Grenade Jumper
THU 4 MAY | SOLBAR, JINIBARA/MAROOCHYDORE QLD
FRI 5 MAY | THE BRIGHTSIDE, MEANJIN/BRISBANE QLD
SAT 6 MAY | BURLEIGH BAZAAR, JELLURGAL/BURLEIGH HEADS QLD
THU 11 MAY | PRINCE OF WALES HOTEL, GOOMBURRUP/BUNBURY WA
FRI 12 MAY | AMPLIFIER, BOORLOO/PERTH WA
SAT 13 MAY | ENIGMA BAR, TANDANYA/ADELAIDE SA
FRI 19 MAY | UC HUB, NGUNNAWAL/CANBERRA ACT
SAT 20 MAY | THE CORNER HOTEL, NAARM/MELBOURNE VIC
THU 25 MAY | LA LA LA'S, DHARAWAL/WOLLONGONG NSW
FRI 26 MAY | THE CAMBRIDGE, MULUBINBA/NEWCASTLE NSW
SAT 27 MAY | CROWBAR, EORA/SYDNEY NSW