RedHook Unveil Fiery and Twisted Single 'Low Budget Horror'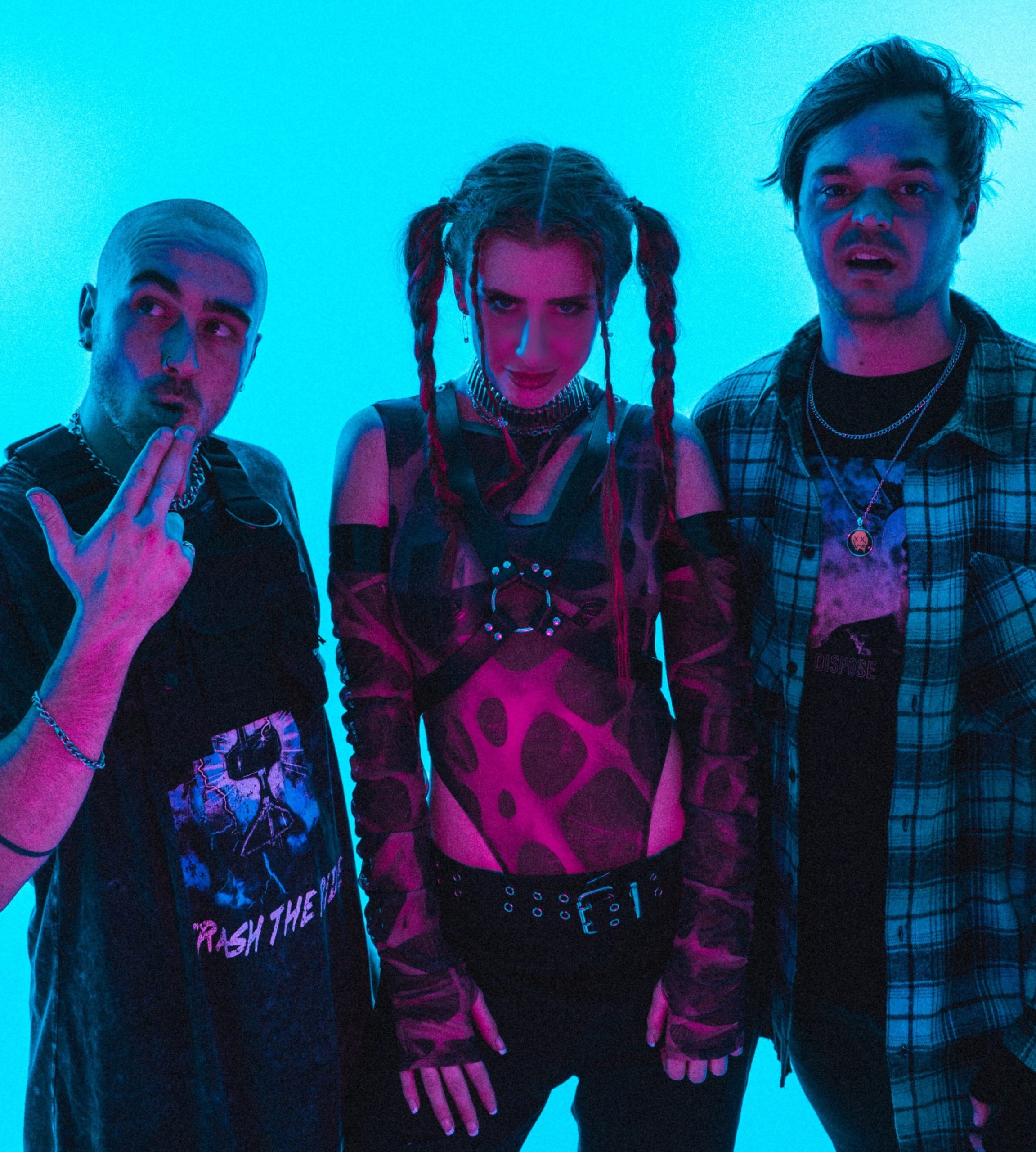 Sydney pop-punk trio RedHook have exploded onto the scene in recent years and become a heavy live staple while stacking up shows and singles in no time. The energetic rockers have kicked off the year with their edgy new single 'Low Budget Horror', the band's first self-produced effort and second offering since their debut EP Bad Decisions in April 2021. This comes shortly after announcing that the anticipated Bring Ya Mates Tour with The Dead Love and Down For Tomorrow – originally in February – would be rescheduled to May.
Produced by guitarist Craig Wilkinson, mixed by James Paul Wisner (Stand Atlantic, Underoath) and mastered by Sam Guaiana (Between You & Me), the sickly-sweet cut delivers drum & bass energy with theatrical effects in a war-cry against online bullying. Searing guitars and frantic drums throw you into an undulating pit of programmed beats and glitchy sampling. Aggressive yet glossy vocals with pitch-shifted and distorted layers bite through the mix in catchy melodies for an anthemic chorus. Explicit visual lyrics criticise keyboard warriors attacking behind the protection of their screens and liken it to starring in a fake, laughable horror film.
"Writing 'Low Budget Horror' was a necessary catharsis for me after a bit of a messed-up experience I had during Sydney's 2021 COVID lockdown," explains frontwoman Emmy Mack. "A person I'd never met before reached out over social media to give me a heads up that someone else, a total stranger to me, had been (and there really isn't a more delicate way to put this) viciously blogging her attempts at home-wrecking my relationship," she continues. "Then, after being confronted with what she'd been doing, the bully backtracked and blamed her actions on her mental health."
"I am so sick of people using mental health to justify hurting and harming others. It's not," Emmy adds. "And this song is the sound of me processing all my thoughts and feelings around that situation – anger, shock, disgust, pity," she says. "Lyrically, 'Low Budget Horror' is a metaphor for online bullies and the pain they try to inflict, casting their targets as victims in a gruesome public spectacle. But more often than not, it's a pretty D-grade product."
2022 is shaping up to be a huge year for RedHook, with their debut at UNIFY Music Gathering, the inaugural Full Tilt Festival and the rescheduled Halloween Hysteria – not to mention the Bring Ya Mates Tour, their biggest national headline tour to date. The live arena catapulted the band to new heights last year, with their sold-out national headline tour and appearances at Download UK, Download AUS, Good Things, BIGSOUND and Stonefest. Furthermore, their debut EP Bad Decisions has clocked up close to 5 million Spotify streams, with video clips being added to rotation on ABC's Rage.
RedHook are one of the country's most unique heavy acts and are quickly becoming a global sensation. The band has seen extensive support from the likes of Rock Sound (UK), The Music and Hysteria Magazine, with triple j praising Emmy's '90s punky Gwen Stefani' style. Previous singles have been added to playlists on Spotify, Apple Music and Amazon Music, with a slew of live shows lined up this year. If critical hits like 'Sentimental Surgery' and 'Low Budget Horror' are anything to go by, you definitely don't want to get on their bad side.