Review: A Tribe Called Red 'We Are The Halluci Nation'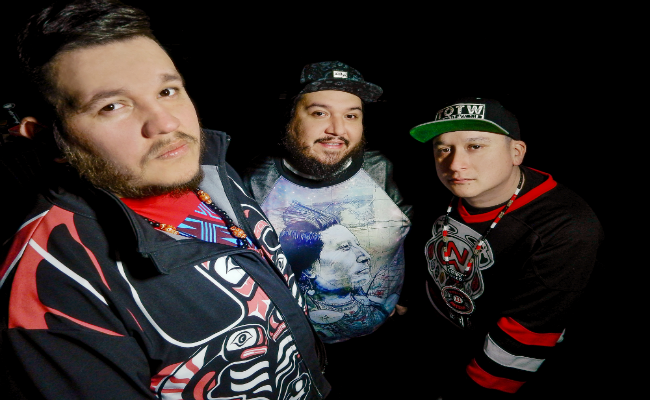 There are very few artists who build upon their ancestry quite like A Tribe Called Red does. Uniquely pairing their indigenous culture and rhythms with new urban influences, this newfound "powwow-step" has become an international hit. Now embarking on a worldwide takeover, the trio have released their third studio album 'We Are the Halluci Nation'.
The album opens with the title track, a spoken word piece from the late John Trudell giving an insight into Native American history, and an introduction to the group's new-wave thinking collective, the Halluci Nation. Shifting to a chilling chorus of tribal chants courtesy of Northern Voice, this is then uplifted by a range of banging drums and rattling hi-hats. There really couldn't have been a better tune to introduce the next 50 odd minutes.
R.E.D. is arguably the boldest track on the album. Backed by absolutely booming drums, an explosive, dark synth line which is only made better by the array of vocal performances. The beat itself is backed by a Native American group called Black Bear, which is then rapped over by emcees Narcy and the legendary Yasiin Bey, aka Mos Def. The result is a simply infectious anthem that you'll have stuck in your head for weeks.
The fast paced groove of The Virus follows, and it's just as infectious as it sounds. Backed by more organic yet still snapping drums, Black Bear features more prominently on this track forming as the melodic basis this time round. Two tracks in, there's something about hearing these Native American chants mixed in with dance and hip-hop elements that make it so moving and unique. Alongside Saul Williams who adds spoken word elements over the course of the track, this is nothing short of a banger.
"The fact that you don't have to understand what Lido is saying in order to grasp her emotion speaks multitudes, and results in one of the most moving track's on the project"
The first solely spoken track BEFORE follows, introducing a nameless man who is phoning from a jail, talking about longing for normality from discrimination, police brutality, and family worries. As cryptic as this is, it does paint another picture of the prejudice that this album is hoping to wipe.
Sila drops us right back into the fast paced dance grooves we know and love. This time with a pounding beat backed by Canadian throat singer Tanya Tagaq, this is a uniquely horrifying sound. Combine this with volatile deep bass, snapping drums, and shattering synthesisers, this is definitely one for the raves.
The first major shift in style comes from the next tune The Light. While still maintaining their ties to their indigenous roots, this feature now comes in the form of some sultry vocals from Lido Pimienta. Gliding us through in her native tongue of Columbia, this is a beautifully marching slow burner, which eventually peaks into a world of bellowing bright synths. The fact that you don't have to understand what Lido is saying in order to grasp her emotion speaks multitudes, and results in one of the most moving track's on the project.
Pulling us back to the dance floor with yet another energetic banger is Maima Koopi, a bouncing rhythm which features didgeridoos from Australia's own OKA along with chants courtesy of Chippewa Travellers. This then builds up into an absolutely hectic Latin style rhythm, packed with plenty of bass. The beat even slows down to half tempo, where that heavy bass is injected further, making it impossible to not be overtaken by that groove.
While we love being overwhelmed by a range of heavy bangers, there also needs to be a balance of the more relaxed, and Eanan is another perfectly timed slow burner. Featuring intoxicating vocals from Maxida Marak, this almost has an early Flume feel to it, with it's booming bass lines, wavy sounds and chopped up vocals. Nonetheless, this is down-tempo without being boring, a balance which is just right.
The Muse though feels like A Tribe Called Red simply lost touch with what makes them special. The track feels like a bland synth poppy tune that we hear everywhere, but don't get me wrong, the vocals are well performed by Jen Kreisberg and the beat does bring some heat, but it just comes off as an unoriginal tarnish to the record.
Thankfully the following Indian City features the Northern Voice troop again, opening with an incredibly powerful cry from the singers. Dropping yet another infectious groove, an incredibly fat bass line and more chopped up vocals, this is another insatiable rhythm. There are even some drum and bass influences which shine through as the track opens up, proving that the trio have a range of influences up their sleeves.
While the next track How I Feel is backed by another chorus from Northern Voice, this is audibly a much darker and emotional track. Emcees Leonard Sumner and Shad paint a strong picture, visualising the message which is presented throughout the record. Spitting bold, conscious lyrics, which depict the struggles many Native Americans have faced and still face, this track goes a long way in perceiving the album's meaning.
"What A Tribe Called Red have been able to do on this album is masterfully pair their ancestry with this new urban sound, and it's incredible."
Another change of pace entirely, For You is an upbeat poppy tune which luckily doesn't fall into the same complications as The Muse. Climaxing with another infectious Latin drum groove with more dubstep elements, alongside rearranged and chopped up vocals from the incredible Lido Pimienta yet again, the trio keep the energy running right until the very end.
ALie Nation is the final actual song on the album. Opened again by John Trudell, who opened the album, he once again masterfully narrates as a range of drums bellow behind him. As the track edges closer to a drop, what follows is arguably the most head knocking of the album. Ensuring that they go out with a bang, it's an incredibly dark, heavy hitting rhythm which once again features whales from the throat singer Tanya Tagaq. Our only fault is that this one was just too short!
What A Tribe Called Red have been able to do on this album is masterfully pair their ancestry with this new urban sound, and it's incredible. There's something about these indigenous chants, throat singings, or even simply vocal performances which just feel so vibrant and emotional. Even though there are only a handful of tracks actually performed in English, each one seems to still feel understandable and leaves a lasting impression, something which really deserves some praise.