Rob Nassif Of Gyroscope Shares Some Wise Words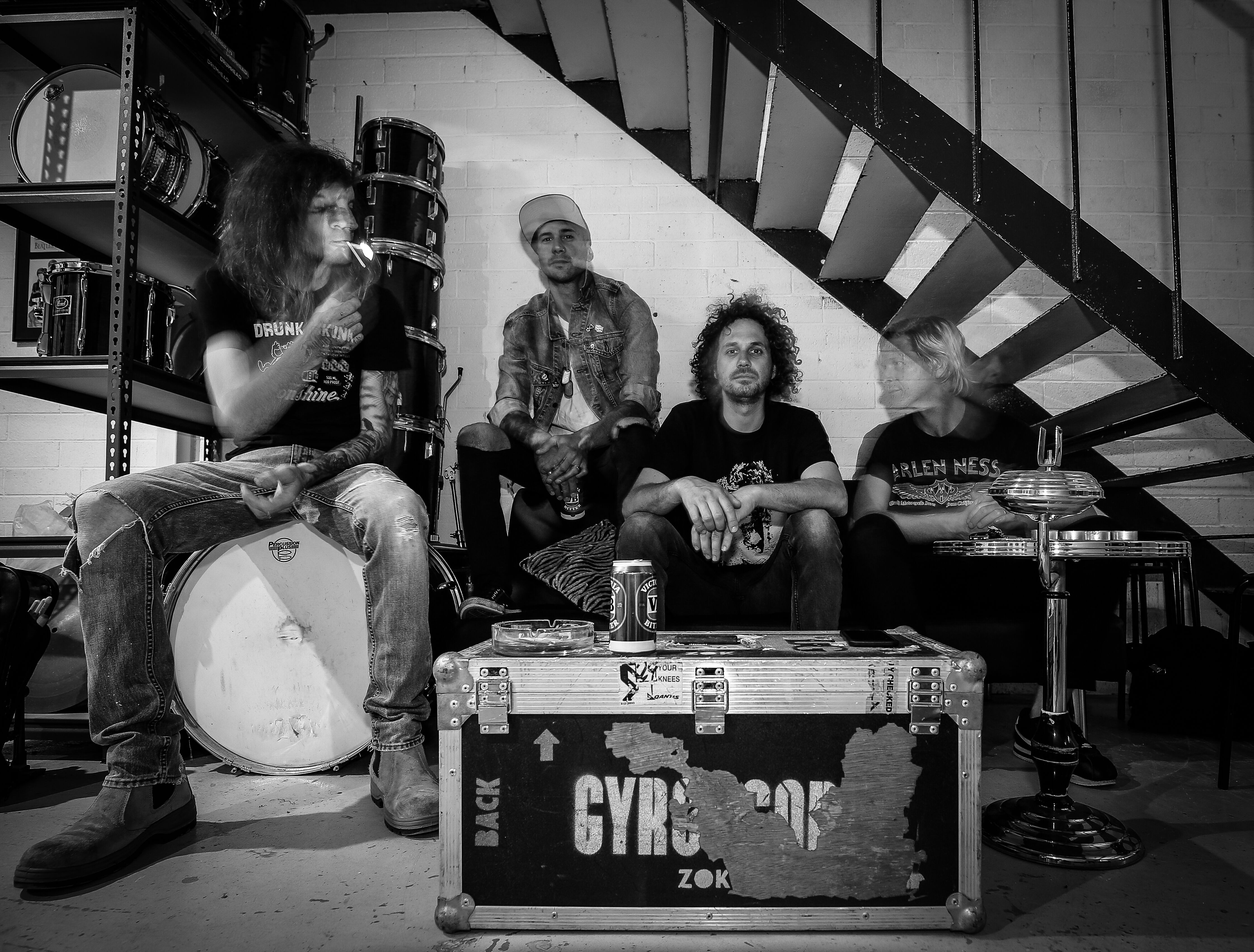 Looking back at my time in Gyroscope and some of the lessons that can help new bands.
With Rob Nassif of Gyroscope
There's no denying that being in an emerging band can feel like a total slog. Trying to get decent shows, played on the radio, added to playlists and just getting people to take notice amongst a sea of strong competition can feel like you're continually banging your head against a brick wall. What if there was a cheat sheet to combat that? What if readers!?
Well, your mates at AAA Backstage have essentially gone and done that for you, with some wise words from an artist, now turned manager who has seen just about everything there is to see. Rob Nassif is the drummer from Australian rock royalty Gyroscope, who have just returned with their stellar new EP titled '4YRLV', which they'll be touring across the country in October and November.
Sadly, the tour will be Rob's last with the band as he moves to double down on his increasingly successful artist management career, where he looks after the likes of buzzing acts The Faim and RedHook. We caught up with Rob to gain some valuable insight into his experiences from playing in Gyroscope over the last 20+ years. He's laid out some incredible advice that young aspiring artists can take on and potentially help with their journey.
Sit back and prepare to be a sponge and learn from one of the best and nicest people in the rock n roll biz! Over to you, Rob!
Songwriting:
Every Gyroscope song you hear is an equal split between the four of us; that is something I am very passionate about. If a band is to have longevity, then irrespective of who writes the song, all four members should earn an equal share. Many will disagree on this and that's fine, but your bands chances of success will be lower.
As far as songwriting goes, I think there is something in not stopping until all members are truly happy with a song. There were many times where the four of us would argue over the way a song should sound, song structure etc. etc. – it used to annoy me, but honestly I think that's a vital part of the process. No one likes arguing with their band mate but friction creates sparks and it's those sparks that sometimes start the fire you need for a brilliant song.
Recording:
I would encourage all bands (if they can), to record overseas. Obviously a tricky thing with budget, time, work etc. but it was certainly one of the most rewarding experiences from my time in Gyroscope. A lot of bands record with a producer they admire overseas and also turn it into a bit of a working holiday. I think it's a great way for a band to develop their chemistry and ultimately become better musicians. That was certainly the case with all of the producers we worked with in Gyroscope.
We were very lucky in Gyroscope, recording three out of four albums overseas. Let's take a look at each album and where it was recorded:
Sound Shattering Sound:Producer: Sean O'Callagahan (John Butler Trio, Eskimo Joe). Recorded in Fremantle in between a bunch of touring. Sean sadly passed away about 5 years after the release of SSS. He was a wonderful man who taught all of us a lot about songwriting, he had the sharpest ear I've ever come across and would pick things up smoking a rollie about 30 metres away from the control room. I still believe he was on par with some of the great producers we'd ever worked with.
Are You Involved:Producer: Mark Trombino (Jimmy Eat World, Blink 182).
Recorded in Los Angeles over nine weeks. Mark worked incredibly hard on six songs and didn't give a fuck about the other six. Which was kind of nice in a way, as it still left plenty of freedom in the studio to explore the songs he didn't care about.
Mark and I had a huge argument over a drum fill in 'Slow Dance' that resulted in me having an epic breakdown on the way home from the studio after that day of tracking. He was a hard producer, but I tell you what he made me a better drummer and AYI is maybe my favourite Gyro album, so he must have done something right!
Breed Obsession: Producer: Dave Eringer (Idlewild, Manic Street Preachers).
Recorded in Liverpool for four weeks and London for four weeks. Dave was such a lovely guy. Brought a wonderful energy into the studio each day and it felt like your favourite uncle was producing the band. We tracked Breed Obsession live, which meant we had to be super tight, which we were for that record. A brilliant process overall and we had a lot of fun, especially when we were mixing in London and had our own apartment in Marylebone.
Cohesion:Producer: Gil Norton (Foo Fighters, Pixies).
Recorded @ Rockfield Studios in Wales for nine weeks. Gil is the king. He took a very keen interest in the drums, was incredibly devoted to the record and it shows. We were not even going to record 'Baby, I'm Gettin' Better', but Gil insisted we give it a shot and in about an hour we transformed it from a country song to the rocker it is today. We'd go shopping at about 7pm every night and pick up a few bottles of wine to have over dinner, which Val the chef cooked for us every day. It was the most wonderful recording experience of my life. I took a trip to Morocco for my 29th birthday while all the vocals were being tracked and that was pretty cool too.
Shows / Touring:
Touring really is the most important thing a band can do in order to get ahead in this industry. Gyroscope toured hard, as dothe bands I manage in The Faim and RedHook. People often think that touring is simply about making new fans and trying to earn a living, both are true but what doesn't get talked about is how much better it makes you as a musician and songwriter. Want to write better songs… touring is a big part of it. Gyroscope played 250 shows in our first two and a half years as a band, all in Perth. I still think it's the reason we leap frogged so many other local acts at the time. No one was coming to our shows as we overplayed but our songwriting got much better… which ultimately got us a record deal and the better songs finally lead to connecting with an audience and JJJ play.
Networking / how to approach industry people:
Networking is one thing I never had a problem with, as I was always very comfortable talking to people. A very important part of the music industry game, no doubt and the thing I did best for Gyroscope as it came naturally to me. I think having a natural curiosity of people and what makes them tick really helps. I don't think of it as networking, simply having a beer and getting to know someone's story. It's the sort of thing that every band has one member that can perform this role…I'd say be that person, it's a good quality to learn as it's so applicable for every other aspect of your life.
Finding the early champions of your band:
Hard. Can't really be forced either, as it tends to be a case of being out there playing as much as possible, getting better all the time and then finally something clicks. For us, it was the day we wrote a song called 'Doctor Doctor'. In the jam room we knew it was special and the first time we played it live we had a bunch of people compliment us on the song after the show. That became our first high rotation song on triple j and opened up plenty of doors for touring. Phil Jamieson from Grinspoon was an early champion of Gyroscope as were all the members of Jebediah – we never forget, thanks legends!
Identifying the right team:
Having a great manager helps. But finding a great manager is hard…Nothing wrong with going for the young enthusiastic manager who wants to learn at the same time as the band grows. The most important thing is that the manager has to keep up the  same pace as the band if not quicker, otherwise you end up in trouble. Which is what ultimately led to Gyroscope switching management after seven years. It was a very tough decision but proved to be one of the best business decisions we ever made. Being honest from the outset about what you want from a label or booking agent is also a very big part of it. Misaligned values and goals never work.
Keeping persistent:
It's easy to stay persistent if you're having fun along the way…no matter how ambitious your band is, you have to remember that it's only Rock n Roll. It's meant to be enjoyed, its ok to be a little reckless… most importantly laugh along the way. Treat every small victory like it's an ARIA win. I still smile when I think about the first show I ever played with a mic'd up drum kit. That was a real moment of excitement and one that I celebrated with all my mates at school the very next day.