Rosenstock's Nausea Video Is A Year Old, But Still Pretty Sick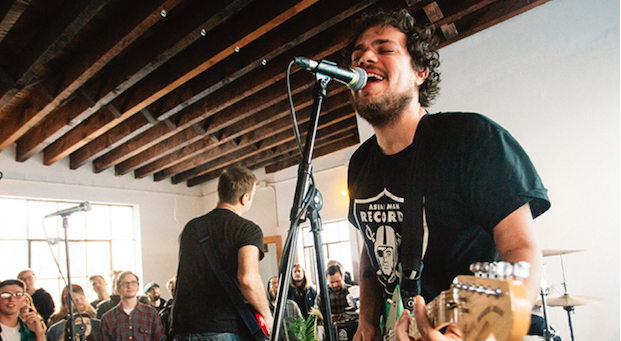 It's been a year since Jeff Rosenstock released his Nausea music video, and it hasn't lost any of its charm.
At first glance, it seems like a perfect reenactment of your typical drunken pub performance. Rosenstock's singing and piano-bashing is interrupted by a beer bottle to the head thrown by an angry, beanie-clad audience member, and from that point on the video is a riot. A bottle-induced concussion results in some very strange confetti vomit, and it's not long before the whole pub crowd is blowing brightly-coloured chunks.
It might sound horrible, but somehow it manages to be as hilarious as it is colourful. Of course, the video would be incomplete without a boy wearing a snapback and holding a sign that reads "Free Knives". The end result is a wild rave filled with confetti, knives, and making out, all set to Rosenstock's upbeat rock vibes.
The whole thing needs to be seen to be believed:
Rosenstock will use his fourth visit to Australia to promote his 2015 album 'We Cool?' with an 11-date national tour. The tour will also showcase Rosenstock's collaborative work with Chris Farren as musical duo Antarctigo Vespucci.
Tickets go on sale on Wednesday 27 January at 9am.
Jeff Rosenstock 2016 Tour Dates
WED 2 MAR
Club 54, Launceston
THU 3 MAR
Enigma Bar, Adelaide
FRI 4 MAR
The Reverence Hotel, Melbourne
SAT 5 MAR
The Wonky Donkey, Forrest
SUN 6 MAR
Sydney Rd Community School Car Park, Melbourne
TUE 8 MAR
Rad Bar, Wollongong
WED 9 MAR
Factory Floor, Sydney
THU 10 MAR
Black Wire Records, Sydney
FRI 11 MAR
Hamilton Station, Newcastle
SAT 12 MAR
Crowbar, Brisbane
SUN 13 MAR
Foundry Records, Brisbane
Get tickets HERE