RÜFÜS Drop Mesmerising Paint-Swirling "Innerbloom" Music Video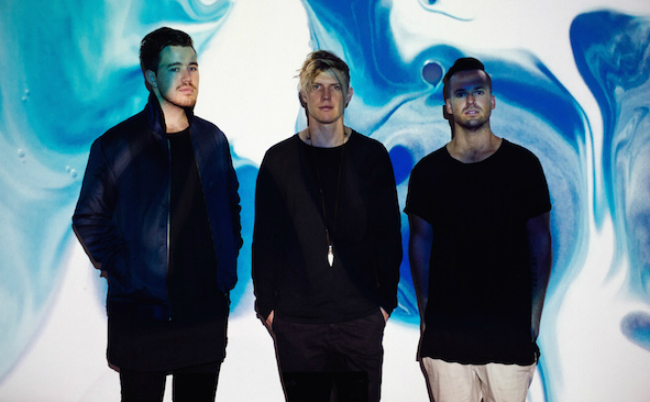 Sydney-based electronic trio RÜFÜS have released the music video for their stellar 9-minute track Innerbloom. Serving as a visual interpretation of the track, the clip explores and somehow exactly portrays the emotional depths of Innerbloom. The music video follows the paint swirling theme delivered in the group's Like An Animal video (and album artwork) which dropped a few weeks ago.
Directed by KATZI and visual artist Jack Vanzet, the Innerbloom video is comprised entirely of artistic footage of different coloured paints being swirled together in soothing patterns. Resembling dreamy distant landscapes and far away galaxies, the visual effects paired with Innerbloom's sonic soundscape is uplifting, inspiring, and kind of therapeutic!
The group's frontman Tyrone Lindqvist said both the song and it's video are importance milestones for the group.
"Innerbloom is probably the most personal song we've ever written in terms of where we are at as people. Hopefully, it can create for other people some of the moments we've shared with each other and friends listening to our favourite songs," says Lindqvist.
The trio group has reached incredible heights since its humble beginnings in 2010. Their latest album 'Bloom' topped charts in Australia and overseas, boasting a stellar tracklist including Innerbloom, You Were Right, Like An Animal, and Say A Prayer For Me.
Currently touring through the US, the Sydney group will be returning to Australian shores early in 2017 for a 16-date 'regional' tour, so do yourself a favour and get your hands on some tickets! In the meantime treat both your eyes and your ears below with Innerbloom…
RÜFÜS 'Full Bloom' Tour 
FRI 20 JAN
Nightquarter, Gold Coast
SAT 21 JAN
Big Pineapple Fields, Sunshine Coast
FRI 27 JAN
University of Wollongong Gardens, Wollongong
SAT 28 JAN
NEX at Wests City, Newcastle
FRI 3 FEB
The Cube, Wodonga
SAT 4 FEB
Let Go Festival, Mornington
SUN 5 FEB
Geelong Arena, Geelong
SAT 11 FEB
3 Oceans Winery, Margaret River
SUN 12 FEB
Castaway, R0ttnest Island
FRI 17 FEB
UC Refectory, Canberra
SAT 18 FEB
Mountain Sounds, Central Coast
SUN 19 FEB
Phillips Lane Street Party, Port Macquarie
THURS 23 FEB
Tanks Arts Centre, Cairns (SOLD OUT)
FRI 24 FEB
Tanks Arts Centre, Cairns (SOLD OUT)
SAT 25 FEB
Street Party, Townsville
SUN 26 FEB
Magnums, Airlie Beach
Get Tickets HERE