Sarah Yagki Reveals Heart-Rending Single, 'Just Like Me'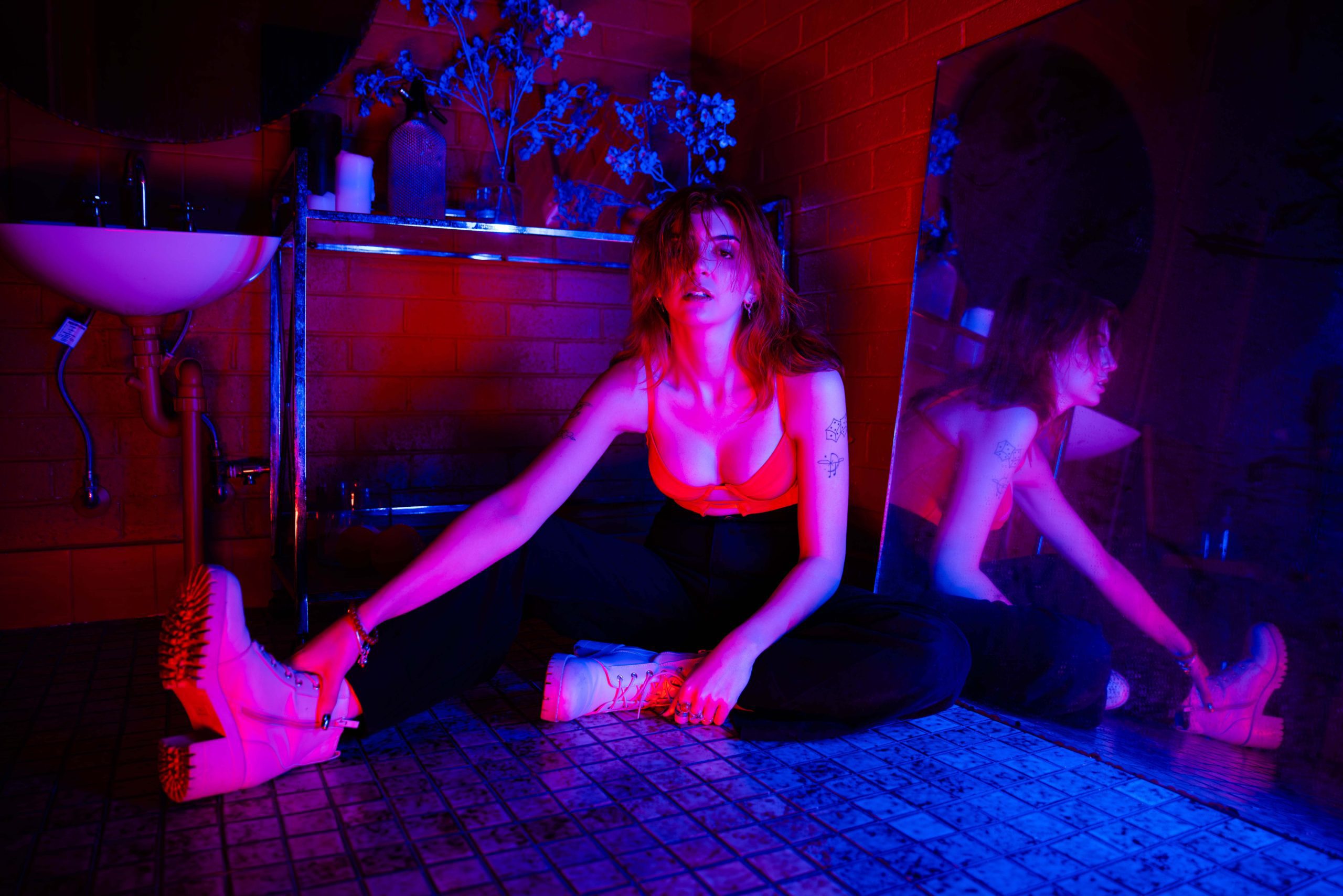 Eora/Sydney-based alternative-pop artist Sarah Yagki has returned with her harrowing new single 'Just Like Me' – produced by Yianni Adams (Kyoshi) and mixed by James Guido (LAU, Jordan Fuller).
'Just Like Me' showcases a cascade of duality and divergence. Guided by Sarah's vaporous vocals, the track's introduction offers a resonant soundscape, pulsing with eerie guitars and steady drums. The song builds with evocative intensity and climaxes with an impassioned vocal cry, acting as a catalyst for its shift in gravity. The song's hook is a result of resolute energy, unleashed by mantra-like melodies and thunderous electronics, as Sarah navigates herself through powerfully vulnerable auras before reaching the song's delicate finale.
Sarah Yagki talks about the inspiration behind 'Just Like Me':
"'Just Like Me' recounts the unravelling of the day I watched someone I loved, hurt themselves in a manic episode. I walked into that situation without knowing what was happening, and I watched that person hurt themselves in front of me, whilst blaming me for it. The single is about watching a loved one suffer through their lowest points of mental health, and the impact it has on you as you watch it unfold."
To celebrate the release, Yagki performed at Oxford Art Factory and partnered up with Beyond Blue where she raised $1,000 in ticket sales for mental health and suicide prevention.
The single is accompanied by a music video executed by an entire female lead team and cast. Starring both Yagki and dancer Marcya Fugawai, the video explores the blossoming and burdening of both characters relationships towards each other. The Euphoria-inspired set design, contrasted by the bleak and hollow bathroom scenes, carefully draws the viewer into the eyes of what it was for Yagki to love, lose, and let go of someone. Yagki comments: "The director and I drew metaphoric representations from my own personal experiences, to echo the distress of watching someone I once knew, try to take their own life away, and bring me down in it."
Following this, Yagki will embark on a 25 show date tour across NSW, ACT, QLD and WA to celebrate the release. During the tour, she will be performing with acts across the country including Mathilde Anne (VIC), Sophian (WA), LIZ-ZARD (WA), Manning (NSW) and Piper Butcher (NSW).
SARAH YAGKI
TOUR DATES
SAT 15 JUL | GLENORIE RSL, GADIGAL/SYDNEY NSW
SUN 16 JUL | SAUCE BREWREY, GADIGAL/SYDNEY NSW
WED 19 JUL | SOFAR SOUNDS, GADIGAL/SYDNEY NSW
FRI 28 JUL | BOTANY VIEW HOTEL, GADIGAL/SYDNEY NSW
SAT 5 AUG | THE FRONT, NGUNNAWAL/CANBERRA ACT
SUN 6 AUG | BIRDHOUSE, WAGGA WAGGA NSW
FRI 18 AUG | KELLY'S ON KING, GADIGAL/SYDNEY NSW
WED 31 AUG | BEACH HOTEL, BYRON BAY NSW
THU 1 SEPT | FINNIAN'S IRISH TAVERN, PORT MACQUARIE NSW
SAT 2 SEPT | FLOW BAR, OLD BAR NSW
SUN 3 SEPT | SAUCE BREWREY, GADIGAL/SYDNEY NSW
WED 6 SEPT | UNSW, GADIGAL/SYDNEY NSW
SUN 10 SEPT | BLACK BEAR LODGE, MEANJIN/BRISBANE QLD
WED 20 SEPT | THE HAMILTON STATION, MULUBINBA/NEWCASTLE NSW
THU 21 SEPT | ROYAL BONDI, GADIGAL/SYDNEY NSW
THU 28 SEPT | THE OLD BAR, NAARM/MELBOURNE VIC
SUN 1 OCT | THE WORKERS CLUB, NAARM/MELBOURNE VIC
WED 20 OCT | THE HAMILTON STATION, MULUBINBA/NEWCASTLE NSW
SUN 22 OCT | BIRDHOUSE, WAGGA WAGGA NSW
WED 25 OCT | UNSW, GADIGAL/SYDNEY NSW
THU 26 OCT | THE HAMILTON STATION, MULUBINBA/NEWCASTLE NSW
SUN 29 OCT | NORTH GONG, DHARAWAL/WOLLONGONG NSW
FRI 17 NOV | THE BIRD, BOORLOO/PERTH WA
SAT 25 NOV | WAYWARDS, GADIGAL/SYDNEY NSW