Sesame Street Q & A: Leroy Macqueen from The Gooch Palms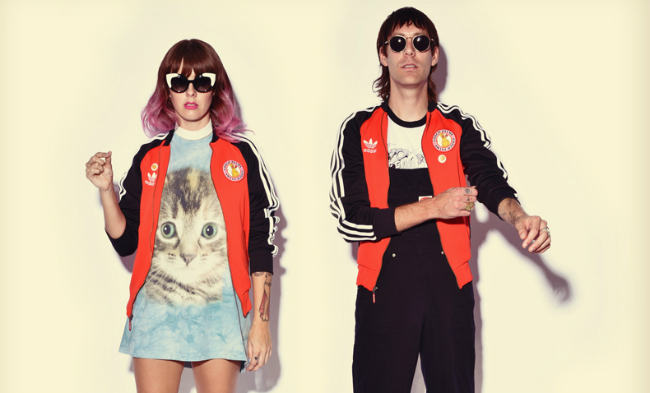 Known across Australia and America for their entertaining live shows, garage-punk duo The Gooch Palms have announced their own East Coast tour dates in support of their sophomore album 'Introverted Extroverts'. We asked guitarist Leroy Macqueen how relatable children's program Sesame Street is to the band and what to expect from their upcoming shows!
Which Sesame Street character do you most relate to?
Grover, same figure and superhero dreams…
If you could pick one character to be your BFF, who would it be?
Big Bird, I like how big and friendly he is! I like big friendly people and birds…
If you had to design a character for the show, what would you call them and what would they do?
Miranda. They would make scented candles.
Are you on board with Cookie Monster's new healthy lifestyle?
Do what you've gotta do cookieman.
If you could ask The Count one question, what would it be?
What's so funny about counting? It's serious business.
What do you do on days you feel like Oscar The Grouch?
Nothing. Too grouchy…
Which Sesame Street character would you take fashion advice from?
Bert and Ernie. Not too many of the characters on Sesame Street wear clothes, but Bert & Ernie have super cute outfits.
For the uninitiated, how would you describe The Gooch Palms' sound and live show?
A PARTY!
We loved your music video for Ask Me Why, what was the creative and filming process like? Did anything go drastically wrong?
It was all pretty fun and easy to make. We had our friend Michelle in the dog suit and our other friend Sarah assisting. We filmed the whole thing on a Go Pro and just story boarded the idea so we knew what we needed to capture, then crossed our fingers and hoped for the best. The people in the video were all strangers but were surprisingly really interactive with Michelle and were all keen to help out, which was awesome. There were some hilarious bloopers, but nothing really went wrong. Dumb luck I guess!
Lastly, what are three things people should know about your 'Introverted Extroverts' tour?
It will be the best show you ever see.
If you miss out you'll wish you were dead.
It will be better than Lego.
Read our previous Q & A with The Gooch Palms HERE
The Gooch Palms 'Introverted Extroverts' Tour
SAT 20 AUG
Oxford Art Factory, Sydney
FRI 26 AUG
The Foundry, Brisbane
THU 1 SEPT
The Jive, Adelaide (All Ages)
FRI 2 SEPT
The Curtain, Melbourne
SAT 10 SEPT
The Cambridge, Newcastle
Get Tickets HERE