Sideshow Alley: Splendour In The Grass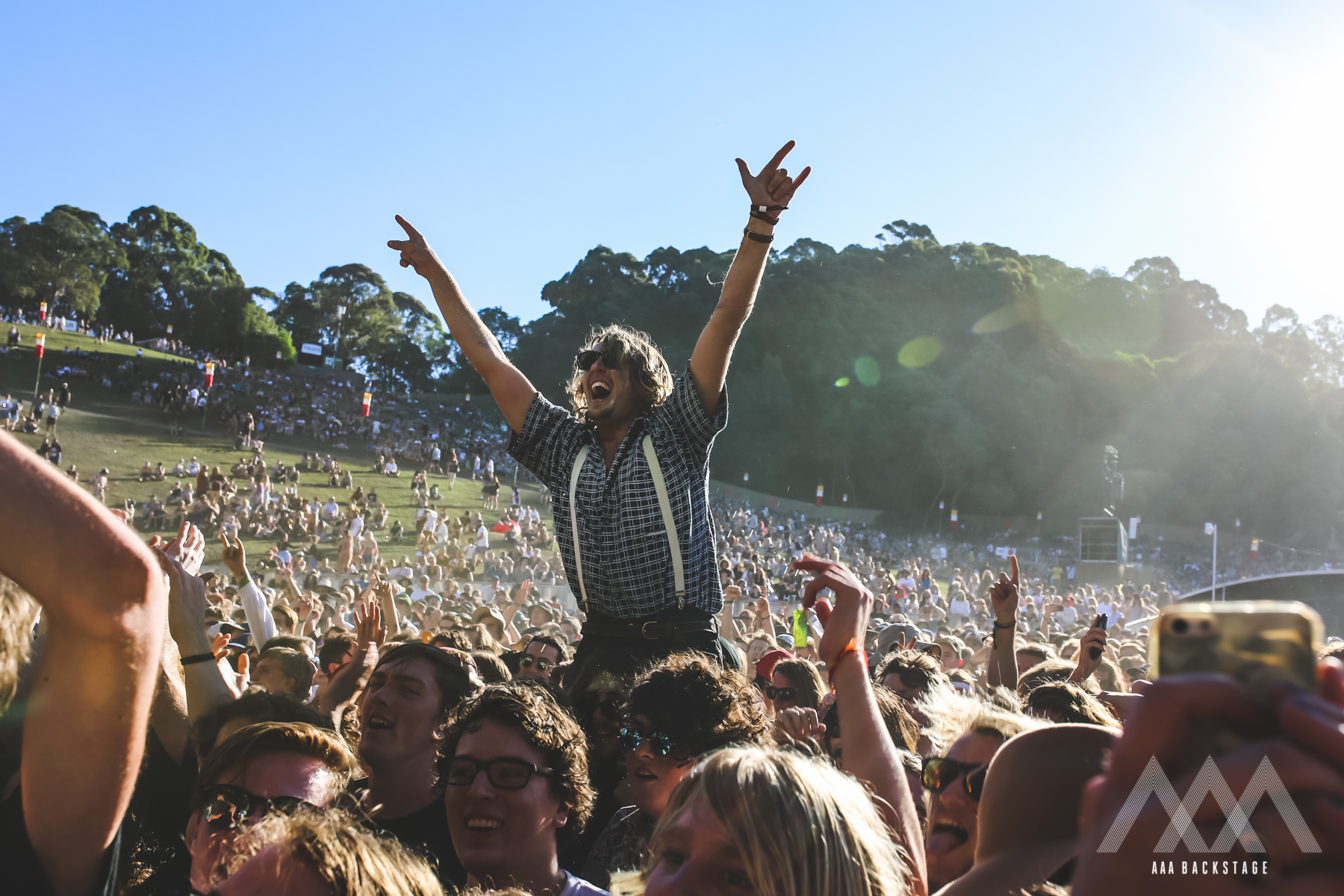 Update 30/05 1.05pm: Miguel's first return to Australia since 2014—when he supported Bruno Mars—will come paired with a run of two dates in Sydney and Melbourne. He'll be supporting his latest album,'Wildheart'.
Update 25/05 8.30am: Songwriter and guitar-slinging legend, Albert Hammond Jr., has announced a run of sideshows alongside his appearance at Splendour at the Grass. The Strokes member will play in Sydney and Melbourne with CLEWS on support.
Update 15/05 9.20am: Lil Xan, the enigmatic California rapper, has announced a pair of Splendour sideshows. Tickets for both shows go on sale 9am Friday 18 May.
Update 08/05 7.45am: Grammy Award-winning and multi-platinum-selling duo Ben Harper and Charlie Musselwhite will bring their second joint album to Australia. They've announced shows in Melbourne, Adelaide, Perth, Canberra and Sydney. This is in addition to their Splendour performance.
Update 30/04 9.30am: Three years since his last appearance in Australia, Ben Howard has announced two very special Splendour sideshows. He'll make his debut at Sydney Opera House's infamous Concert Hall this July alongside a Melbourne show at Palais Theatre.
Update 26/04 8.05am: Top biller of Splendour and current reining hip-hip king of the world, Kendrick Lamar has announced his additional sideshows. He'll be hitting Adelaide, Melbourne, Perth and Sydney… sorry, Brisbane.
Original Story: With the Splendour in the Grass lineup, comes the inevitable sideshows. Much like the festival itself, fans in Sydney and Melbourne—sorry, rest of Australia—flock to tickets sites to snag a catch to see some huge international acts on out stages.
For most, this is now the only way to see some of your favourite acts from the Splendour bill in the country as tickets to the festival were snapped up in another record breaking couple of minutes. Just to name a few, Sydney and Melbourne punters now have the catch to see The Wombats, Chromeo, Bully, CHVRCHES and more.
Not to mention the incredible news of a co-headline show of MGMT and Franz Ferdinand! That's huge!
Below is our comprehensive, handy guide to your 2018 Splendour in the Grass sideshows. As always, we'll update it as shows are added, upgraded and sold out.
Splendour in the Grass Sideshows
Miguel
MON 16 JULY
Enmore Theatre, Sydney
WED 18 JULY
The Forum, Melbourne
Albert Hammond Jr.
TUES 24 JULY
Factory Theatre, Sydney
WED 25 JULY
Corner Hotel, Melbourne
TICKETS
Lil Xan
FRI 20 JULY
Festival Hall, Melbourne
SUN 22 JULY
Enmore Theatre, Sydney
TICKETS
Ben Harper & Charlie Musselwhite
WED 11 JULY
Hamer Hall, Melbourne
SAT 14 JULY
Thebarton Theatre, Adelaide
MON 16 JULY
Perth Concert Hall, Perth
THURS 19 JULY
Canberra Theatre, Canberra
SUN 22 JULY
Sydney Opera House, Sydney
TICKETS
Ben Howard
TUES 24 JULY
Palais Theatre, Melbourne – SOLD OUT
WED 25 JULY
Palais Theatre, Melbourne
THURS 26 JULY
Sydney Opera House, Sydney – SOLD OUT
FRI 27 JULY
Sydney Opera House, Sydney
TICKETS
Kendrick Lamar
TUES 10 JULY
Perth Arena, Perth
FRI 13 JULY
Rod Laver Arena, Melbourne
SAT 14 JULY
Rod Laver Arena, Melbourne
SUN 15 JULY
Entertainment Centre, Adelaide
TUES 24 JULY
Qudos Bank Arena, Sydney
WED 25 JULY
Qudos Bank Arena, Sydney
TICKETS
Chromeo
SAT 21 JULY
Max Watt's, Melbourne
SUN 22 JULY
Metro Theatre, Sydney
TICKETS
Franz Ferdinand & MGMT
TUES 24 JULY
Festival Hall, Melbourne
WED 25 JULY
Hordern Pavilion, Sydney
TICKETS
Bully
WED 18 JULY
The Tote, Melbourne
THURS 19 JULY
Lansdowne Hotel, Sydney
TICKETS
James Bay
TUES 24 JULY
Hamer Hall, Melbourne
WED 25 JULY
State Theatre, Sydney
TICKETS
The Wombats
THURS 19 JULY
Festival Hall, Melbourne
TUES 24 JULY
Hordern Pavilion, Sydney
TICKETS
YUNGBLUD
SAT 21 JULY
Corner Hotel, Melbourne
TUES 24 JULY
Oxford Art Factory, Sydney
TICKETS
Lewis Capaldi
THURS 19 JULY
Howler, Melbourne
FRI 20 JULY
Oxford Art Factory, Sydney
TICKETS
Towkio
THURS 19 JULY
Howler, Melbourne
FRI 20 JULY
Oxford Art Factory, Sydney
TICKETS
Marmozets
WED 18 JULY
Lansdowne Hotel, Sydney
THURS 19 JULY
The Evelyn, Melbourne
TICKETS
Lord Huron
SUN 15 JULY
The Factory Theatre, Sydney
WED 18 JULY
Melbourne Recital Centre, Melbourne
TICKETS
Riton & Kah-Lo
FRI 20 JULY
Oxford Art Factory, Sydney
SAT 21 JULY
Prince Bandroom, Melbourne
TICKETS
CHVRCHES
SUN 22 JULY
Hordern Pavilion, Sydney
MON 23 JULY
Margaret Court Arena, Melbourne
TICKETS
Superorganism
SUN 22 JULY
170 Russell, Melbourne
TUES 24 JULY
Metro Theatre, Sydney
TICKETS
Splendour in the Grass 2018 Lineup
Kendrick Lamar
Lorde (only AUS show)
Vampire Weekend (only AUS show)
Khalid (only AUS show)
The Wombats
Hilltop Hoods
Chvrches
Miguel
Girl Talk (only AUS show)
Angus & Julia Stone
Gang of Youths
Franz Ferdinand
MGMT
Ben Howard
Dune Rats & Friends
James Bay
PNAU
Ben Harper & Charlie Musselwhite
The Avalanches DJ set
Chromeo
DMA'S
Ball Park Music
Henry Rollins (only AUS show)
SAFIA
The Jungle Giants
Lil Xan
Methyl Ethel
Amy Shark
The Bronx
Ocean Alley
Carmada (L D R U & Yahtzel)
DZ Deathrays
Lord Huron
Middle Kids
Hockey Dad
Towkio
Cub Sport
Touch Sensitive
Sampa The Great
Dean Lewis
Skegss
Albert Hammond Jr
Mallrat
Marmozets
Alex Lahey
Riton & Kah-Lo
Jack River
Superorganism
Anna Lunoe
Lewis
Capaldi
All Our Exes Live In Texas
Alex The Astronaut
Yungblud
Crooked Colours
Nina Las Vegas
Soccer Mommy (only AUS show)
Elderbrook
Rolling Blackouts Coastal Fever
Tim Sweeney
Stella Donnelly
Bully
Baker Boy
Wafia
No Mono
Waax
Angie McMahon
West Thebarton
Eves Karydas
G Flip
The Babe Rainbow
Haiku Hands
Didirri
Alice Ivy
Amyl & The Sniffers
Ziggy Ramo
Fantastic Man
Lo'99
Human Movement
Manu Crook$
Kasbo
Madam X
Andras
Alta
Ara Koufax
Two People
B Wise
Made In Paris
Jensen Interceptor
Woodes
Teischa
Antony & Cleopatra
Muto
Elk Road
triple j Unearthed winners (TBA)
Plus…
Mike Gurrieri
Love Deluxe
Lauren Hansom
Poolclvb
Godlands
Nyxen
Emma Stevenson
Ebony Boadu