Sneaky Q & A: Anthony Salce from 'The Hiding'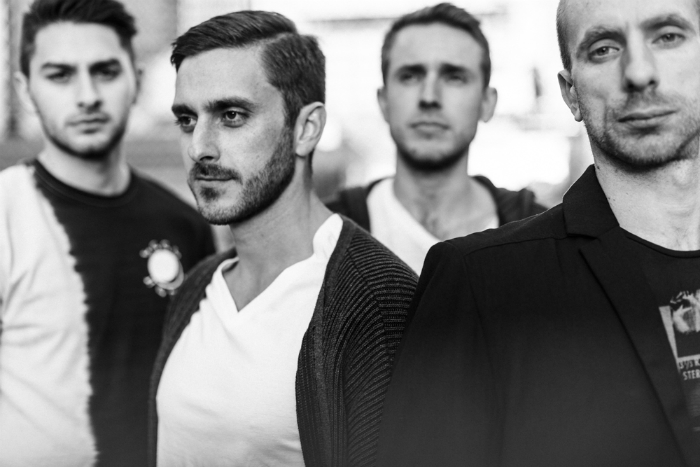 Melbourne electro-pop quartet The Hiding are riding high on the release of their latest single Karma My Life and it's amazing music video. The uplifting collaboration with masterful Italian sand artist Fatmir Mura sees the band's single visually accompanied by live, hand-crafted sand images, resulting in a video that's literally a work of art! We threw a few questions at the band's frontman Anthony Salce to test his sneakiness as well as learn a little more about the 4-piece.
If you were a spy and had to sneak your way into a secret volcano lair, how would you do it?
I'd get Ryan to go in first, see if there were any traps, then I'll go after him and do it properly!
Would any of you describe yourselves as being stealthy?
Yes, I've had minor training in Ninjitsu. I also love scaring people, along with the odd practical joke, so my senses are always aware…a lot of people want to get me back.
If you had to wear one, what would be your go-to disguise?
Ryan – So they'd attack him first (laughs), he's always getting me in situations!
Best hiding places you've had for hide and seek as an adult and the best place as a child?
No one's ever found me (laughs)! I was always that kid that broke the rules and hid outside the designated area and then jumped out and scared everyone.
If you had to 'disappear' for a while where would you go and how would you do it?
I would disappear somewhere in Europe, with a beach view and not leave until I had written an album.
If you were going to avoid the tax collector, where would you hide your money?
You need to have some first, haha!
For the uninitiated, how would you describe The Hiding's sound and live shows?
Electro pop with an indie/folk/percussive vibe, a high energy, fun banter-band!
Your latest single Karma My Life is super feel-good music, what's the inspiration of story behind the track?
I was flat before I moved to NYC and I needed to leave my comfort zone. "My rainbow ain't got no pot of gold" – I guess I was just upset and sad, and the lyric reflects that. Then I met someone who became my good luck charm. "Throwing salt over the back of my shirt, she's turning head wearing that skirt" signifies my luck was changing. It's all about sharing positive vibes with each other. We need more of that in life.
Lastly, what are three things people should know about The Hiding? 
Anthony can beat Ryan at Monopoly, pool, air hockey, and table tennis.
Ryan's favourite dance move is "The Stifler Slide" from 'American Pie 3'.
If we would re-do any old track it would be a song called Angels written by Anthony.
The Hiding Live Date
SAT 21 MAY
Revolver, Melbourne