South Summit Walk Us Through Their Sophomore EP, 'Creatures'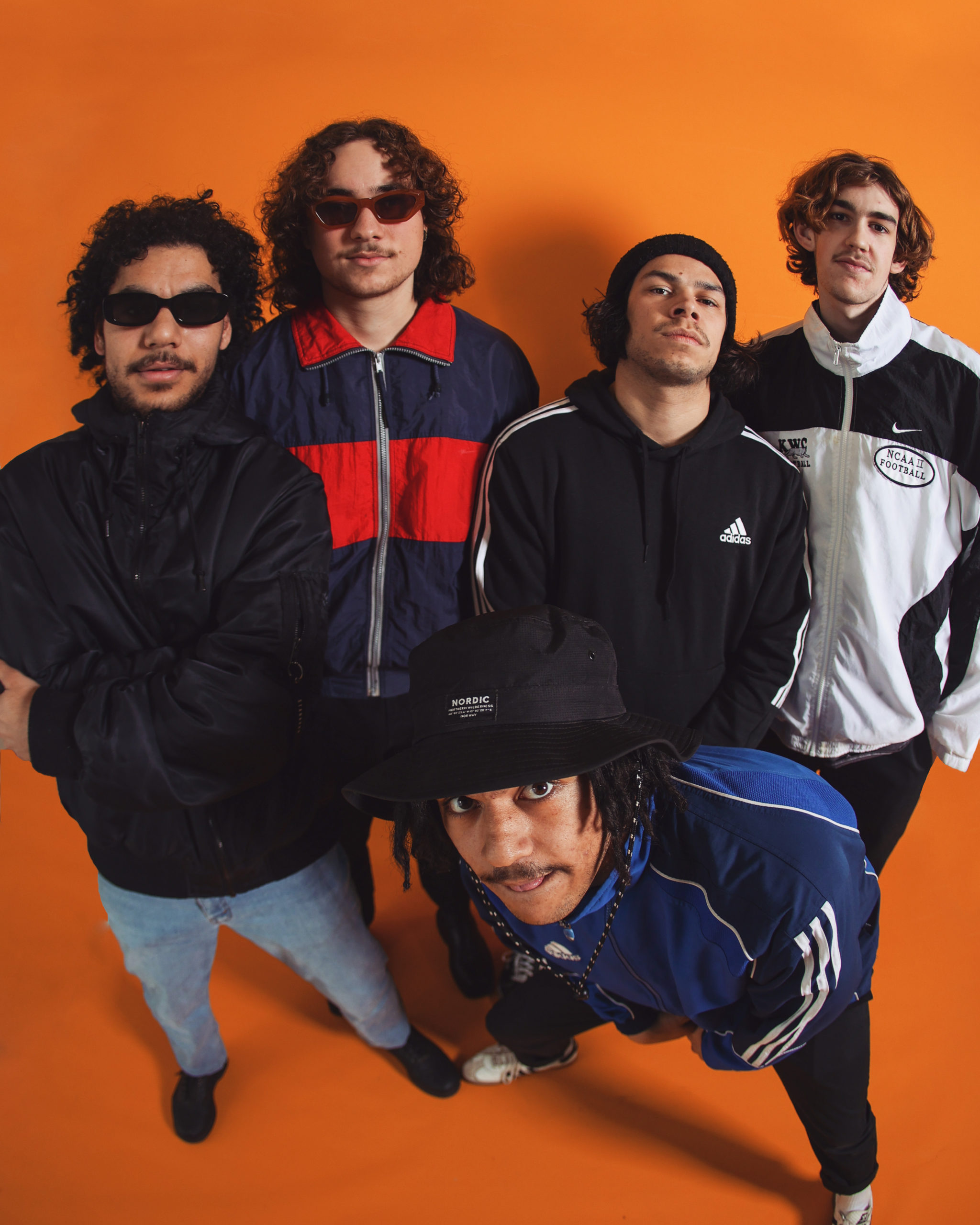 Indie five-piece, South Summit have been on quite the ride in recent times, from being named indie role models for reconciliation to Triple J's 'ones to watch', as well as performing on some of the biggest stages across Australia. Recently the band released their sophomore EP Creaturesand today they're going to walk us through each track, sharing the meaning behind each song and the process that went into creating them.
YAAMA
RECORDING:
We wrote this song as an intro to a live show in late 2021. It was our biggest headline show at the time so we wanted to bring something special to the performance. We brought along our close brother Amos to perform a Welcome To Country and play Didgeridoo on stage with us in the big intro. When it came to recording the EP it was an easy choice to put this song in, we loved it so much and we've always wanted to incorporate didgeridoo into our music. So we asked Amos to come in and record with us and we love how the track has turned out because of it.
MEANING:
Yaama means hello in the Kamilaroi language, who are the peoples of the North-Eastern region of NSW. This is where our bass player Josh, a Kamilaroi man himself comes from. We wanted to incorporate this word to introduce the listener to the EP in the language of one of the many tribes of the Indigenous Australian people. The track is a short instrumental piece telling a story of diversity and culture, and it's how we wanted to welcome the audience to the EP "Creatures".
TIRED OF WAITING
RECORDING:
This was another one of those classic jams where the song just came out of nowhere in a matter of minutes. It was instantly one of our favorites to play live because of the energy that it brings, which at the time was very different to anything we've done before. And just like every song we create when it comes to recording, we really don't shy away from going down a rabbit-hole of a different genre. Dave Parkin at Blackbird studios always helps us chase the sound of each song. All of us agreed as we were finishing it that we thought this song was going to be a big one, we were itching to release it for weeks.
MEANING:
The meaning of the song itself is about the realization that this person you thought you needed to depend on to be loved, was actually dragging you down and keeping you lost in a state of confusion through their manipulation and unreliability. The progression of the song then continues to a point where enough is enough, it's time to take a stand and distance myself from this situation that is holding me back from independence, because I'm tired of waiting. This independence then gives you the ability to achieve a happiness that comes from self-love and the freedom it brings.
RIVER DAYS
RECORDING:
Recording this song was a completely different experience for us for multiple reasons. We were in a new studio, with a new producer, and instead of spending studio time cramming as many songs as we could like we did before, we spent all our time and effort on one song. This instantly felt more natural, and we found ourselves falling very comfortably into the safe hands of Dave Parking at Blackbird Studios. The song came from an idea that our bass player Josh had written and we fleshed it out in rehearsals. But when it came to recording the song changed quite drastically. What started as a finger picking outro written in the days coming up to the studio, turned into almost the whole song and is the first thing you hear.
MEANING:
River Days is a story about the abuse of alcohol and how it can change the people closest to you. It is drawn from many personal experiences and deep emotions. The song is an attempt to show the very personal journey I have taken. 'Save me from the river' is a cry for help. Help to be spared from seeing those closest to me change for the worse, help to save them from alcohol and help to stop me from treading the same path.
RUNAWAY 
RECORDING:
This was one of those songs we had in the live set for a long time. As we played it more and more, we would change things and rewrite parts. You can actually find an older live version of the song on youtube with it titled as the original name of the song 'Flowers'. When we came into the studio it changed again as we started to have fun with different sounds, and new techniques we hadn't tried before. We tried to completely follow wherever we felt the song wanted to go with genre and feel. In the end we came out with something we were very happy with and couldn't wait to get out into the world.
MEANING:
Runaway is about how I moved around a lot throughout my childhood to different parts of WA and my experiences in these different environments. It highlights the various stages and explores the downsides of this change and how it has created the person I am today.
PROMISE ME
RECORDING:
The process of recording 'Promise Me' started from a jam we had back in 2021. All of us love that soul rock and groove feel, and I think that's what we aimed for in this song. We love when a song falls into place for us within the first 2 minutes of jamming, we find it easier that way as we can really fine tune our parts and workshop the song ready for the studio. Writing a tune for people to dance to is something we considered when in the process of making it, having the groovy rhythms and a soulful voice played a major part in this one. We were so stoked to have Dave Parkin (Blackbird Studio) bring it to life, it was such a good time recording this song.
MEANING:
The meaning behind 'Promise Me' is about falling for the rebellious side of someone and hoping they will give you that part of them. It's about having an itch to be different from everyone else, and loving that quality in another person.
CHANGES
RECORDING:
This song has always been a constant in our live shows. We wrote it back in 2020 as a real groovy and soulful track, trying to create something a little different again to our other songs we have out there. We had some time in Sydney while on a tour so we decided to make use of that free time to get a new song down to put out. The experience we gained from it was useful, as we had to learn how to adapt on the fly to a new environment for recording. The song was tracked and mixed at Forbes Street Studios in Sydney with Callum Howell, and it's the only track with a different producer.
MEANING:
Changes is a personal story of mine (zaya). 2022 was a huge year for me going through many adversities and obstacles and having to change the things around me to combat these things. I've begun to realize that change is a person's best friend, it allows you to grow into someone stronger and keep from falling into a stagnant path.
YALUU
RECORDING:
This song started off as a long jam and when we came to record the track we decided we wanted to keep it that way. Trying to keep that raw live energy was more important to us than anything for sure. Parts of the song were recorded without a metronome, and we had multiple instruments tracking and jamming together at the same time.
MEANING:
This song is about the struggle with ego and saying goodbye. Sometimes it's not easy to let go when you're holding onto so much pride.
I was fortunate enough to have been taught by my father to be humble and it helped me let go of things that have tried to weigh me down. The track takes us through a journey where I've struggled with that and how my ego sometimes gets the best of me.
South Summit's dynamic new EP, Creatures is available now, everywhere