Springtime Hit The Beaches Of The Gold Coast With Skeggs, Hermitude, Thelma Plum + More!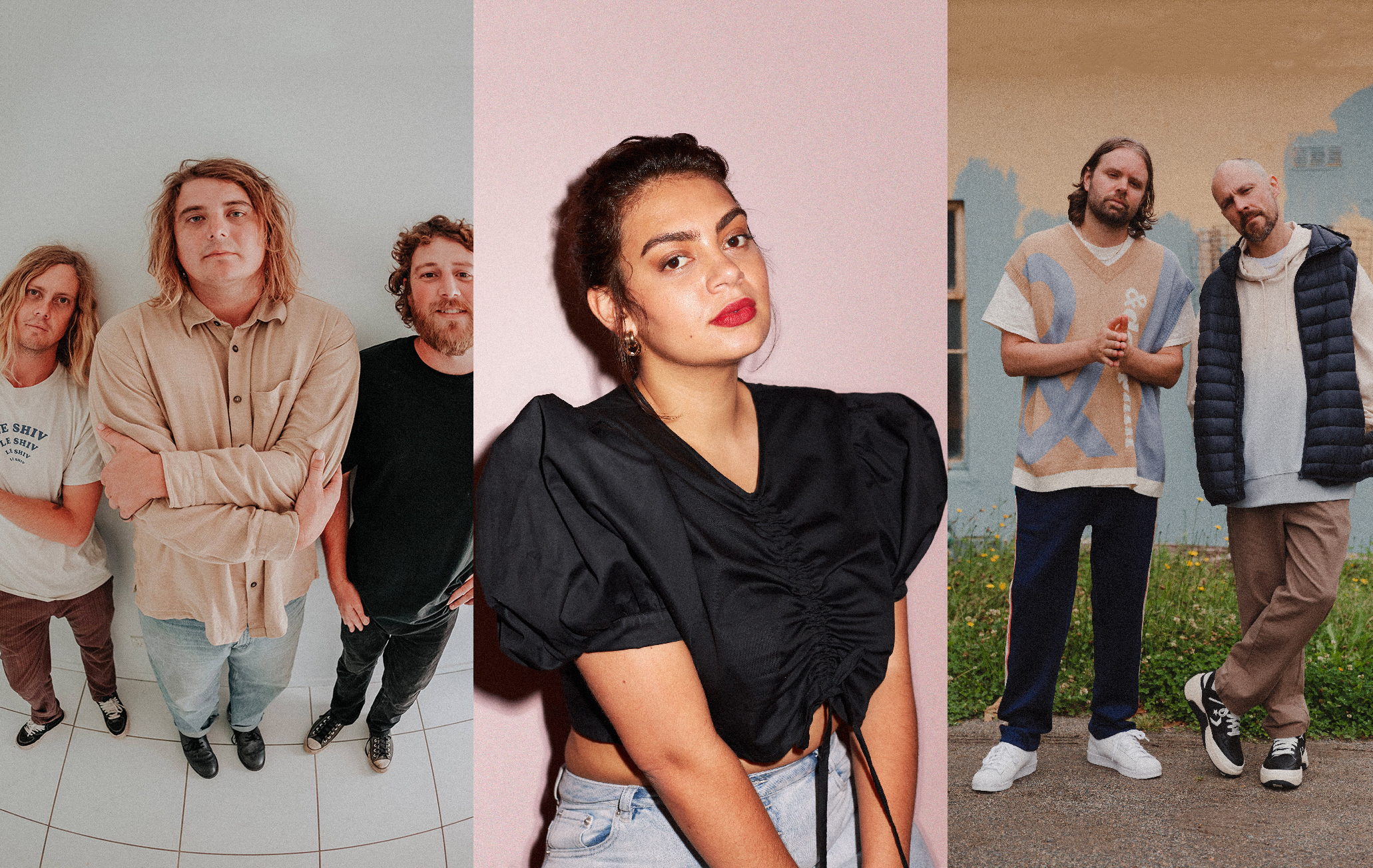 With rent on the rise, petrol prices skyrocketing and the cost of a tap beer getting way out of hand, the Gold Coast thinks it's only fair that music fans get a little something for free. No tricks. No gimmicks. No hidden fees. Just free live music.
Major Events Gold Coast has today unveiled a brand new, free (with some ticketed sideshows), three-day music festival called SPRINGTIME, set to take over the beaches and streets of Surfers Paradise.
Held on the first weekend of September (2-4 September), SPRINGTIME's inaugural year will kickstart the city's quest to host one of the country's largest free music festival, with an added promise of placing the spotlight on Australian artists, highlighting local music, local entertainment and local businesses, and celebrating the best parts of the country's most popular beachside destination.
Leading SPRINGTIME's debut lineup will be none other than Gamilaraay pop queen Thelma Plum, surf-garage rock trio Skegss and Australian electronic-hip hop duo Hermitude. Having all performed around the country at some of Australia's largest music festivals, they'll all be appearing at SPRINGTIME… for FREE!
Living up to its promise to focus primarily on Australian artists and put homegrown talent front and center, SPRINGTIME also welcomes Aussie acts Sneaky Sound System, Alex the Astronaut, JK-47, Skunkhour, Haiku Hands, Ninajirachi, Teen Jesus & The Jean Teases, and triple j host and DJ Ebony Boadu.
The lineup, which boasts more than 20 artists, doesn't end there with additional sets from IVEY, Teenage Dads, Peach Fur, DVNA, Saint Lane, EUCA, Buttered, The Oogars, Girl & Girl, as well as DJ sets from BEKS, VICES, Fletcher, Just Jessie and elsewhere DJs & Latour and Samin & Lotnnic.
Spread across multiple free outdoor stages and sideshow partner venues, including a partnership with the Gold Coast Music Awards to be held at the cities iconic art precinct HOTA. SPRINGTIME is the perfect opportunity for punters to explore the many offerings of the Gold Coast, and locals to get reacquainted with the city they live in.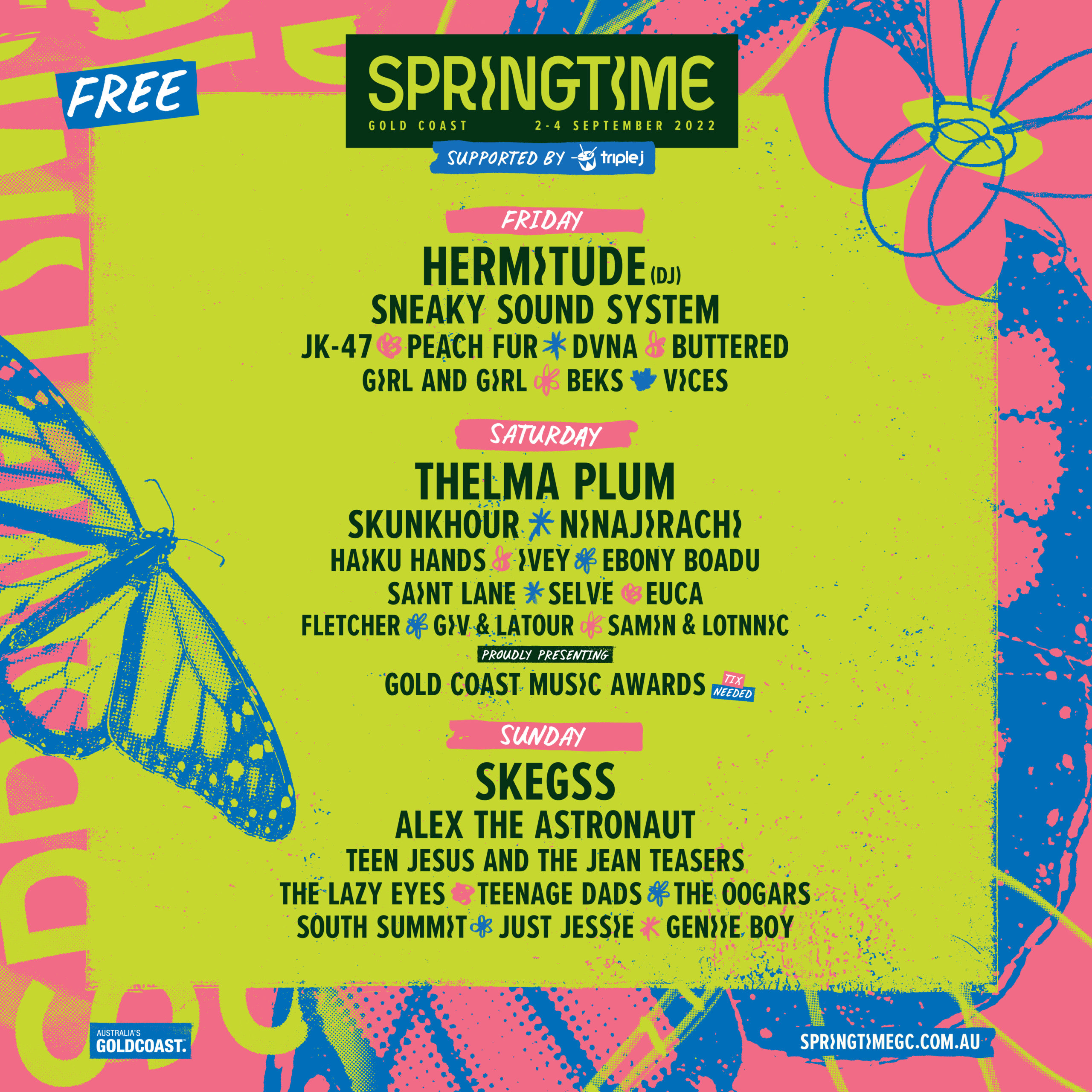 Festival Director Mark Duckworth said the SPRINGTIME team is excited to be adding a fresh and fun new music festival experience to our calendar of events on the Gold Coast.
"We can't think of a better way to welcome in spring on the coast than with an all-age contemporary music festival like SPRINGTIME," said Mark.
"The Gold Coast has such a strong calibre of artists emerging from the city and we can't wait to showcase their music alongside the counties best, in this perfect location.
"To also be able to celebrate the scene's achievements over the weekend with our partners the Gold Coast Music Awards will make for an annual party not to miss."
Friday 2 September – Sunday 4 September
Surfers Paradise, Queensland
FRIDAY
Hermitude (Dj set) • Sneaky Sound System • JK-47 Peach Fur • DVNA • Buttered • Girl & Girl Beks • VICES
SATURDAY
Thelma Plum • Ninajirachi • Skunkhour • Haiku Hands • IVEY Ebony Boadu • Saint Lane • EUCA • Fletcher
Giv & Latour (Elsewhere Djs) • Samin & Lotnic (Elsewhere Djs)
Proudly Presenting Gold Coast Music Awards
SUNDAY
Skegss • Alex The Astronaut • Teen Jesus & The Jean Teases The Lazy Eyes • Teenage Dads • The Oogars • South Summit Just Jessie • Geniie Boy
Tickets for SPRINGTIME Festival do not go on sale, because this is a free event! Book a flight, book a room and join us on the Goldy for a long weekend of great Australian music.
This project received grant funding from the Australian Government, under the Recovery for Regional Tourism program administered by Austrade.