Steel Panther Are C*mming To Australia In June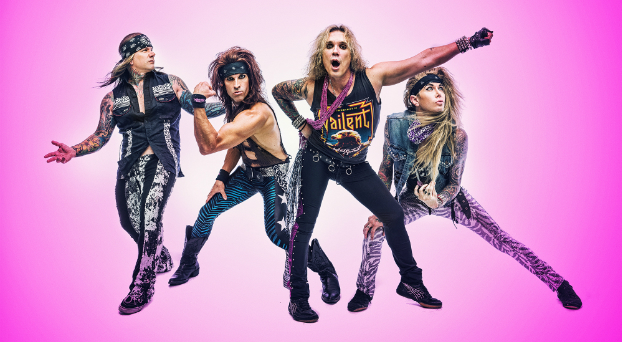 Lock up your sisters, your mothers, and probably your Grandmothers 'cause America's most extreme parody glam-metal rockers Steel Panther are "cumming" Down Under in June!
Michael Starr, Satchel, Lexxi Foxx, and Stix Zadinia will play most capital cities in support of their latest acoustic album and feature film 'Live from Lexxi's Mom's Garage'. However, don't expect the boys to be sitting on stools with acoustic guitars and sipping tea, expect an all-out assault on your ears, moral standing, and your private parts.
Steel Panther formed in 2000 and are world-renowned for their sexual innuendo laden glam-metal, which lyrically takes aim at everything from being pussywhipped, genital shaving techniques, and as far as songs about gloryholes.
"Our drive to bring heavy metal back has not lessened. It's actually gotten stronger. We're not going to stop. I look forward to our continued world domination," said frontman Michael Starr.
'Live From Lexxi's Mom's Garage' is Steel Panther's first proper-length movie, featuring a live 10 song acoustic concert mixed with the band's unmatched shenanigans and debauchery.
The glam-metal quartet were last in Australia for Soundwave 2014, where they drew massive crowds to their extremely offensive (in the best way) and entertaining sets.
Don't miss the chance to experience Satchel's shredding, Starr's hair, and one of the most hilarious and offensive balls-out live shows going around!
Steel Panther 2016 Australian Tour
FRI 17 JUNE
Big Top, Sydney
SAT 18 JUNE
Festival Hall, Melbourne
MON 20 JUNE
Eatons Hill Hotel, Brisbane
WED 22 JUNE
Thebarton Theatre, Adelaide
THURS 23 JUNE
Metro City, Perth
Get Tickets HERE from Friday 11 March