Steel Panther Drop Psychedelic NSFW Video For "Anything Goes"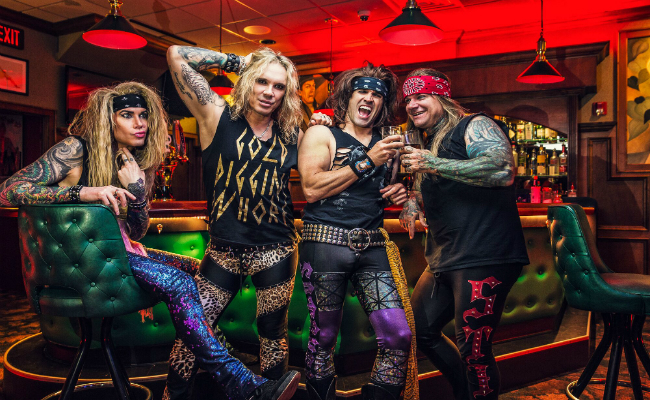 Los Angeles' sleaze rock masters Steel Panther have released a rip-roaring lyric video for their latest single Anything Goes, taken from their forthcoming album 'Lower The Bar'.
Now for seasoned Steel Panther fans, or 'fanthers', this goes without saying, but for the newbies; the song, like 99 per cent of the band's fantastic back catalogue, is NSFW!
Anything Goes takes everything that was great about hair metal and glam metal and rolls it into one fantastic offering. With enough swagger to walk into a bar and order a shot of whiskey, and enough sex appeal to make Ron Jeremy jealous, Anything Goes is another fantastic helping from the American quartet.
With an impressive guitar solo and enough guitar licks to make Van Halen jealous, as well as enough synth to feel at home in an 80's action flick, Anything Goes is romping good time that will make you nostalgic for perms and shoulder pads.
Lyrically, Steel Panther have stuck to what they do best – cram as much crass humour into three minutes as humanly possible. Rather than coming off as try hard, the songs lyrics fit their 80s throwback aesthetic, and are sure to make even the most straight laced member of society crack a smile.
What makes them even more impressive is frontman Michael Starr's vocal ability. Comparable with Axl Rose in his prime, Starr's insane vocal acrobatics arguably makes Anything Goes what it is, and add plenty of sleaze and snarl to the swaggering music.
The accompanying music video is the most 80's themed clip ever released. Filled with copious amounts of neon, flashing lights, cheesy text transitions, and perhaps the most 80's themed font of all time, the visuals present in the anything goes video perfectly suit the music, and is definitely a sight for fanthers sore eyes.
'Lower The Bar' is set to be released on Friday March 24 next year, so the wait for another full dose of Steel Panther isn't far off!