Strictly Speaking Returns with Round Two of Local Talent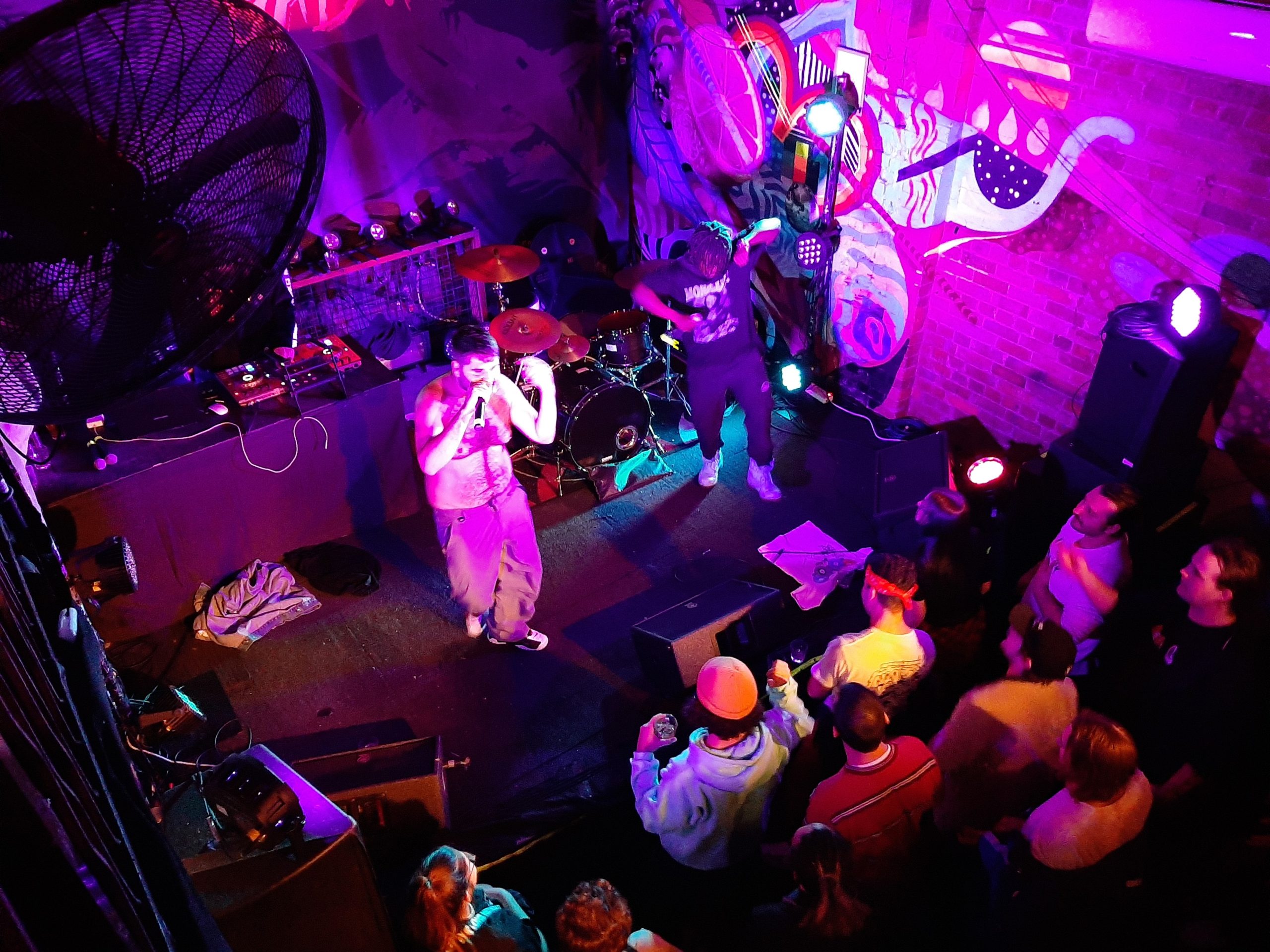 Brisbane hip hop heads turned out for the latest sold-out Strictly Speaking event, hosted by local label Strictly For The Heads, at The Flamin' Galah on Friday 4 June and the huge lineup definitely delivered. Organised by Strictly founders Late1 and Foolish with the recent addition of KMay to bring some youthful exuberance to the shows, round two of the hip hop hub's ongoing party – held on the first Friday of every month – provided punters with a diverse selection of emerging and established artists on a sweaty winter night to remember.
Featuring DJ sets from The Jackal in between acts, the show kicked off with the humble and creative Goldenweb. Her soulful singing over R&B beats – and amazing hair – captured the audience from the moment she hit the stage to perform an array of evocative songs with positive messages. As half-Solomon Islander, Goldenweb draws influences from a wide range of styles and discusses both her struggles and successes in her music. She aims to bring change to our society and create more platforms for young creatives to nurture their talent and inspire them to be great, no matter their background or the colour of their skin.
Bunch of Us, a collective of diverse rappers and singers formed in the wake of the COVID-19 pandemic, brought unparalleled energy to the stage with passionate performances and interesting transitions. Boasting everything from trap and boom bap to dance and R&B, this huge roster of artists delivered a mix of abrasive raps and chill vibes in a showcase of flow switch-ups and smooth vocals. The collaborative crew jumped among the crowd and amped them up before each drop to remind the fans that they are as much a part of their anthemic sound as the extensive members, proving that a Bunch of Us is made for live settings.
Next up was local favourite Tayls with AJS on the decks for his first solo performance in too long with a big set of technical rhymes over modern boom bap beats. An array of cruisy and punchy tracks got heads nodding to his comical raps over funky basslines and dusty drums with tasty scratches from AJS. Fellow Rinsed Out Records member Enggy came up for eerie cut Murder Scene before Late1 and APEman joined Tayls for their debut performance of energetic single Point Break with Cars. Finally, Just Brooks shared the stage with a frantic performance to close the set and the lads left the crowd hungry for more.
A blast from the past saw L33ze take to the stage as a force to be reckoned with. A live drummer brought the booming trap beats to life with disjointed double-time rapping over halftime breaks and tom fills. His aggressive delivery and dominating stage presence were supported by his versatile skillset with a dynamic setlist of songs discussing the struggles of his eventful life, using music as a medium to turn his pain into art. L33zeencouraged the audience to chase their dreams and assured them that there will be highs and lows but things will work out if you put the effort in – a wholesome finish to a blistering set.
Representing Brisbane underground collective No.One Network, Smak brought punchy bars and infectious hooks over hard trap beats in an intimidating performance with a lively hypeman. Already a few drinks in, his confident bravado and call-and-response adlibs kept the crowd engaged as they pushed to the front with their arms in the air and hollered old favourite Talk That back at him. After premiering his unreleased banger Mood Swings, things got hot and sweaty which saw a shirtless Smak bring up a guest before inciting everyone to get a 'step just before violent' for a big finish.
Lastly, headliner and 4ZZZ host APEman took to the stage with boisterous energy in his usual eclectic attire of Marvel shorts and a Lion King cap. The local legend opened with bubbling hit BA NA NAS before taking time to call out the government for their lack of support to the music industry and acknowledge the other artists on the bill. A blend of comical and provocative songs with dynamic flows and big catchy hooks over fast synthy beats made for a fun and interesting set from one of the most respected names in the game. A plethora of artists joined him for several posse cuts – including Young Vizzy for Free Spirit, Just Brooks and Leelow for Dungeon Crawl and Late1 for Your Mate – to make the night a collaborative family event that fans felt a part of too.
Strictly Speaking boasts a variety of styles on the first Friday of every month at The Flamin' Galah with an everchanging lineup which means that no two shows are the same. Each name on the bill crushed their set and the community came down to show their support and catch some live music, something that is unfortunately few and far between in the Brisbane hip hop scene of late. If the last two sold-out shows are anything to go by, round three is going to be monumental as both a stepping stone and a regular platform for local performers to flex their craft and make connections