Sum 41 Announce New Album, We Take A Look At Their Career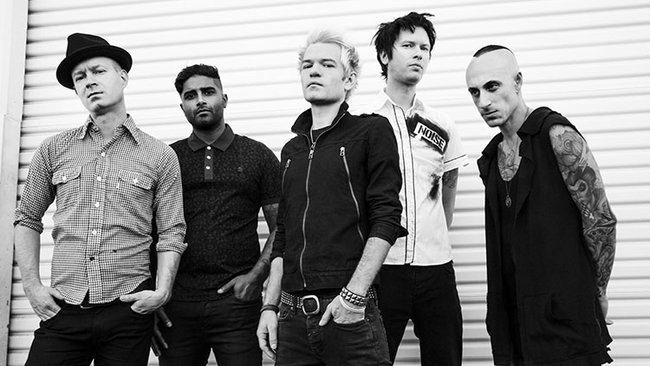 When you bring up Sum 41 at a party, you're probably going to get one of two responses:
1.) "Aren't they that band who made pop punk music in like 2000?"
2.) "Dude, didn't their singer married Avril Lavigne!?"
(To answer: yes and yes).
But, the Canadian punkers are coming out of the woodwork with the announcement of their sixth album, set for release in early October. With this in mind we here at AAA decided to take a look at the band's career and bring you along for the journey!
Forming in 1996, the Canadian band were part of the second wind of artists during the pop punk golden years of the 90s/early-2000s (that bands like Green Day, The Offspring, and Blink-182 were largely responsible for starting). After releasing an album in 2000 (which the band denies is their ACTUAL debut), the band released their debut album 'All Killer, No Filler' in 2001. This album was a huge hit for the band, with singles Fat Lip and In Too Deep becoming Summer anthems for disgruntled youth and featured in many teen movies.
Let's face it, they are great songs. Both are catchy, interesting, and a little bit strange (Fat Lip has the line "Because you don't know us at all/We laugh when old people fall"). The music video for Fat Lip and In Too Deep are also so000 pop punk, featuring the band playing at a skate park surrounded by punk kids, and the band playing in an empty swimming pool surrounded by punk kids, respectively. But jokes aside, 'All Killer No Filler' was a great album with a new and interesting blink-182 meets angsty rap vibe.
Then came their follow up album 'Does This Look Infected?' in 2002, which was pretty good too. Considered a fan favourite, the album spawned singles The Hell Song and Still Waiting. Commercially, the sophomore release didn't do quite as well as 'All Killer, No Filler', but critics mostly gave it positive praise.
Next album 'Chuck' was a bit of an advancement in maturity for the punkers. The lyrical themes in the 2004 album dealt with subjects such as politics, and there were considerably more slow songs on the album than previous albums. Critics were divided about the new direction for the band, some denouncing them as having changed their immature ways and finding a better, more mature (at times alt-metal) sound, while others saying the band's new style was a step in the wrong direction.
Whibley: "I can honestly say that '13 Voices' saved my life and I cannot wait to share it with all of you…"
2007's 'Underclass Hero' saw the band moving back towards their pop punk roots, but still remain 'mature' in terms of lyrical content. With songs about atheism and family life it certainly covered some different topics, but many found the sound of the songs to be unoriginal and formulaic for the band. Four years later, Sum 41 released their fifth studio album 'Screaming Bloody Murder', and critics and fans seemed to have a similar reaction to it as they did with the band's fourth release.
This week Sum 41 announced that they have finished recording their sixth studio album, titled '13 Voices'. The album was recorded, produced and engineered by lead vocalist Deryck Whibley in his home in Los Angeles, and will be the first album to feature the band's original guitarist, Dave Baksh, since 2004's 'Chuck'. Whibley allegedly began writing the album following his recent four-month stint in hospital.
"I had to learn how to do everything again: my motor skills, learning how to play guitar again…I couldn't even walk at the time," says Whibley.
The frontman says the album really helped him through his recovery process, and that it was a struggle he's glad he endured.
"This new music represents the journey I've been on throughout the process of making this record. I had to fall in order to rise, and nothing feels better than to have something you love that you had to really fight for. I can honestly say that '13 Voices' saved my life and I cannot wait to share it with all of you," says Whibley.
So the question is, will this album be an interesting new step for the band, combining elements of their old sound with the maturity they have gained on later records? Or, will it be a tired rehashing of the past few albums they've put out? We're hopeful that it'll be the former, and that the rockers will create a piece of work that both they and their fans enjoy!