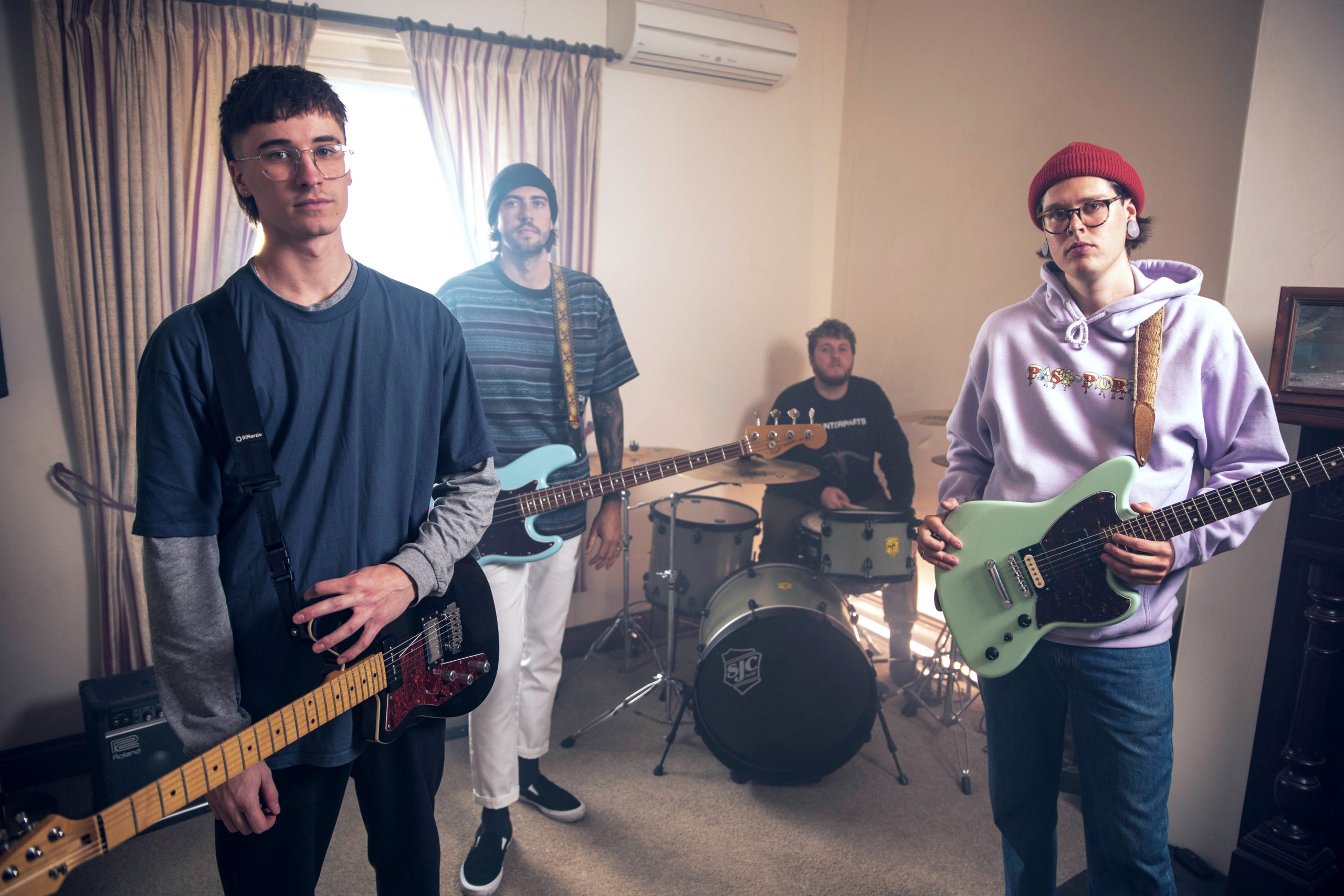 Known for their distinctive brand of melodic hardcore, which is as whimsical as it is ferocious, Adelaide's alt-punk outfit AGAPANTHER are back with bittersweet new single 'Last Legs' and accompanying music video. To get to know the band a bit better, they've shared with us five of their favourite tunes at the moment!
Mystery by Turnstile
We all love and take inspiration from a vast array of genres, hardcore being one of them and we've all been big fans of turnstile for quite a while now. We were naturally so stoked to hear new music from them after what seemed like a long wait. Turnstile pack a huge punch but still have that beautiful finesse in their songs. Mystery is quite different to some of their past work, but certainly hasn't disappointed, and we can't wait to hear their album when it releases later in the year!
Down University by Fiddlehead
For anyone who hasn't listened to Fiddlehead, they possess a raw and energetic sound which is extremely admirable. Their recent album 'Between The Richness' has some of the best songs we've heard in years, but 'Down University' is one that pushes that bar just a little bit higher than the rest. We resonate with this song especially because it's based around the idea that expectations set by others mean nothing in the grand scheme of things, much like the theme of one of our older songs 'Bug Eyes.' It basically puts forth a message to be yourself and to not be too hard on yourself in the process. As for the sound, the guitars have fantastic tones, it incorporates an awesome cheerleader section which adds context to the lyrical themes and it has such a distinct drum beat with triplets on the kicks. On first listen they seem slightly out of place, but it's these risks that make Fiddlehead such a great band, along with their Title Fight styled vocals, this song is an absolute winner!
Spit It Out by Softcult
We've always been into grunge, punk and shoegaze, so the twins-duo Softcult are an absolute stand out for a more modern take on these sounds. Although not an all-too-similar genre, it's not hard to pick some of the same influences from AGAPANTHER's roots. Their latest release 'Spit It Out' is somehow relaxing and chaotic at the same time with soothing verses, incredibly catchy hooks and a massive final chorus and outro. These two write and record their tracks in their home studio which is super inspiring and whatever they're doing, it's clearly working because this track absolutely slaps.
Hello Euphoria by Turnover
In recent times Harry has taken a bit more of his drum inspiration from Turnover, although the beats can be somewhat repetitive, there are slight changes as each section of their songs goes on and they really stand out. The bassline is a groove, complimenting the rhythm guitar and is never too overpowering. The lead guitar cuts through as it always does with Turnover songs, but not too much that you lose the other components of the song. Then the vocals absolutely cut through everything, Austin Getz is a great songwriter and the hook to this song will always get me right in the feels.
If You Say So by The Dead Love
The Dead Love are not only one of our favourite bands to listen to, but we had the pleasure of playing with them a year or so ago and they are genuinely great guys. 'If You Say So' encapsulates all of their greatest qualities, incredible guitar tone, fat bass and hard-hitting drums, all qualities that we strive to incorporate in AGAPANTHER songs. The production level of TDL is always at an extremely high level too thanks to their vocalist/guitarist Stevie Knight. They blend grunge and punk so well, which is definitely why we love The Dead Love and why we love this track.
Last Legs is available now, everywhere.