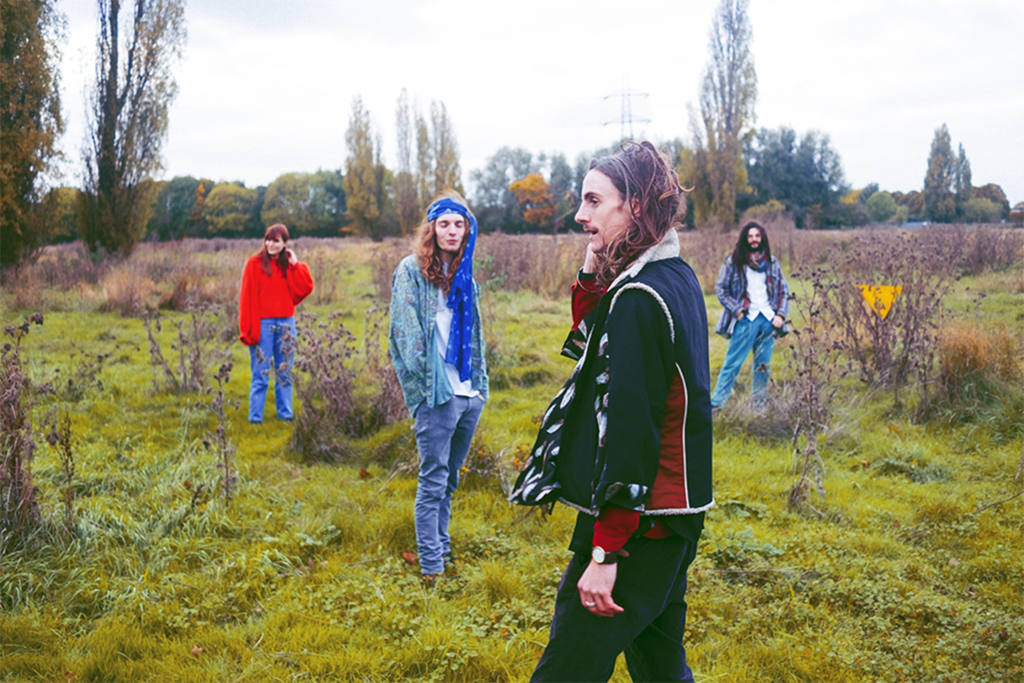 We caught up with UK artist DAAY, following the release of his new single 'Little Foot', a track he's explained is about "shaking off conditioning and making the necessary steps, however tiny, towards something that makes you genuinely excited." The London based musician, Alex Barty-King, creates alternative indie-rock music with delightful hints of blues, jazz and punk influence. His expressive lyricism and genre-defying tracks have earned this solo project spots on various radio stations internationally, and secured performances at venues such as the O2 Academy Islington.
We wanted to get some more insight into what DAAY is all about, so we passed over the all-important aux and he popped on five tunes he's been bumping at the moment, check them out below!
Vanishing Twin – Cryonic Suspension May Save Your Life
This song by Vanishing Twin reminds me of a wild tip-toe through the deep jungle where the sky is a distant dream and the floor is my best friend. I can see the dirt in my fingernails as I slurp up the last of my jungle stream drink, while I play hide and seek with the native monster who I've tamed since I was left alone and abandoned by my imaginary negligent and forgotten urban parents. The jungle is my carer now. Always coming on late at home when things are weirder than weird it's the perfect song for escaping the city. These guys are an awesome ensemble from London led by Cathy Lucas and they're playing at Manchester Psych Fest this September.
Anna Calvi – Don't Beat The Girl Out Of My Boy
Anna Calvi is from London and has an undeniably powerful sound and uses her voice to its fullest range, from haunting flutters to a Bowie and Bush-Esque full-force attack. I first saw her at All Points East in Victoria Park in the summer of 2019 before the pandemic ate up all the stages. All I could see was her face all lit up and her waving arms caressing her guitar whilst performing what seemed like a solo set as she demanded the audience's attention away from her band and didn't let go for the whole show. It was a fierce performance that captivated me enough to go and seek out her records. Discovering music this way round is always the most exciting way to find a new artist. I would also recommend the song 'Indies or Paradise'.
Mellah – Easy Breezy
I first saw Mellah playing at the Montague Arms (RIP) in Peckham back in 2017 for the release of his debut EP 'Liminality' and I was amazed by the array of instruments, songwriting style and vocal delivery. I am a massive fan of bringing brass and wind and all sorts into the indie rock sound and this gig inspired me to pursue this in my own songs. Mellah produces his own tracks which is impressive and gives them a personal lo-fi touch only he could deliver. This track 'Easy Breezy' demonstrates his dark and strong songwriting style whilst keeping it playful and light which is always a winner. Our upcoming single 'Dream Kit' will be full of instrumental surprises and theatrical vocals and will be coming out in July this year.
TVAM – Psychic Data
TVAM as far as I'm aware are a loud scratchy electronic psych-rock artist from London who leads you through the morning if you'd decided to eat an alternative breakfast that Monday and sacked off work. I love his tracks, they take you on a wiry journey of drum machines and loud guitar whips. I love the driving force behind this track Psychic Data and his blend of drum sounds meandering through lo and hi-fi, machine and acoustic sounds. They're also on the lineup at Manchester Psych Fest in September.
Wax Machine – Truth
'Truth' is a single released in 2020 by Wax Machine who we supported once at Strongroom Bar in Shoreditch in London back in 2019 back when we had one A as DAY. They have two very strong components to the band; the flute and the lead guitarist who both provide vocals and lays down a prog-rock backdrop for the Wax Machine whir on.
'Little Foot' is available everywhere now- and as the first of many singles set to be released this year, you're going to want to keep an ear out for the next immersive piece from DAAY!