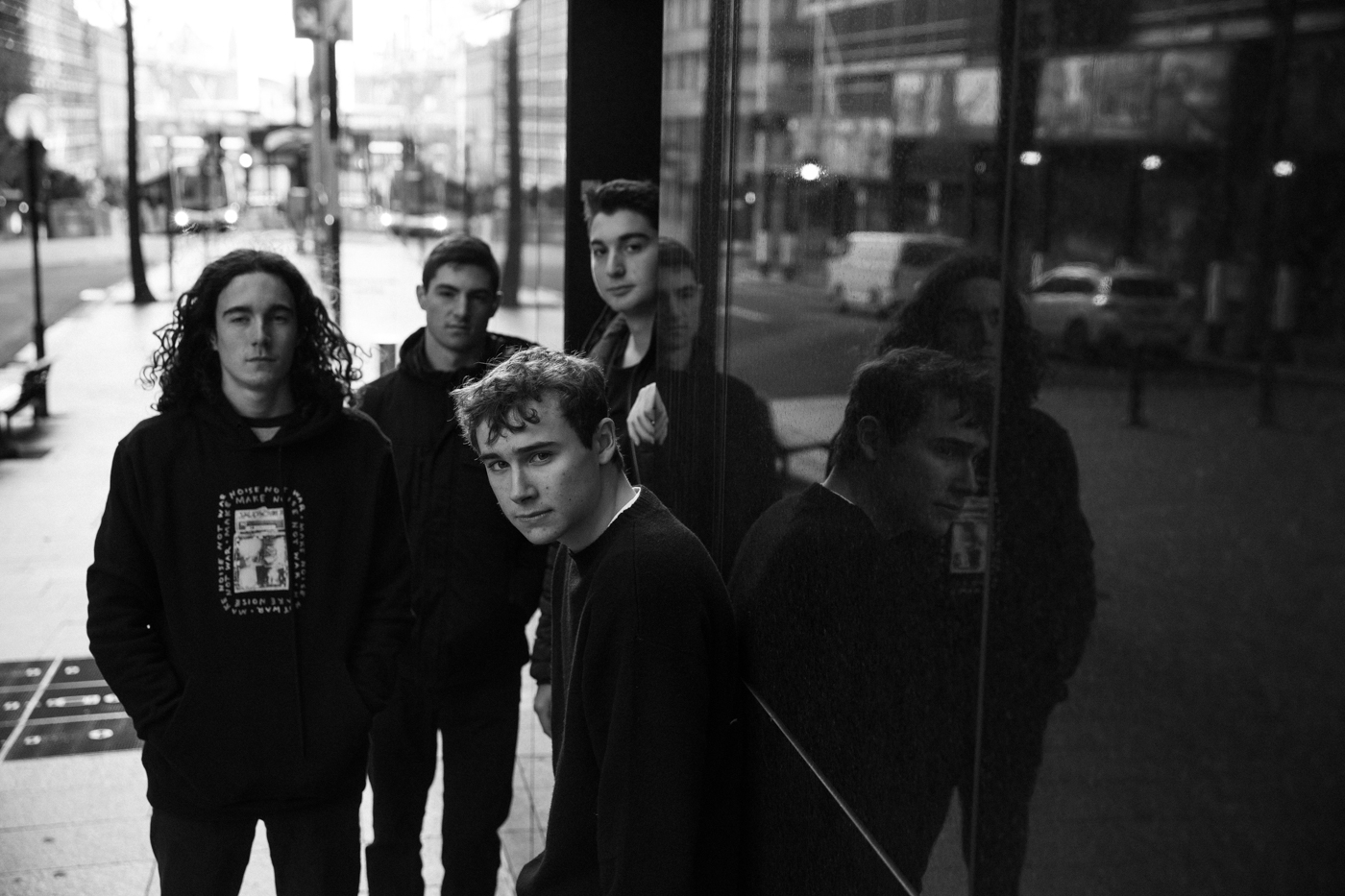 Sydney based punk lords The Kids have just released their new single, Go Back To Canberra. It's just over 4 mins of pure gritty power. In their words "it's a punch in the face from start to finish".
To celebrate the release we sat down with Jagger from the band to find out his 5 favourite tunes of all time!
Hey everybody! My name is Jagger and the drummer/brains behind the blossoming punk band The Kids and today AAA Backstage has invited me to write about my top 5 songs that I'm listening to at the moment.
The only problem with this is, is that I listen to so much bullshit everyday that even I can't keep up or track with what I listen to. So today I'm just going to write about some favourite songs of all time. But only 5 of them. Let's do this!
Dope Calypso – Violent Soho
I love this song. Looking at my Spotify stats, this is my most streamed song from my Spotify account of all time! And I actually found it while stumbling across one of my Discover Weekly playlists, which goes to show Spotify is one of the greatest sources of finding new music. I always knew who Violent Soho were and the influence they had on the Australian music scene, but when I first wrapped my ears around this song, I remember instantly being sucked into the grungey swaying hook after it's atmospheric start. And most of all it had that Australian summer undertone. Which made me instantly fall in love with violent soho. I love them because most Australian bands fall into one category nowadays, but violent soho do exactly what they want, and that's what makes them so influential. I then went on to listening to the whole of "Hungry Ghost" and the diversity on that album makes it in my opinion of of the best Aussie rock albums of all time. The hard indie rock on Covered In Chrome, the shoegaze aspects on OK Cathedral, and an almost classic rock ballad with Fur Eyes. But Dope Calypso in my opinion is the best and most gut wrenching track. The pouncing drums, the crunchy and raw guitar tones playing the most meaningful and heart melting riffs, and the most gut punching vocals from Luke that with his soaring and scratchy vocal style pulls you into this type of blissful vortex. I started relating to this song even more when quarantine started, with lyrics like "I'm gonna go outside, nothings gonna save us" and "so safe they never asked us, the world ain't built this way, its alright".  Fuck I love this band, please tour with us violent soho. 
Let Down – Radiohead 
One of the most critically acclaimed albums of all time "OK Computer" featuring its song Let Down has earned its place on my list. Good on you Radiohead! I'm kidding, why wouldn't it be? I feel like this song is pretty underrated. Being a life long Radiohead fan and only getting more into them as time goes by, with OK Computer, Kid A, and In Rainbows being all in my top 15 albums of all time. I always find myself running back to this particular song. 
OK Computer is the closest comparison to an orgasm in music history, and this song is a prime example of it. when the song hits 3:45 it is literally pure self pleasure to your earholes, not even exaggerating. 
Being the 5th track on this masterpiece of an album, you have this sense of isolation throughout its entirety, after listening to songs  such as "Paranoid Android" and "Exit Music (For a Film)" you have this overwhelming wave of emotions tugging on your heart strings, but in the most satisfying way, a type of experience you can't find in many albums, and when Let Down reaches the tracklist, in my opinion its refreshing. The track is so beautiful yet eerie, with its constant reverb on the delicate guitar tone and its noticeable drone sort of white noise that plays in the very background, like the song is being played out in the open and almost live. The song feels sad but yet reassuring, like its there with you holding your hand, as you touch yourself or something. And you wouldn't have it any other way! That moment after 3:45 when Thom's vocals start getting more intense and wailing, the drums start filling up the open space, the reverb from the guitar and keys start creating this new world that reels you in out of reality. Almost making you cry, and when Thom Yorke adds in those harmonies being heard like its coming from the back of your head, fuck me, you have reached peak music. This song is a spiritual experience, do yourself a favour if you haven't and play this fucking song!
You, In Weird Cities – Jeff Rosenstock
Jeff Rosenstock. In my opinion, one of the best artists of the 21st century, and one of the most important musicians in this very modern day! The former Bomb The Music Industry! Front man released the album "We Cool?" All the way back in 2015 and this song being the second track from it. It's a very hard game to decide which Rosenstock track is my favourite, because I keep going back to tracks I wasn't too big on and falling in love with them all over again, all the time. But this track has to the be one I always run back to. The track starts out with no hold backs, a fast tempo, a pounding drum beat blasting in your ears accompanied by a fuzzed the fuck out bass toned riff, of course displayed with Jeff's iconic nearly off pitch voice screaming meaningful lyrics. This song is a perfect mixture of organised chaos and a well organised structure. It may take a listener a couple times to listen to the whole song for it to completely process as there is so much happening and it all happens so fast for the 3:40 it goes for. But for a modern day punk song, its got everything you need. the perfect balance of clean and rawness, tight drums, fucked guitar with extra layered noises, a relentless voice singing unapologetic hooks, musicianship, and a fucking vibe. At 2:10 the song abruptly pulls out of its mayhem and breaks into an unexpected dynamic stop. All the tones break clean and the chords sway gently down the scale, as the drums can still be heard firing away but much more softly, giving the song some time to breathe. A group chant can be heard singing the main melody, until the most joyous guitar solo breaks the silence in half as the band joins in with overlapped group harmonies, making your hair stand on end. That fucking guitar solo man, it hits every correct note, before reaching its outro, which again leaves you sweating as they reach their final hit. To me, everything about the song is perfect and its such a highly combust diversified tune, that's probably why it stands out to me the most from the whole of his discography. Please tour with us Jeff. 
Cut Your Hair – Pavement 
And last but certainly not least, my favourite song of all time "Cut Your Hair" by Pavement. I feel that Pavement is the most underrated band of the 90s, yet probably one of the most influential. Their music was so eccentric and wacky, and being around the same time as grunge artists and other 90s rock bands creating commercial ballads, they did everything that was not that, and they still fucking rocked. Every album of theirs felt like a mixtape, a mismatched batch of songs on each that included many different genres, recording styles, and types of songwriting. I think they were creative geniuses. And "Cut Your Hair" I think is a perfect display of who they are. It's such a fun song. it kinda sums up what the 90s looked like, awkward and fucking awesome (from what ive heard). I found this song by accident while deep diving into YouTube a few years ago, and I didn't think much of it on my first listen, but I kept listening to it even when I didn't want to, and one day it just clicked and became my favourite song of all time. If anyone plays it I will sing every word so loudly. I still don't even know what the song is about, and it isn't the most crazy or sophisticated song that they have wrote, and most people might not see what I see in it. But goddam I wish I could write a song as good as that one day. Whenever it plays it just makes me think of the good things in my life and I feel lucky to have known a song as good as that one. Listen to it yourself and figure out what you think, the music video is hilarious also. 
Dagger – Slowdive 
When your dealing with a genre such as "shoegaze". Its almost a representation of what natural beauty is. It was a genre created for the sole purpose of self enjoyment, a cult underground scene that was supportive and inspired each other. Slowdive makes music to the soundtrack of your most perfect dream. Slowdive along with other shoegaze bands such as mbv, Cocteau Twins, and lush to name a few, have music in such a realm that can match any sort of emotion your feeling and goes along to any setting. When your sad or happy, when its cold or hot, shoegaze will wrap around that situation and support it. This song "Dagger" is the last track on their album "Souvlaki". In my opinion one of the best album closers of all time. Mostly because its such a bummer. I love albums that close with sad songs, album closers are important because it sums up what the project you just listened to means and it needs to leave the listener satisfied and begging for more. Slowdive captures that perfectly on "Dagger" being a really brutally honest soft spoken acoustic number talking about the breakup of the two founding members of the band. You have this feeling of loss while listening to this song. Its simplistic acoustic chords with almost mumbling monotone lyrics, joined in with bittersweet harmonies, making the song sound fucking amazing. And the faint piano in the background, echoeing from one ear to the other, its a shoegaze acoustic song. What's interesting about this record is that the two founding members broke up in the middle of recording and still remained in the band together. So what I could imagine creating intense and awkward sessions, also brought out really passionate and emotional songwriting from the two members, writing about each other. "Souvlaki" is a flawless record and features some of the most beautiful songs I've ever heard, but Dagger isn't even my favourite song on the album, my favourite song on the record is "When The Sun Hits" but I've been spinning Dagger heaps as of late. Perfect song to listen to while having a night drive in an unfamiliar part of town while smoking a cigarette, I know… edgy. 
Have a listen to The Kids new single, Go Back To Canberra and see what all the rage is about with these young super fun and keen talented young fellows.
Go Back To Canberra is available now, everywhere.