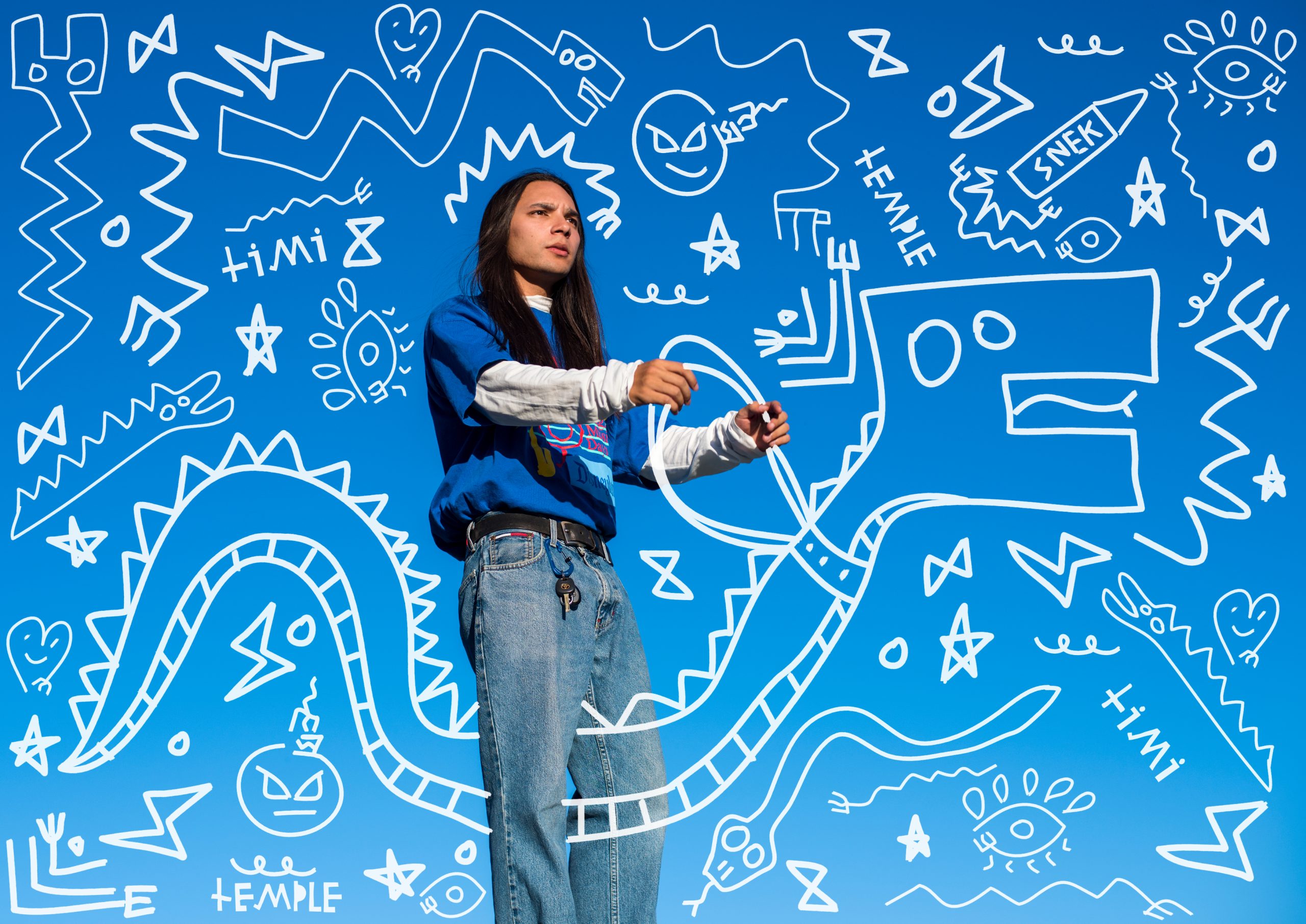 Sydney-based DIY indie-rock artist Timi Temple has just revealed his infectious new single 'Fa-Fa-Fading' – produced and recorded by the artist himself. We caught up with DIY maestro to find out more about who his favourite artists are.
TOTTY: Fairies
I've been loving this song for the last couple of weeks – the guitar sounds are thick and heavy and remind me a lot of the stuff I was listening to when I was a teenager – kind of nü metal stuff like Disturbed/Breaking Benjamin/Mudvayne haha (don't hate) – but TOTTY have done such a sweet job of combining these low drop tuning guitars with ethereal vocals and an open indie drum sound. I think its given it a super Aussie heavy garage sound that I find ultra-nostalgic!
DZ Deathrays: Snakes
Okay if you're reading this and know even 1% of who I am… that 1% would probably be that I LOVE SNAKES – I've even painted all of my guitars with snakes on them (I call them 'sneks' though).
When this song first popped up in my Release Radar (thanks Spotify, this is the reason I don't let ANYONE touch my phone to play their crap songs) I honestly almost fell off my bike that one of my fav bands had written a song about my favourite animal. I really like the light and shade of the verse to pre-chorus to chorus, and the guitar solo and the sparse 'ohhhhh' breakdown. This song gives me vibes of my high school listening again, more specifically Artist In The Ambulance by THRICE.
TIARNIE : When You Go
I love this song so damn much I actually learnt how to play it and posted a cover of it online. The chorus has a key change (that's rather unpredictable) and I can't believe how uplifting it is!!  I try and have key changes or tonal centre shifts in all my own songs so when I hear other artists smashing it in super unique ways it melts my musical heart instantly! Go stream this song, it's so incredibly underrated!
A.Swayze & The Ghosts: Mess Of Me
This song is my go-to wake up song when I'm about to head on my daily bike ride!! I've been digging the brit rock/punk sound more and more lately, so to have some fellow Aussies release a banger like this, I was hooked instantly. This song is a keeper. There's a slowdown halfway through just when you think you're getting acquainted with it all and that has kept my interest every time I've listened, and that's a serious amount of times!
BUGS: Can't Get Enough
At the time of writing this song has only been out a week and I've listened to it every day, also ~ you know that mid-afternoon fatigue that sometimes hits you (especially now when we're all locked down at home) well, this song gets me back in the mood to do shit again. It's Aussie Punk at its most deceivingly simple (there's so many sneaky ear candies that make this song great… but all those bells and whistles don't take away from the base hook and vibe).
If you're after fresh new music, don't forget to follow our Spotify and Apple Music playlists. Updated weekly, danced to daily.