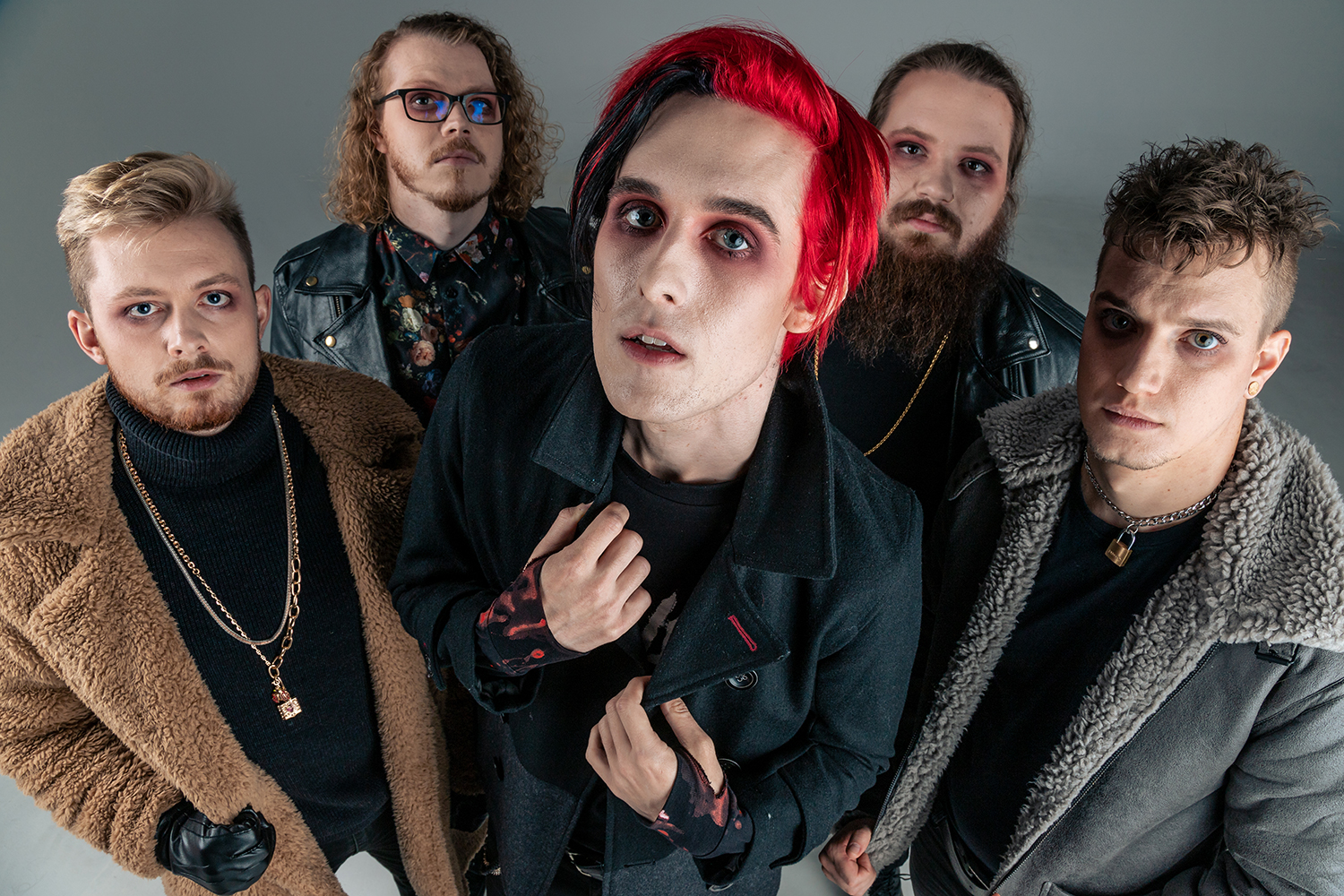 Adelaide's favourite theatrical pop-punk outfit Wolf & Chain have recently uncovered a new single An Unfortunate Tale of Two Lovers and an Insatiable Taste for Poison (out September 16) ahead of highly-anticipated EP 'Amor Mortal', out on October 29.  To celebrate the release and to get to know the band a bit better, we threw them the aux cord to share with us their 5 favourite tracks their digging at the moment.
Jack
100 gecs – Hand crushed by a mallet (Remix) [feat. Fall Out Boy, Craig Owens, Nicole Dollanganger]
This song is dirty, gnarly goodness. It's such an adrenaline rush and there are such a range of sounds in it. I just love the intensity/emotion in the vocals and how distinctive each section is. I first came across 100 gecs a little while and loved them but this song really got me hooked and I've been coming back to it ever since.
Harry
Hot Milk – I JUST WANNA KNOW WHAT HAPPENS WHEN I'M DEAD
I came across this song on a Spotify playlist and was immediately captured by the high energy driving riff that kicks it off. I'm a big fan of how Hot Milk blend darker, angsty sounds with pure pop melodies. It's an addictive combo that captures the mood perfectly, and keeps bringing me back to this track.
Sam
Periphery – Reptile
Everyone said a 15 minutes song as the first track on a record is a bad idea but, clearly, no one told the members of Periphery. What a bold move! Reptile is my favourite Periphery song, pretty much hands down. The semi-dystopian lyrics really fit the vibe of the song and the breakdown really does make me feel like the world is ending; it's absolutely crushing. The song just has such a sick vibes that keeps me wanting more and more, I could listen to it all day. There are distinct sections but it feels like one whole. I love the creepy voice over in the bridge, too. From a production standpoint, this song is a masterpiece. There are little elements and layers that take listen after listen to hear but once you do it takes the song to another level. If you haven't listened to Periphery, do yourself a favour.
Luke
Clay J Gladstone – Dead Friends.
We played on tour with these guys earlier in the year and fell in love with their energy, songs and personalities. As soon as this song dropped, I (and the rest of the band) smashed that repeat button compulsively. Great riffs and vocals bring back punk and emo vibes in a big way.
Joe
Poppy – EAT
I've been following Poppy for the last 3 or 4 years. It's been super fun to hear her trying out some wild new sounds for her on 'I Disagree', and that was one of my favs from last year. But this latest EP 'EAT (NXT Soundtrack)' has got a bunch of noise and hardcore punk elements building on the metal sound that was present all over the last record, so it's even more my jams. Even some Dillinger-esque mathcore riffs going on with this one in the first verse. Been loving the noisier punk sounds ever since getting into Pup, the last Daughters album, and my fav ladies from Japan 'Otoboke Beaver'. Highly highly recommend this EP and this track as an opener, slams. Those last ~5 seconds …mmm…chefs kiss.
An Unfortunate Tale of Two Lovers and an Insatiable Taste for Poison is available now, everywhere.