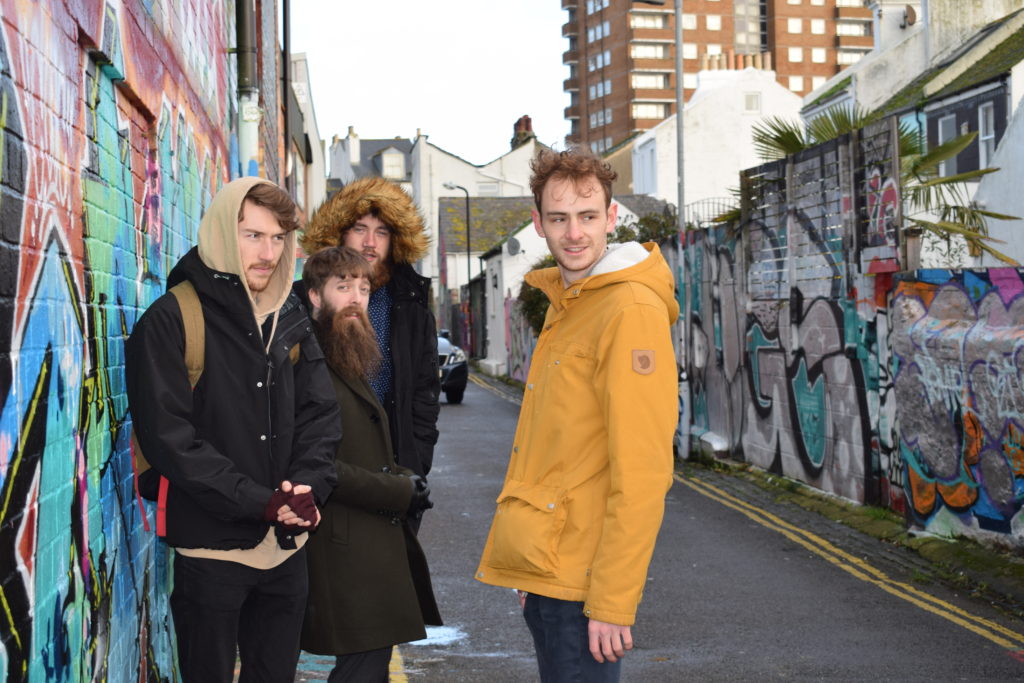 Brighton-based band XOXO recently shared their debut single, 'Weekends', a delicious pop track with indie guitar and electronic vibes.
XOXO has already earned acclaim and features for demo tracks from local and international tastemakers, and now their debut single 'Weekends' is making it clear they mean business. The four-piece truly hit the mark for an uplifting summer banger, with an unmistakable upbeat energy, dance beats and addictive hooks. This guitar-driven track was self-produced, recorded both at home and at Brighton Electric with Ally Jowett, with arrangement and production guidance from Kieron Pepper.
We spoke to frontman Vid to hear XOXO's top 5 tracks at the moment- check it out below!
Attention by Charlie Puth
We're a guitar band but we're very influenced by modern pop. 'Attention' is just a cool track that's got (nearly) everything we love. Big hooks, inspired melodies, sublime guitar parts and wonky bass that can make you sway against your own will. It walks that line between being shamelessly pop and effortlessly cool that so few songs can pull off. 'Chocolate' by The 1975 is another. It's the kind of track a lot of people might be embarrassed to say they love as much as they do. We're not embarrassed. It's fucking great.
24/7 by NOISY
Our drummer Jordan knows these guys from way back when in Worthing. They played a gig in his living room for The Great Escape. They call themselves "Rock'N'Roll Ravers" and it's an apt title. The energy is phenomenal – it's got that big festival tent vibe where everyone's going nuts and you've lost your friends, but you don't even care because EVERYONE is your friend. Their sound is much more influenced by Jungle and Garage than ours is, but we want that same vibe, that same festival feeling. '24/7' is pretty chilled out by their standards, but it's just such a cool mission statement for who they are. Definitely check out their other tracks too.
G.O.A.T. by Polyphia
Again, we are a guitar band. Our own shredder-in-chief Cam is a huuuuuuge Polyphia fan and, along with 'Champagne', this is one of his favourite tracks by them. It's instrumental and the musicianship is just top notch. There are so many techniques going on in that guitar riff, but it's still just as catchy as it is Muso. You don't have to be a guitarist to love it. It's all one big flex, but it's also just great music for anyone and everyone to enjoy. And that's hard to pull off. There's more than a bit of Polyphia's influence going on in 'Weekends', especially in that drop riff after the chorus. Halfway between this and Taylor Swift – that's kind of what we were aiming for.
Don't Kill My Vibe by Sigrid
There's something effortlessly likeable about Sigrid. We know she's quite ubiquitous these days and you've probably already heard of her (and heard this song), but she's a massive influence on us in almost everything we do. There's something unique about her as a Pop Star that permeates her image, her music, her voice, her lyrics. Even now that she's massive, she seems so impossibly wholesome and down to earth – just a girl who loves to sing her songs without all the BS. And nobody does melody quite like Sigrid. Pop music over the past decade has often been very moody and downtempo, with 'melodies' limited to just one or two notes. Think 'Green Light', think 'Out Of The Woods'. But to that backdrop, Sigrid is constantly finding new tunes that reach high and low and this song is the perfect example. In some sense, it's got almost as much in common with 'Somewhere Over The Rainbow' as it does with most mainstream pop from 2012 to 2018. It's classic and it's now, all at the same time. And it's got those big festival vibes we're after too.
Open Eye Signal by Jon Hopkins
A wonky electronic track may seem like a weird addition to this list, given the first four entries, but 'Open Eye Signal' inspired the middle 8 of 'Weekends'. In some sense, it was about trying to capture some of what this track does, except with a drum kit, a bass guitar and an electric guitar instead of with synths and samples. The groove is constantly bubbling just below boiling point and then out of nowhere (SPOILER ALERT – GO LISTEN TO IT FIRST) it suddenly just veers off into this totally different, much tighter, drier and more rhythmic sound. That's what we wanted to do going into the Middle 8 of 'Weekends', to have this (somewhat less extreme, admittedly) unnatural break from the otherwise big and spacious sound of the track. The build-up of ambience throughout this section and going into the guitar solo also very much takes a leaf out of Jon Hopkins' book. 'Singularity' and 'Emerald Rush' are two more of his tracks that are absolutely sublime and beautiful, but also totally appropriate for a mad rave with their jittering beats.
After those five bangers, be sure to pop on 'Weekends' by Xoxo to keep the vibes going, and keep an eye on Xoxo as we've heard they've got more up their sleeve for later this year!