SHOWS ADDED: The Amity Affliction Drop The Holy Trinity Of Announcements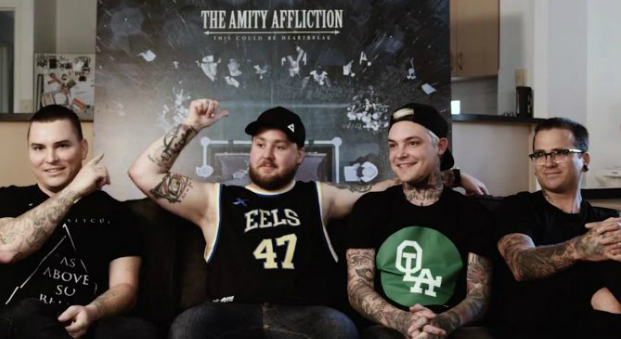 Well, well, well! It seems The Amity Affliction's mysterious countdown clock has finally revealed it's prize, and oh my breakdown it was one hell of an announcement! Out of nowhere, the biggest heavy band outta Queensland in a long time have dropped a mammoth triple threat.
New album, check! New song with video, check! Tour dates, check! It appears the metalcore kings have been quietly chiseling away at yet another number one album and we're unbelievably keen!
We all expected an album announcement or a new tour following Amity's mystery countdown, what we didn't expect to hear however, is a brand new tune that's already on repeat throughout our office. I Bring The Weather With Me is a more melodically driven and ambient than we're used to hearing from the 'Amity boys.
Highlighting the suicidal, dark lyrical tones that are so common from vocalist Joel Birch, the single shows a large amount of growth, ditching the generic metal core breakdown for a controlled guitar solo that conveys maturity.
The music video for the new single speaks all things emotion. Focussing around Joel's death (all metaphorical, don't stress!), the video features everything from a singing eulogy from clean singer Ahren Stringer to a rainy, depressing funeral service. We almost expected to see Dan Brown ripping his guitar solo outside the church, Guns 'N Roses November Rain style.
With the excitement of a brand new 'Amity single, the 4-piece have also announced details for their fifth album. Titled 'This Could Be Heartbreak', the album is scheduled to be released in August and no doubt will sky rocket up the charts like their previous ARIA album chart toppers 'Chasing Ghosts' and 'Let The Ocean Take Me'.
To round out the trifecta of The Amity Affliction's monster announcement, they'll be hitting the road once the album is released with a small run of intimate shows along the east coast. Check our venues, dates, and the new single below!
The Amity Afflcition 'I Bring The Weather With Me' Tour
w/ Trophy Eyes
FRI 19 AUG
The Tivoli, Brisbane (SOLD OUT)
SAT 20 AUG
The Tivoli, Brisbane (NEW SHOW)
FRI 26 AUG
Metro Theatre, Sydney (SOLD OUT)
SAT 27 AUG
The Metro, Sydney (NEW SHOW)
WED 31 AUG
170 Russell, Melbourne (SOLD OUT)
FRI 1 SEP
170 Russell, Melbourne (NEW SHOW)
Get Tickets HERE