The Drones Drop Insane Video For 'Boredom' & Additional Tour Dates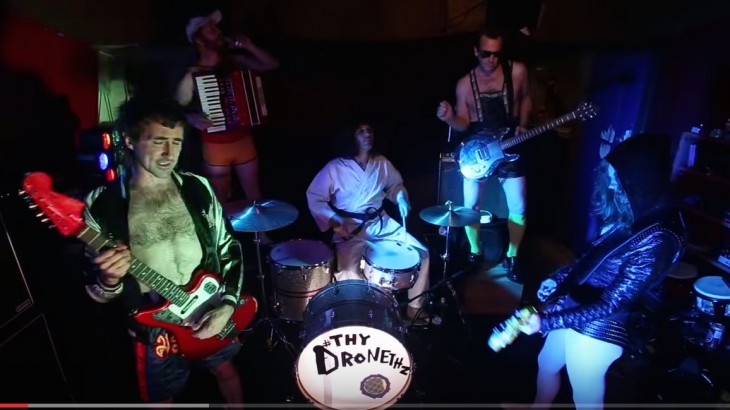 Proving again that they are and will always be full of surprises, The Drones have released a weird AF video for their single Boredom. Taken from their seventh studio album 'Feelin Kinda Free' (2016), the track features Gareth Liddiard's characteristic biting vocals and social commentary. But the new video, premiered on French Noisey, takes the song into the realm of the absurd.
Filmed in both Japan and Melbourne, the clip is a party and hen's night, which the band say are "celebrating and mourning the universal power of deep suburbia to afflict the comfortable and comfort the afflicted". There's always A LOT going on in The Drones music, and Boredom is definitely no different.
Cutting from the band playing under pulsating low-light in a cramped recording space, to the pink-tastic and slightly grotesque hen's party, the clip assaults all your senses – but that's precisely the point, you're not meant to feel comfortable or comforted.
On top of the new clip, they've also just announced additional dates on their 'Feelin Kinda Free' tour, adding two more shows at The Tote in Melbourne. If there was ever a time to get your tickets, it would be now!
The Drones 'Feelin Kinda Free' National Tour
FRI 29 APR
The Gov, Adelaide
SAT 30 APR
Rosemount Hotel, Perth
FRI 6 MAY
The Triffid, Brisbane
Almost Sold Out!
SAT 7 MAY
The Northern, Byron Bay
THURS 12 MAY
Wollongong Uni Bar, Wollongong
FRI 13 MAY
The Cambridge, Newcastle
SAT 14 MAY
The Metro, Sydney
Almost Sold Out!
FRI 20 MAY
170 Russel, Melbourne
Almost Sold Out!
SAT 21 MAY
Brisbane Hotel, Hobart
FRI 27 MAY
The Tote, Melbourne
Just Announced
SAT 28 MAY
The Tote, Melbourne
Afternoon show, ages 12-25
SAT 28 MAY
The Tote, Melbourne
Sold Out
SUN 29 MAY
The Tote, Melbourne
Just Announced
For Info & Tickets Click HERE