The Faction Hardest 100 Results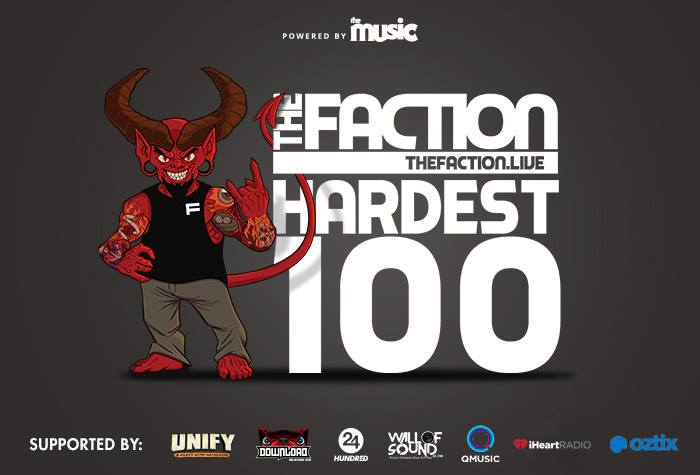 The first of its kind, The Faction—a 24/7 heavy music online radio station—held a countdown of the top 100 heavy songs of all time over the weekend. Voted by the public, and receiving more than 15,000 votes worldwide, the official countdown was a huge success and, like always, started a massive discussion of which band should have got the top spot.
Taking the coveted #1 position is Architects' Doomsday! Considering what was in the top 10, this seemed like an odd choice. However, there was pure gold all the way through including Metallica, Parkway Drive, Black Sabbath, A Day To Remember, Rage Against The Machine and more.
Both Metallica and Parkway Drive tied for most songs in the countdown, ranking in a respective seven entries. Australian artists got a sliver over 20% of the share with artists like The Amity Affliction, AC/DC, Northland and Karnivool scoring spots. Polaris' Lucid was the was recent entry into the countdown!
The countdown was a celebration of all things heavy music. As described by The Faction Content Director Tim Price.
"The votes from The Faction listeners have produced a stunning list of songs that prove why metal is among the most successful genres in the world. From Black Sabbath through to Architects, just as The Faction is a celebration of metal in all its forms, The Hardest 100 has well and truly delivered a flag to wave for the genre," explained Price.

See the full 100 list below along with the official Spotify playlist. Like the sound of a neverending heavy metal, punk and hardcore radio station? Stream The Faction HERE all day, every day.
The Faction Hardest 100 Of All Time
1. Architects – Doomsday
2. Metallica – Master Of Puppets
3. Parkway Drive – Carrion
4. Metallica – One
5. Rage Against The Machine – Killing In The Name
6. Polaris – The Remedy
7. A Day To Remember – The Downfall of Us All
8. System of a Down – Chop Suey!
9. Tool – Forty Six and Two
10. Slipknot – Duality
11. Black Sabbath – War Pigs
12. Architects – Nihilist
13. Slipknot – Wait and Bleed
14. Deftones – My Own Summer (Shove It)
15. Tool – Stinkfist
16. Slayer – Raining Blood
17. Alexisonfire – This Could Be Anywhere In The World
18. Black Sabbath – Paranoid
19. Bullet For My Valentine – Tears Don't Fall
20. Karnivool – Themata
21. Slayer – Angel Of Death
22. Parkway Drive – Romance is Dead
23. Meshuggah – Bleed
24. A Perfect Circle – Judith
25. Thy Art is Murder – Reign of Darkness
26. Bring Me The Horizon – Shadow Moses
27. Pantera – Walk
28. Bring Me The Horizon – Sleepwalking
29. Tool – Lateralus
30. A Day To Remember – All I Want
31. AC/DC – Highway to Hell
32. Machine Head – Davidian
33. Northlane – Quantum Flux
34. In Hearts Wake – Earthwalker Feat. Joel Birch from The Amity Affliction
35. AC/DC – Back in Black
36. 30 Seconds to Mars – The Kill
37. The Amity Affliction – Pittsburgh
38. Alice In Chains – Would?
39. Rage Against The Machine – Bulls On Parade
40. Slipknot – Psychosocial
41. Disturbed – Down With The Sickness
42. Architects – Gravity
43. Megadeth – Holy Wars… The Punishment Due
44. Northlane – Dispossession
45. Metallica – Battery
46. Parkway Drive – Smoke 'Em If Ya Got 'Em
47. Marilyn Manson – The Beautiful People
48. Pantera – Domination
49. Korn – Freak on a Leash
50. Faith No More – The Gentle Art Of Making Enemies
51. Metallica – Enter Sandman
52. Killswitch Engage – The End Of Heartache
53. Korn – Blind
54. Slipknot – (sic)
55. The Amity Affliction – Youngbloods
56. The Amity Affliction – Open Letter
57. Parkway Drive – Bottom Feeder
58. Slipknot – Spit It Out
59. Motorhead – Ace Of Spades
60. A Day To Remember – All Signs Point to Lauderdale
61. Dio – Holy Diver
62. Fear Factory – Replica
63. Metallica – Fade To Black
64. Hellions – Thresher
65. Rammstein – Du Hast
66. Lamb of God – Laid To Rest
67. Tool – The Pot
68. Faith No More – Epic
69. Iron Maiden – Run to the Hills
70. Parkway Drive – Sleepwalker
71. Linkin Park – One Step Closer
72. Nirvana – Smells Like Teen Spirit
73. Iron Maiden – The Number Of The Beast
74. Black Sabbath – Iron Man
75. Parkway Drive – Horizons
76. Sepultura – Roots Bloody Roots
77. Black Sabbath – Black Sabbath
78. Limp Bizkit – Break Stuff
79. Tool – Sober
80. Alice Cooper – Poison
81. Metallica – For Whom The Bell Tolls
82. Bring Me The Horizon – Drown
83. System of a Down – Toxicity
84. Karnivool – Roquefort
85. Pantera – I'm Broken
86. Metallica – Creeping Death
87. Polaris – Lucid
88. Alter Bridge – Blackbird
89. Asking Alexandria – Final Episode
90. Fear Factory – Demanufacture
91. Judas Priest – Painkiller
92. Iron Maiden – Hallowed Be Thy Name
93. Korn – Got the Life
94. Parkway Drive – Crushed
95. Mastodon – Oblivion
96. Deftones – Be Quiet And Drive
97. Opeth – Blackwater Park
98. Refused – New Noise
99. Slipknot – The Devil in I
100. Lamb of God – Redneck