The Gooch Palms Release Tour Dates & Barking Mad Video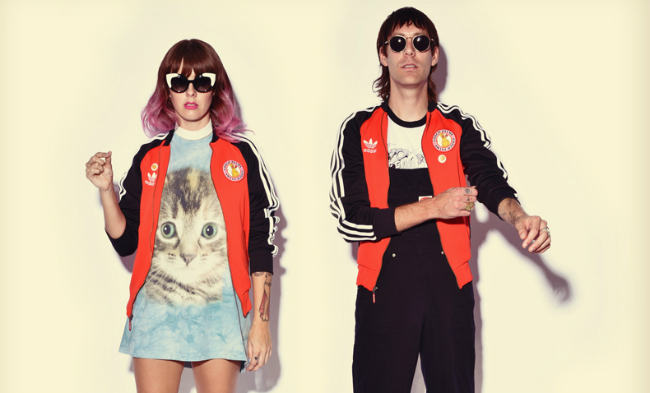 Fresh off the back of supporting Violent Soho on their sold-out WACO tour, The Gooch Palms have announced their own East Coast tour dates in support of their sophomore album 'Introverted Extroverts'.
Known across Australia and USA for their entertaining live shows, the garage-punk duo has been hard at work recording 'Introverted Extroverts', stating the release is "smarter, denser, and a hell of a lot more catchy".
The Los Angeles-based, Newcastle-born outfit have also unveiled the music video for the second single from the upcoming album, Ask Me Why. The video, filmed entirely on a GoPro, follows the antics of Terry the Dog as he attempts to raise money for the video being presented to us.
Once he works out simply standing on a sidewalk isn't enough, Terry begins dancing and frolicking the various parts of Los Angeles, making for an interesting watch that's bound to conjure a giggle or two.
Finding himself an electric guitar, Terry begins rocking out on the beachfront until a sneaky muppet makes off with all of his earnings. He finds the bucket empty but returns to his money-making antics, including a few illegal acts that shan't be mentioned.
The song itself is a very catchy tune that inspires head-bopping, as the groovy guitar work and drumming compliments the vocals of Leroy Macqueen. Ask Me Why has an anthemic nature with its chanted/yelled vocal work and guitar-driven hook. Check out the ridiculously funny video and the tour dates below!
The Gooch Palms sophomore album 'Introverted Extroverts' is set for release on Wednesday the 15th of June.
Read our Q&A with The Gooch Palms HERE
The Gooch Palms East Coast Tour
SAT 20 AUG
Oxford Art Factory, Sydney
FRI 26 AUG
The Foundry, Brisbane
THU SEPT 1
The Jive, Adelaide AA
FRI SEPT 2
The Curtain, Melbourne
SAT SEPT 19
The Cambridge, Newcastle