The Internet Prove They're Cooler Than You With Like A Version N*E*R*D Cover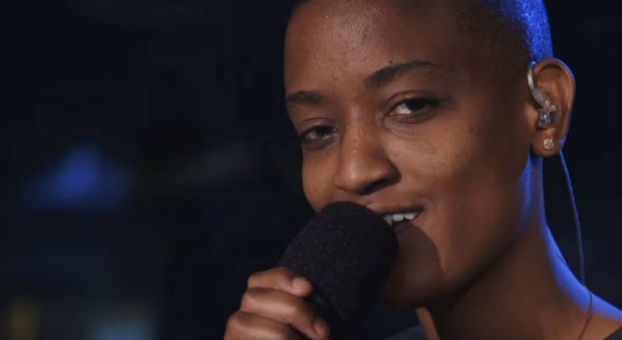 Mmmm mmm. The Internet have made today 100% silkier with their cover of N*E*R*D's Tape You for triple j's Like A Version. The Los Angeles outfit have been cruising around the country for St Jerome's Laneway Festival and dropped into triple j's studio this morning to dial up national smooth levels to 1000.
This soul band sure know how to bring the groove. With their slow jam feels and confident vocals from frontlady Syd tha Kyd, they transform a fairly up-tempo hip hop track into a memorable funky number. It also helps that everyone in the band is super groovy! The jazz inflections and bluesy bass give the song a solid grounding and percussionist Christopher Smith seems to be the ultimate cool dude as he expertly rattles on cymbals and drums seemingly without moving a muscle.
However, Syd tha Kyd is the real selling point of this track. She strides through verse and chorus with ease and charm, delivering a performance that's just reallllllly tasty. Her vocals, matched with the crackly baritone of Matt Martians (Keyboardist), provide the right amount of punch. To add even more zing to this already spicy meatball, they have also included a bridge that will satisfy any Sapphic (lady lovin') urges. In short, it's pretty darn delicious.
However this performance should be no surprise to fans of the band. Two of the members, Syd tha Kyd and Matt Martians, are from hip hop collective Odd Future. Not to mention their album 'Ego Death' has been nominated for Best Urban Contemporary Album at the 2016 Grammy's. These guys are way too cool for school and it shows with this skilfully executed cover.
Though Laneway has been and gone for most of the country, punters in Melbourne and Fremantle have still yet to experience their legs of the touring taste maker festival. You can catch The Internet at either of the dates below.
ST JEROME'S LANEWAY FESTIVAL

SAT 13 FEB
Footscray Community Arts Centre – Melbourne
SUN 14 FEB
Esplanade Reserve – Fremantle
Get tickets HERE