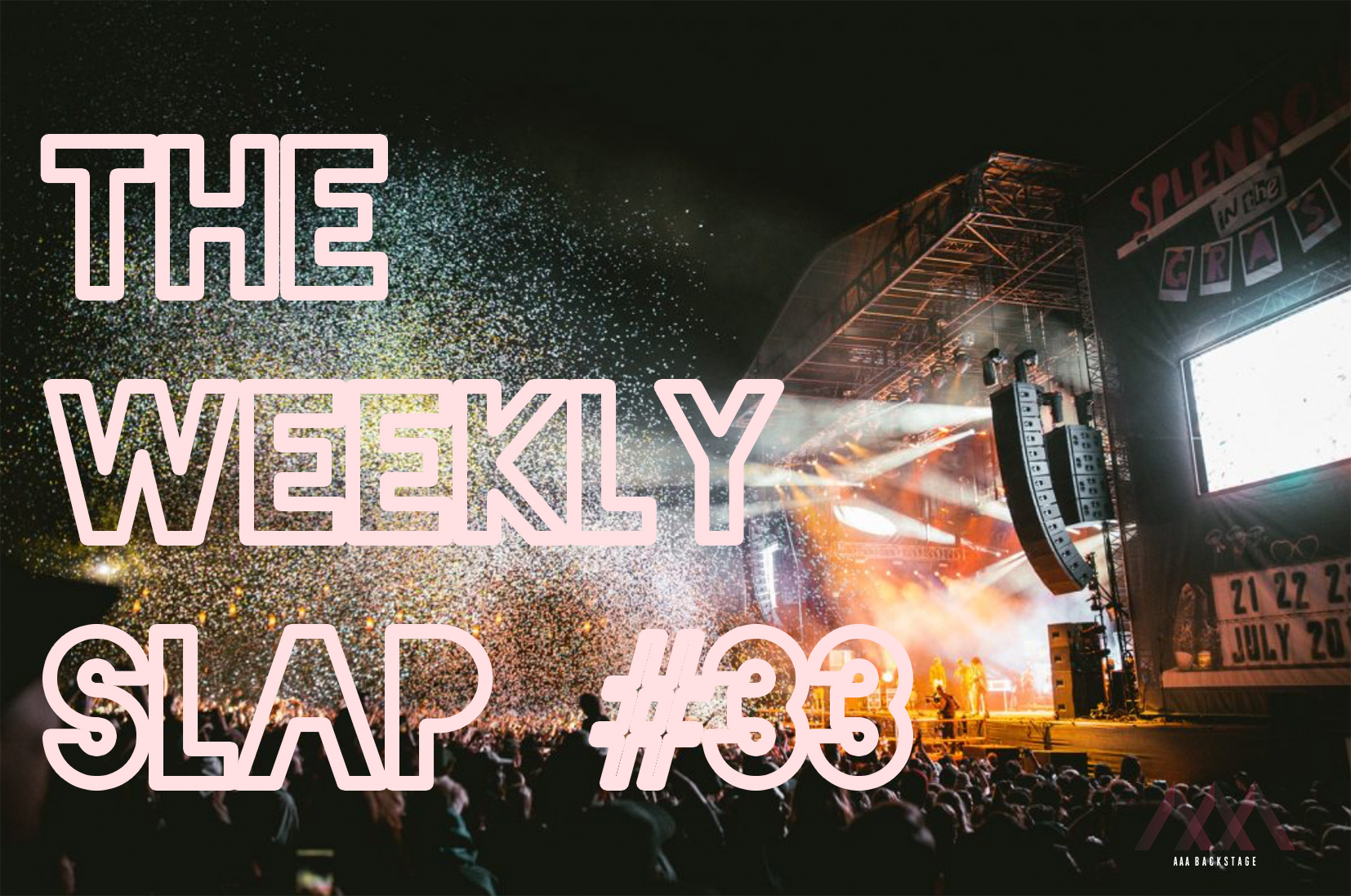 Welcome to the AAA Backstage Weekly Slap, where we give you the latest new music we think absolutely slaps! Each week we scour through our emails and bring to you the top hits from our inbox. So sit back, whack on your headphones, turn the dial to eleven and let us do the selecting.
Once again we're super spoiled for new music and we're sure you'll love this weeks additions! There is something in there for everyone.
To kick things off this week we're spoiled for some smooth sounds of Massivesad and his beautiful single, Re: Builds

Felid has provided us with some really interesting production on his latest single, Take It Off. Broken beats and a deep vocal delivery make for one hell of a tune!

The chill wave vibe is at peak on Dimond Saints latest offering, Redemption. It has an old school with a modern fidelity. Beautiful sounds.

Magic Bronson lift the vibe to maximum on their catchy indie-dance single, I Don't Know Man. Ultimate fun tune worthy of your house party mixtape.

Wavescapes will have you drifting off in perfect harmony with their very dreamy tune, Drift Away. It's actually an ideal listen while 'drifting away' to sleep or a perfect study partner.

Local artist Jaguar Jonze continues on her winning streak with her latest single, Deadalive. This track just screams cool.

Kowloon has really stepped it up on his latest tune, Come Over. This one is so damn catchy and oozes a cool that is like no other. (Office Fave)

Fialta's latest single, OMG is a pure indie delight. Catchy vocals added with smooth and uplifting melodies make for a great sing-a-long.

Maude Latour returns with a super cool alt-pop jam, Block You Number. This one is as it seems the ultimate goodbye track. Crank this one! It's a winner!

Mia Mormino has graced us with a beautiful anti love ballad, Same Old Story. A sultry ballad that has some beautiful vocals added with some big epic production.

Everything give us some classic indie vibes on their latest tune, Irrational Fears. Beautiful guitar work and dreamy vocals.

BIIANCO teams up with Trace to create the ultimate alt-pop anthem, I'm Not Invited. Big broken beats with some very impressive vocal edits.

Second Sky have had their catchy number Dayswimming remixed by Phase Materia. Absolutely ideal poolside listening!

Sombra provides you with your weekly industrial-electro anthem, Inside My Collar. Industrial beats with soaring beats make for an absolute tune!

Jafunk's single, The Badedest cops the ultimate compliment in the form of a remix from Kraak And Smaak.

Vanes takes you to the clouds on his latest single, Bad Loop. A very dreamy tune that will have your head swaying back and forth in a trance.

Hit the dance floor with Stemin's latest tune, Dare. The ultimate in funk essentials.

TOKiMONSTA's tune, Phases has received a beautiful remix courtesy of Bad Tuner. Really great percussion with exceptional production.

Madelline impresses on her latest offering, Late Night Text. Her beautiful very dreamy vocal delivery with have you in a romantic trance for days!

Closing out this week we have the high standard production courtesy of Catch The Rise and his beautiful tune, Translator. This one is perfect to help with late night study or anything where you need to lift production!

All these tracks and more are added to our Weekly Catch Spotify and Apple Music playlists. So if you want an easy option where you just push and play and shuffle away, we've got you!