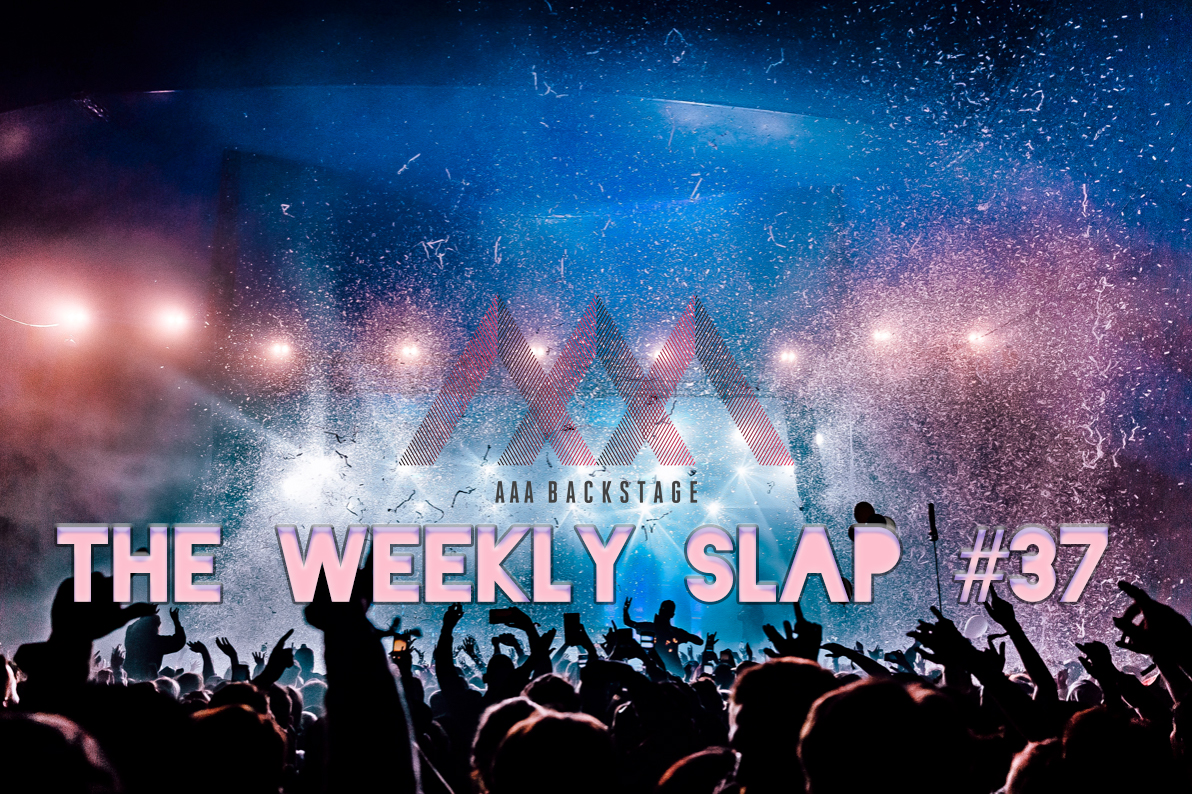 Welcome to the AAA Backstage Weekly Slap, where we give you the latest new music we think absolutely slaps! Each week we scour through our emails and bring to you the top hits from our inbox. So sit back, whack on your headphones, turn the dial to eleven and let us do the selecting.
In VideColour – Sugar Coated
Enter the wonderful artistic and neo world of In VideColour and his latest single, Sugar Coated. It's just shy of four minutes of sophisticated experimental psych-pop. It has hints of Tame Impala like synths and guitar work with some pounding beats, put that with a kind of new wave style electronic delivery and you've got yourself quite the anthem. It's big in it's sound and demands attention.  Only In VideColour's second single, this guy will be one to watch in the future!
Maddrigal – Alma
We don't usually come across atmospherical sounds quite like this one. Maddrigal delivers the goods on this dreamy and spaced our single, Alma. It takes the listener on a journey into soundscapes that are beautiful yet haunting at the same time. Classically trained from a young age, Maddrigal quickly began exploring a more electronic and experimental vibe, mixing synthesizer sounds with field recordings to create a very interesting sound. Alma is an awesome piece that is like pure winter sun. Drenching the listener in quite a haze.
Brendan Cope – Detour
Brendan Cope is a producer, singer-songwriter and multi-instrumentalist from Portland, Oregon in the USA. His latest tune, Detour is a perfect mix of indie, broken beat and electronica. Delivered in a romantic expressional vibe similar to that of James Blake. Harmonic vocals splashed over an impressive array of looped out sounds, this one is for those who love a bit of an aural daydream. All his production is done with his dog, Max by his side, if you listen closely you might even catch a bark in there. Detour is a great spark of sound and is ideal for your study or work playlists.
GRUME – Mental
Hands up if you love industrial techno! We have one hell of a vibe coming to you from Berlin-based artist, GRUME and his latest belter of a tune, Mental. A track inspired by the Berlin gay nightlife and industrial techno. It's deep and dark with some pounding drum patterns and huge soaring synths. Add that with some very eastern-european vocal stabs and you got yourself one hell of a late night tune. It's taken from his fourth coming EP, Traum(a) due out on June 25th.
"I am trying to highlight the ongoing and ever worrying tendencies of the gay society – the normalization of drug abuse, objectifying fellow humans and FOMO. Being a gay man I have a first-hand experience on these issues." – GRUME
waitwhat & RySHI – What Remains (feat. Daisy Tyler)
 Regular readers of AAA know we have a bit of a soft spot for an electronic alt-pop vibe and have we found our heaven with this new one from WaitWhat. They've teamed up with RySHI and Daisy Taylor to deliver the ultra catchy tune, What Remains. Making waves all over the world, racking up streams well into the millions, What Remains is a perfect addition to an already impressive catalogue. The production on this one is tight and lush all in one sitting, lyrically is a lot about reflection. This one is for those who love a big vocal vibe.
Killer Cashew – Shit Wine
Pure indie fans are not to worry, we haven't left you out this week. Enter Killer Cashew and their divine new single, Shit Wine. This one has a bit of a early psych, brit pop kind of sound. Add that with a real sing along vibe and you've got your next favourite jam. The track is about that time when you have to leave your home town to head off to what's next. That feeling of excitement in the unknown crossed with the sadness of leaving something behind. Shit Wine is best served with a shit cheeseboard (jokes it's a fucking cool track
Mild Wild – Slow Backwards
For those of you who prefer a bit more of a laid back, chilled out vibe then Mild Wild's latest offering, Slow Backwards is for you. A combination of dreamy guitar work and experimental vocals, this one is like a dream in motion. Mild Wild have quite an interesting process of production, all their tunes are recorded to cassette tape using a Tascam Portastudio! The result is fascinating exploration of sound. I try not to pick a favourite when putting together my picks of the week, but this one is right up my alley and I think it'll be up yours too. It's really really cool.
Benevolent Sun – Sun Down
Ever wondered what a sunset sounds like? Well I think we've found it in Benevolent Sun's new piece, Sun Down. This dream catching tune is an almost perfect addition to those lazy afternoon naps. It's actually going straight onto my 'reading time' playlist. The magical soft organ work in this tune really sucks you in and gets your head jiving from left to right. If lo-fi, dreamy beats are your thing, then this one is made for you!
She Lies – Changing Our Lives
I sweat there isn't a theme this week. Ok perhaps there might be. This new tune from Berlin based outfit, She Lies named Changing Our Lives seriously couldn't be excluded from this weeks slap. It's such vibe if you're into that post-punk-esque kind of vibe. Think slow lo-fi drum patterns with deep emotional bass and dark and mysterious vocal stabs. It's for those real electronic lovers and almost has a romantic feel. If you like chilled back beats, this one is for you.
The Pylons – The Chase
I couldn't leave out one for our indie-rock purists. Pylons have really delivered just that on their latest offering, The Chase. It's just over three minutes of very cleverly delivered indie sounds. Ideal for a live music room, it has everything packed in that you want from a fun rock jam. Soothing sing-along vocals, crunchy guitars and a big build up to a hip-swaying chorus. Pylons have a real knack for putting together indie gems that get stuck in your head, so be warned as you'll be singing this one for days!
All these tracks and more are added to our Weekly Catch Spotify and Apple Music playlists. So if you want an easy option where you just push and play and shuffle away, we've got you!