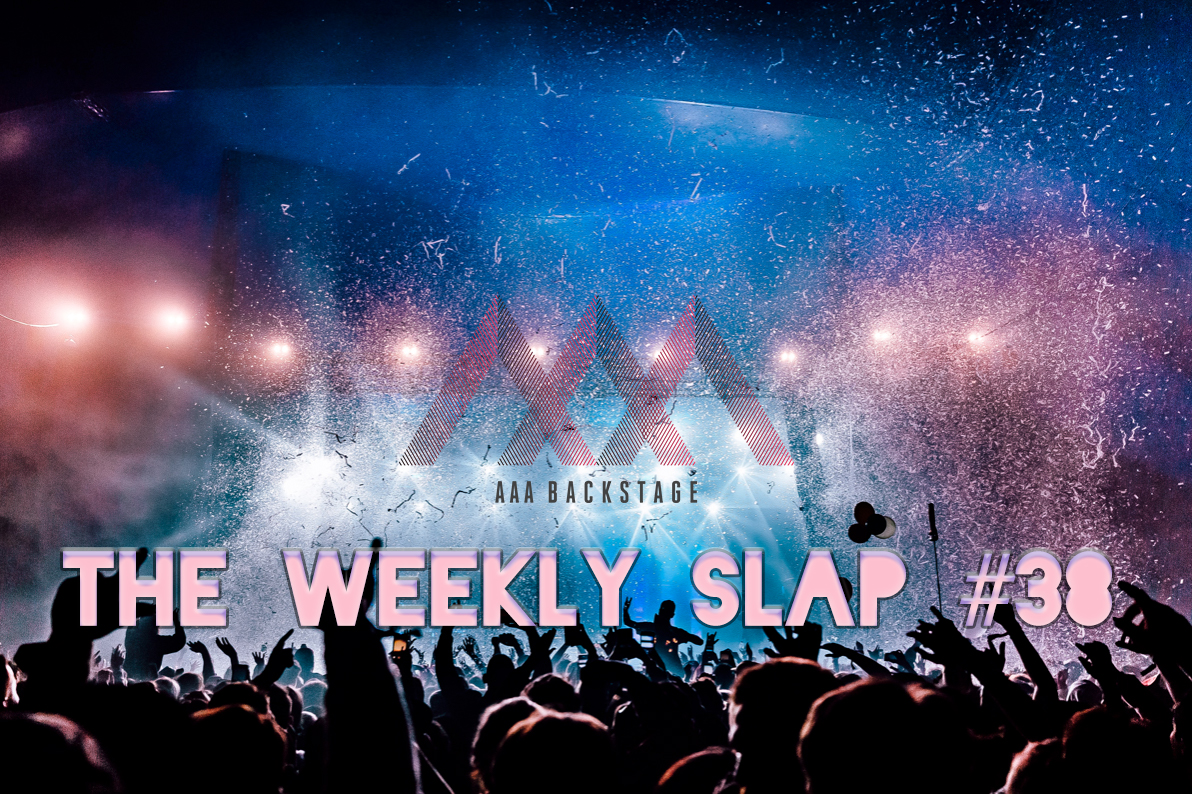 Welcome to the AAA Backstage Weekly Slap, where we give you the latest new music we think absolutely slaps! Each week we scour through our emails and bring to you the top hits from our inbox. So sit back, whack on your headphones, turn the dial to eleven and let us do the selecting.
Moon Museum – Contraptions
First up this week we touch down in Los Angeles and grab a dose of dreamy indie-rock vibes courtesy of Moon Museum and their latest offering, Contraptions. It's four and a half minutes of mystery, big reverbed guitars and popping drums, add that with some classic, almost 80's style vocal delivery and you've got yourself a jam! It has passion and drive and gets your toe tapping from the instant you press play. Contraptions follows on from their very well received 2021 releases, With You and Pleasures of Peace, it seems they're on a roll at the moment!
Emmrose – Afterlife
Enter the dark and synthy world of Emmrose and her new single, Afterlife. This one is for those who like their synth-pop with a bit of an edge. Written about a destructive and controlling relationship, Afterlife take on sound exploration from the get go. Chilling soundscapes blended with Emmrose's unique vocal delivery really put this track into one of my favourites for the week. It has a real haunting kind of vibe to it which really makes you want to hear more from this USA talent. Emmrose has been writing synth-pop vibes from a young age and has been releasing tunes since 2018, she has racked up some very impressive streams and has won awards for her work. We're excited to hear more from this impressive young talent.
Spierthumb – Kashmir
Kashmir is the sophomore release from UK producer, Spiderthumb. He's been putting together tunes from the age of 12! This new number has a real sophisticated dance floor vibe. Touching on and blending elements of deep house and lo-fi indie. It kicks things off with some hard hitting four to the floor patterns and then enters a journey state with space like chord stabs and some very impressive percussion. It seems like an ideal arrangement for an intergalactic cocktail bar in space. I personally think this one is a fitting piece for an opening DJ set.
Jewelia – Was It You Or Was It Me
This one is for you soft and cute pop lovers out there. This warm and enjoyable tune from Jewelia is a breath of fresh air with her dreamy vocal work, folk style guitar work and chilled out beats. The track is actually a bit of a sad tale as it's written about feeling alone and insecure after a failed relationship (we've all been there, right!?), while looking back and discovering all that went wrong. The general undertone aside, it's a fuzzy feeling track and when it landed on my desk I had to fit it in here as it really grabbed me with Jewelia's awesome delivery.
Lena Minder – Fall Again
Lena Minder is a indie-folk singer-songwriter from Berlin and her new single, Fall Again really hits home if you like your tunes fit for a campfire! It has a wintery feel but warms you right up with bopping percussion, smooth guitar work and Lena's wonderful vocal work. Her sound has a touch of a haunting feel to it. The production on her vocal delivery is very impressive and quite creative. Stack this one in your feel good, driving playlists. It's a beauty!
Turbo – Zucker
Enter the fun and quirky disco world of Turbo! His latest offering, Zucker is a arpeggiated, drum machine, synth-fused track that is right up the alley of those fans who enjoy traditional italo-disco vibes. Blending sounds of Kraftwerk, Daft Punk and even Moroder it's a real dance floor treat with elements of credible cheese. I really love this stuff as I'm a mega synth nerd. The mystery of Turbo is so great too, all we have on his back round from his press release is, 'Turbo was created from a sine wave'. Only a true synth fan would get this statement.
Lex Leosis – Wanted
Next up we stop off in Toronto and catch the vibes of queer alt-hip hop artist, Lex Leosis and her new single, Wanted. It's taken from the fourth-coming EP, Terracotta which is dropping this July. Wanted has a big and powerful vibe, striking you with it's espionage style bass-lines and hard hitting drum sampling. It's a perfect festival anthem of a tune with it's hi energy and fast paced rhythm. Lex Leosis is turning heads in her home country, capturing the attention of some major tastemakers and racking up some very impressive streams. If you like hi energy hip hop vibes then chuck this one on repeat.
Flublah – Still Young
Still Young is the debut single from Irish bedroom pop artist, Flublah! It's a super cute and impressive debut from Flublah. It has hints of a folk style delivery but it's sweetened with Flublah's super natural vocal delivery. Soft guitar work with airy and brushed drums make this tune super enjoyable on those sunny afternoons. It's a top way to enter the game for Flublah. She has been performing and writing music since her childhood and it's not hard to tell, Still Young is soaked in sophistication and maturity. We're very interested to see what's next for this young talent.
All these tracks and more are added to our Weekly Catch Spotify and Apple Music playlists. So if you want an easy option where you just push and play and shuffle away, we've got you!