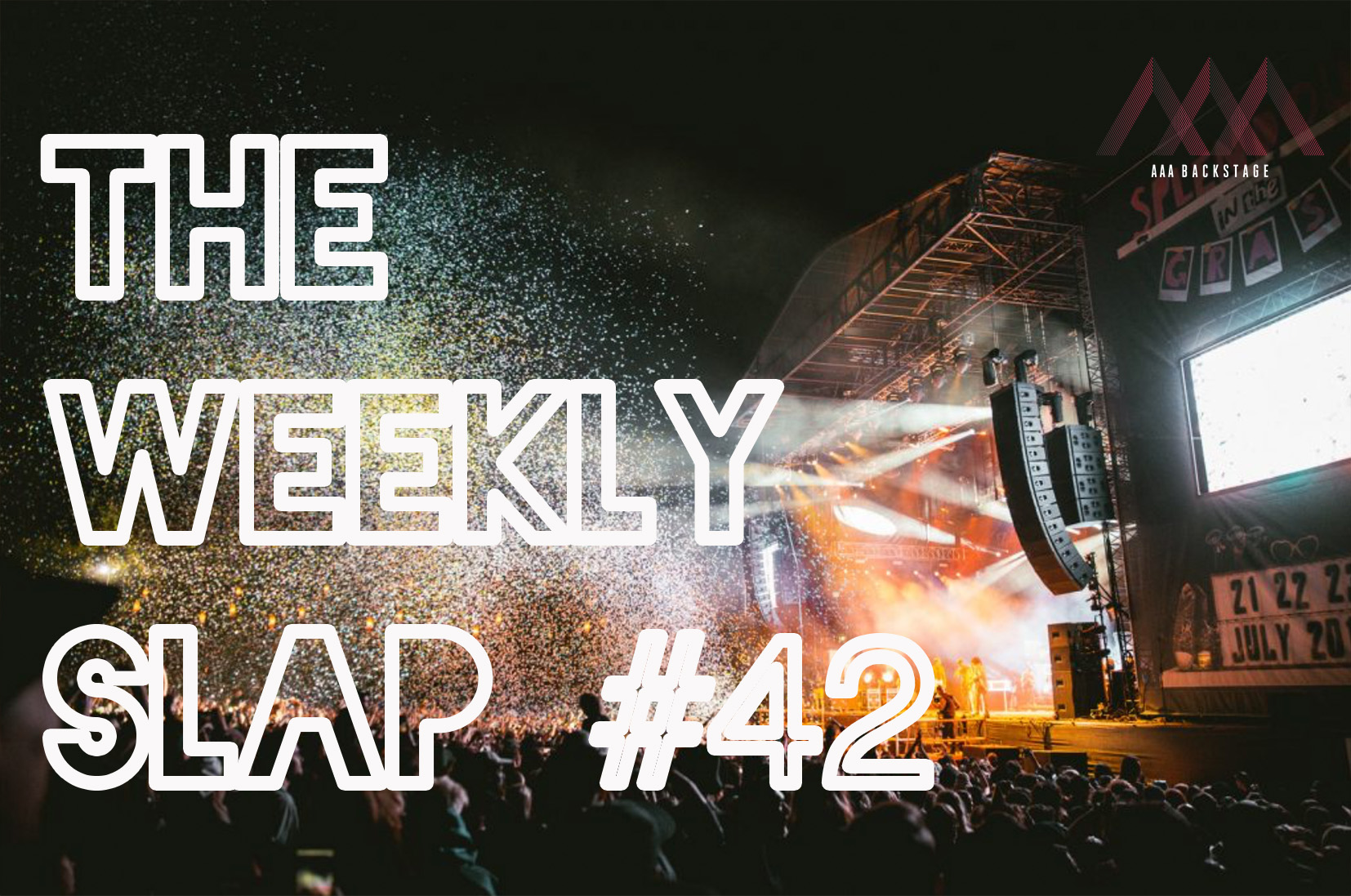 Welcome BACK to the AAA Backstage Weekly Slap, where we give you the latest new music we think absolutely slaps! Each week we scour through our emails and bring to you the top hits from our inbox. So sit back, whack on your headphones, turn the dial to eleven and let us do the selecting.
Once again we're super spoiled for new music and we're sure you'll love this weeks additions! There is something in there for everyone.
Vice Killer – Where Can I Find Some Peace
Kicking things off this week we bring you the bright indie sounds of UK four piece, Vice Killer and their recent single, Where Can I Find Some Peace. An authentic classic indie jam that flows with energy from start to finish. It has a certain mystery about it that is an ideal movie soundtrack hit!
The Mars McClanes – So Close
Keeping with the indie theme, The Mars McClanes bring you their latest offering, So Close. Flowing with genuine feels. Smooth guitar work and brushy drums bring this one to life, with it's campfire-esque sing-along moments this track is an ideal addition to your roadtrip playlists.
Birthdayboy – Blackwater
We're suckers for interesting indie-pop here at AAA and this one from US outfit, birthdayboy raised my ears when I first hit that play button. It gives me a sense of nostalgia in a way that I can't really explain. Think Yacht meets Confidence Man. It's a bubbly track I've had it on repeat since it first hit my desk and I think you will too.
Cates – Nice Guy
We're really rolling along with that classic indie-vibe this week and US four piece Cates has kept that vibe going with their new single, Nice Guy. This track is impossible to not enjoy, flowing guitars, punchy drum shots and a super fun vocal hook bring this track to life. It's a real winner in my eyes.
Alex McArtor – Oxygen Thief
If you're into moody synth-washed pop then the new track from Alex McArtor is going to be right up your alley. A darker track that's bold, dramatic but gives a washy kind of feel. This one fits well with a reading time or study playlist. I can't think of any other word to describe it besides 'cool'. Hit that play button and you'll get what I mean instantly.
Scapegrace – Scars
Scaperace's latest single, Scars, is a captivating and moody indie track that strikes a unique balance between uplifting and bold elements. With hauntingly emotive vocals and evocative lyrics, the mesmerizing melody and atmospheric instrumentals create an immersive sonic experience that draws listeners into a world of introspection and empowerment. A track that starts out slow and gentle it eventually builds into a big ball of energy.
The Kidney Flowers – Mutiny
It's not a Friday without a short fast dose of fast paced, hard hitting garage punk vibes and UK three piece, The Kidney Flowers give us just that. Their latest single, Mutiny is packed with noisy guitars, heavy hitting drums and a punchy vocal approach. I love this one, it's like a cultural masterpiece.
HANKY DARKO – Pettyca$h
We can't have a Weekly Slap without a track that actually slaps hard. This is the case with HANKY DARKO's latest signle, Pettyca$h. It's kind of hard to fit this one into a single genre, I guess it fits a perfect modern day pop vibe that requires no genre. It's one of those tracks that goes hard, it's filled with energy and hits home with big beats and a loud vocal delivery. Keep an eye on this guy, I think he might go places.
All these tracks and more are added to our Weekly Catch Spotify and Apple Music playlists. So if you want an easy option where you just push and play and shuffle away, we've got you!