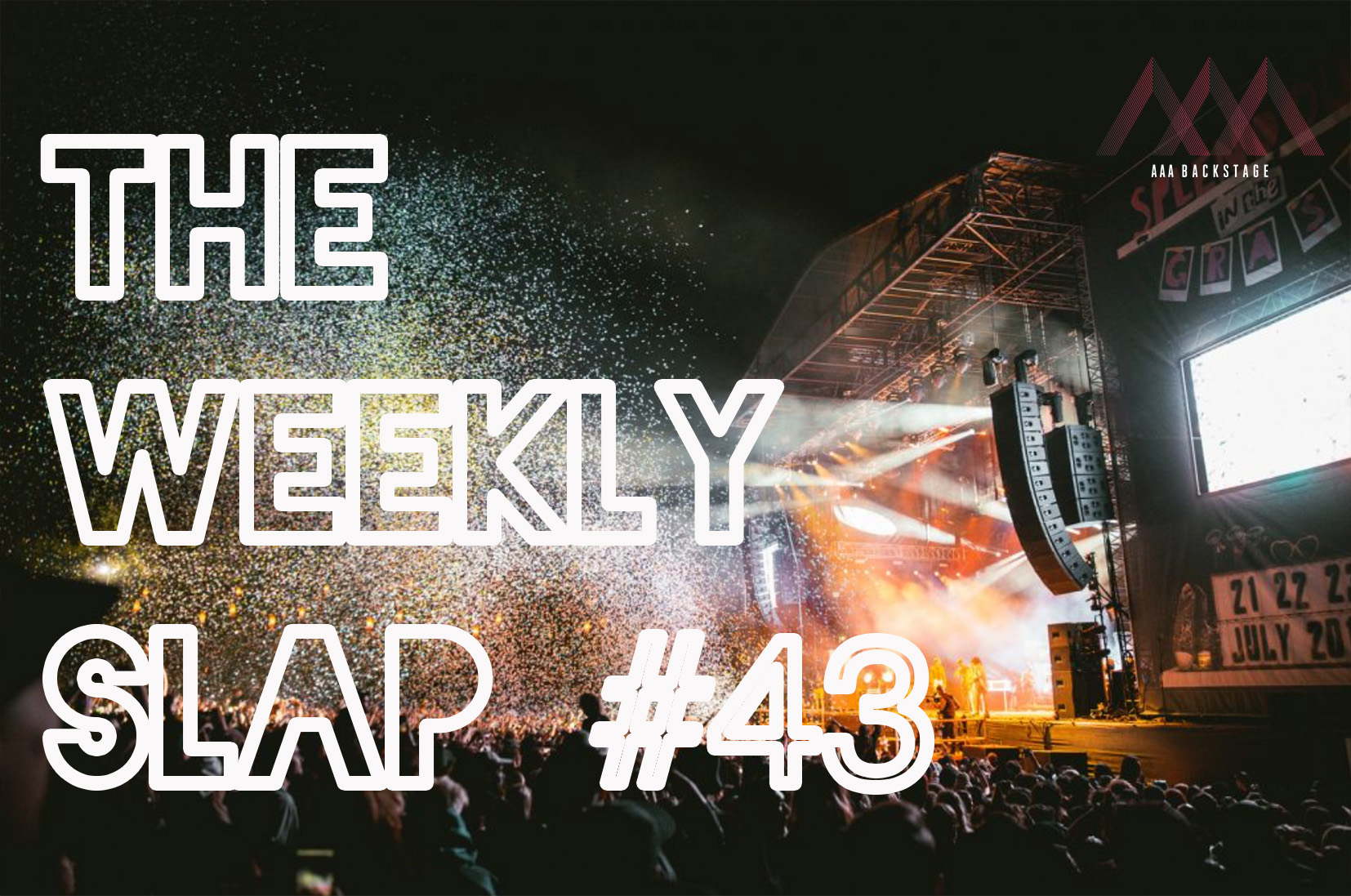 Welcome to the AAA Backstage Weekly Slap, where we give you the latest new music we think absolutely slaps! Each week we scour through our emails and bring to you the top hits from our inbox. So sit back, whack on your headphones, turn the dial to eleven and let us do the selecting.
Once again we're super spoiled for new music and we're sure you'll love this weeks additions! There is something in there for everyone.
New June – Talked Around It
First up this week we're smacked in the face with the infectious indie offering of New June and their brand new single, Talked Around It. Catchy guitar hooks mold in perfectly with the upbeat melodies and heartfelt lyrical offering. If classic indie vibes are your thing then this one is for you.
Amateur Horror – Break
Keen to hit the dance floor this weekend? Well let Amateur Horror get you into the mood. His new track, Break is perfect for your pre night out playlists. Packed with a diverse arrangement of grooves, this track is a pure dance floor heater. Soaring synths and thumping beats fill this one out and get you moving from start to finish.
Kid Lazuras – Words Are Just Another Way To Hide
Bringing the energy down just a tad is Kid Lazuras and his moody new jam, Words Are Just Another Way To Hide. If there are any Nick Cave fans checking out this playlist then this track is going to be right up your alley. Haunting piano work topped with a poetic vocal delivery make this one absolutely shine. It's certainly one of our favourites this week in the office.
Kevian Kraemer – Fly
If it has been an emotional week and you need a track to get you through your train ride home or traffic commute this afternoon then we have found your kryptonite. Kevian Kraemer's new track Fly hits you right in the feels. With it's humming melodies and emotionally charged lyrics, it's perfect to help you through that rough patch.
Driptones – Field Trip
Enter the joyous world of Driptones and their super addictive new single, Field Trip. As you can probably tell, we're big fans of upbeat indie jams in this office and Driptones offer all that and more on this track. It's filled with fun melodies and playful vibes. Another office favourite right here.
Midnight Shoppers – Animals
Any Foals fans out there? Midnight Shoppers new jam, Animals hits that sweet spot from the instant you press that play button. Filled with nostalgic vibes and upbeat energy, this one is a true treat to music fans of that late 00's era of music. Just like a morning coffee this one is sure to get you through that morning commute with cheer.
Huts On Beaches – Flying Over The French Riviera
Time to bring you into the experimental realm with Huts On Beaches latest offering, Flying Over The French Riviera. A pure electronic gem, this six minute instrumental is sure to hit home, with it's emotionally charged atmospheric chord progression and soft broken beats, it's a perfect study time find.
Big No No – Hold Your Horses
It's not a Weekly Slap without a summertime feel good jam is it. That's exactly what Big No No bring with their latest track, Hold Your Horses. Feel good melodies, infectious guitar riffs and a vocal delivery to just give you a real big grin. This one is nothing but fun!
Ochre – get off your horse and fight me like a man
When this one landed on my desk I was instantly impressed. One for the heavier fans, it's packed with an artistic energy that you don't find often, think Idles meets Eddie Current Suppression Ring. Ripping guitar work and thumping drums, it's one to throw in the headphones just before you have to go in and present that dumb monthly report to the rest of the office, it will instantly give you a world of confidence.
Laura Misch – Hide To Seek
Finishing off this week we bring the energy down to a calm flow with Laura Misch's latest single, Hide To Seek. Filled with lush flowing groove and harmonious beats topped with a dreamy vocal delivery, this is another one to add to your study time or reading playlists. It's packed with some serious vibe.
All these tracks and more are added to our Weekly Catch Spotify and Apple Music playlists. So if you want an easy option where you just push and play and shuffle away, we've got you!