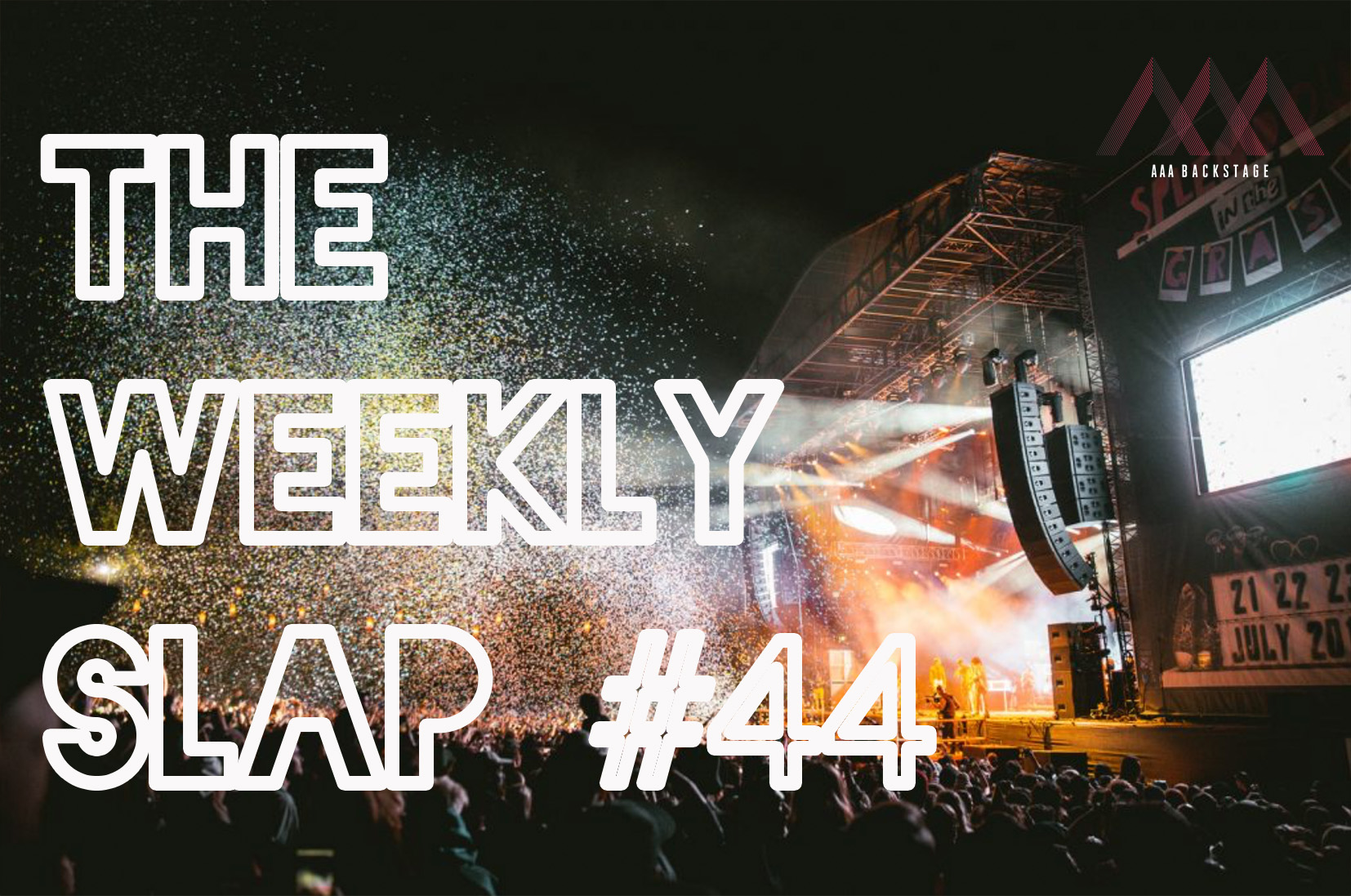 Welcome to the AAA Backstage Weekly Slap, where we give you the latest new music we think absolutely slaps! Each week we scour through our emails and bring to you the top hits from our inbox. So sit back, whack on your headphones, turn the dial to eleven and let us do the selecting.
Once again we're super spoiled for new music and we're sure you'll love this weeks additions! There is something in there for everyone.
Blenko – Through Your Teeth
We are kicking things off this week and entering the dynamic world of Blenko and her debut, Through Your Teeth. Already making a name for herself as the frontwoman for the band Anna Bones, Blenko sets the bar high with her debut release as a solo artist. This one gives me some nostalgic feels. It would be right at home during he glory days of indie in the mid 00's. DFA records fans this one is right up your alley.
Mia Lydia – Eberhard
Next up, we jump into the moody tones of Mia Lydia and her commanding new single, Eberhard. This one oozes a sophisticated attitude that rings into your soul. The emotional piece blends electronic soundscapes with an almost cinematic feel. This one is ideal for those downtime playlists. Keen to see more from Mia, her talent and audio vision is prime in this track.
Froglands PK – That's My Boy
Do you need a pick up on this Friday arvo? Froglands PK will instantly make you feel better with their latest offering, That's My Boy. It's filled with uplifting melodies and enchanting grooves. You can't help but smile when listening to this one. It's certainly a tune that you'll have on repeat just like we have all week.
Addi P – Cloud Stepping
This is another one of those tracks that will instantly lift your mood. Buzzing with a range of melody offerings, Addi P has a knack for just really cool shit. Cloud Stepping is a perfect title for this one, it's an ideal addition to a sunny day spent with good pals. This one is certainly an office favourite this week.
Good Neighbour – Signs
If you're after a bit of audio exploration, then Good Neighbours' latest single, Signs, is just for you. Fuzzy guitars topped with a reverbed psych vocal delivery make this one pop out. I've listened to this one a lot this week and it just keeps getting better with each play.
Nick Marks – Between Gigs
We're big fans of study beats here at AAA, and Nick Marks' latest track, Between Gigs, gives off some super groovy vibes. It's filled with a super wide range of musical offerings, from moments of funk to soothing Jazz tones. This one has it all a perfect addition to your laid back or work day playlists.
Postergirl – Piranha
Postergirl delivers a dominating performance on her latest single, Piranha. Commanding vocals and big beats contribute to this track's huge rush. It has a particular tone that is perfect for a mirror vent when you're in one of those moods. A powerful ballad from a powerful vocalist.
Terra Rouge – Fuck Boy
Looking for that 'fuck you' track to compliment a tough week? Need a track to send over to your recent fuck boy? Well this one is going to be right up your alley. Described by Terra Rouge as a 'fun hate bop that makes fun of the shitty men that everyone has had to deal with.' Fuck Boy sees the Melbourne-based artist at her best. Love this track! It's a true vibe!
Morrison Reed – Blood Money
Yes, it's a perfect title to an espionage or mafia movie, but it's also a perfect fucking title for this absolute slapping track from Morrison Reed. Blood Money has a soundtrack vibe that would be perfect in a Guy Ritchie film. This one is like Nick Cave went to a hip-hop party and didn't leave until sunrise.
Wax Jaw – Be The Man
Closing out the Weekly Slap we sun it up with the super fun offering of Be The Man from Wax Jaw. This one gives me those summertime beachside vibes. It's beaming with energy and huge sing-along moments. Grab your skateboard and head to the beach! A perfect track for your fun playlists! I love the energy this track offers.
All these tracks and more are added to our Weekly Catch Spotify and Apple Music playlists. So if you want an easy option where you just push and play and shuffle away, we've got you!