Triple J's Hottest 100 2015 Wrap Up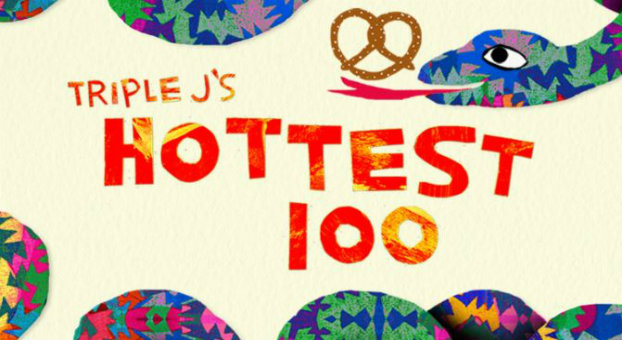 It's official! The Rubens' Hoops was the most popular song released in 2015, according to triple j listeners. Australia Day saw the world's biggest annual musical democracy in full swing, counting down the 100 most popular songs released in 2015. Australia's youth broadcaster received over two million votes for more than 16,000 songs vying for a place in Australia's most celebrated radio event.
While The Rubens took out top spot, the true winners of the 2015 countdown have to be Tame Impala and Courtney Barnett, who both celebrated four entries each in the Hottest 100.
Check out The Rubens' reaction when they realised Hoops had topped 2015's Hottest 100:
Honourable mentions also go to overseas artists The Wombats, Major Lazer, CHVRCHES, Florence + The Machine, and hardcore outfit Bring Me The Horizon, who all had three songs in 2015's Hottest 100.
Thankfully, Macklemore & Ryan Lewis' not-at-all original Downtown placed at #18, falling short of their winning 2012 Hottest 100 entry Thrift Shop.
Here's the 2015 Hottest 100 Top 10:
#1 Hoops – The Rubens
#2 King Kunta – Kendrick Lamar
#3 Lean On – Major Lazer ft. MO & DJ Snake
#4 The Less I Know The Better – Tame Impala
#5 Let It Happen – Tame Impala
#6 The Trouble With Us – Marcus Marr & Chet Faker
#7 Do You Remember – Jarryd James
#8 The Buzz – Hermitude ft. Mataya & Young Tapz
#9 Can't Feel My Face – The Weeknd
#10 Magnets – Disclosure ft. Lorde
For the full list click HERE
The Rubens have defended triple j after the Sydney Morning Herald this morning criticised the annual countdown, describing is as "unsurprising and safe".
"That's an interesting way to describe something voted by people…it's not meant to be surprising.
"[We] thought certain songs would have been much higher or lower…and that all comes down to personal taste," the band said.
For those who love to know the data behind 2015'a countdown, there were voters from 172 countries, the average tempo for an entry was 123 BPM (bangerz everywhere), Australian artists received 54 entries (54%), and there were over 2,500 registered triple j Hottest 100 parties!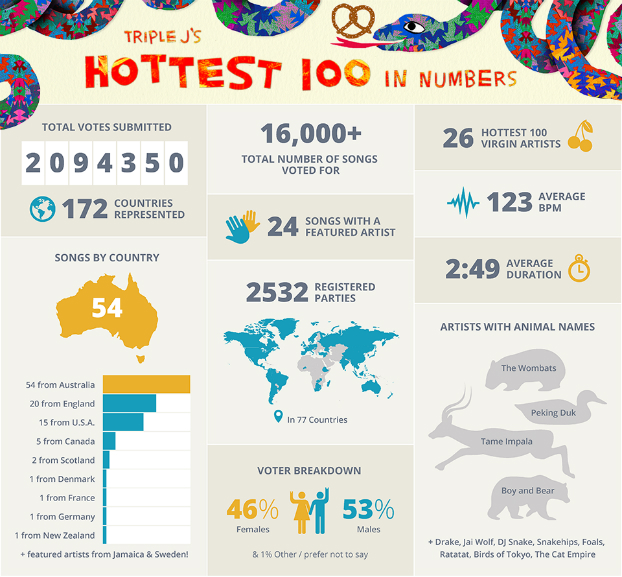 If you missed the live countdown yesterday it'll be replayed this Saturday on triple j, while on Sunday the Hottest 200-101 songs of 2015 will be counted down.