SHOWS ADDED: The Used Announce Mammoth Australian Tour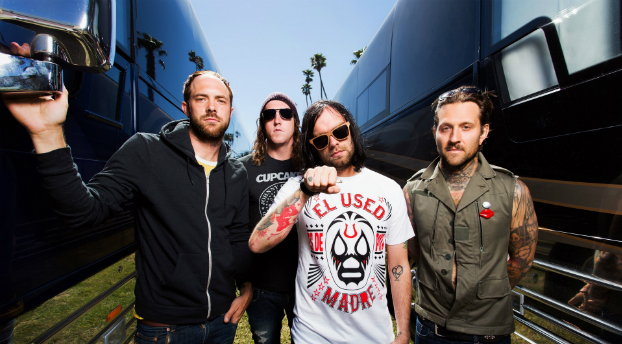 American alt-punk veterans The Used have announced that they will be playing their self-titled album 'The Used' in full one night and then 'In Love And Death' in full the next night in every city the band play.
'The Used' was released in 2002 and has been mentioned as an huge inspiration to many bands such as Escape The Fate, Crown The Empire, and A Static Lullaby.  Before the self-titled album was released, drummer at the time Brandon Steineckert sent their rough recordings to producer John Feldmann from ska-punk group Goldfinger. The Used said that after hearing A Box Full of Sharp Objects, Feldmann went the extra mile to help them find a record label.

"This is a song about being proud of what we were doing for once and and loving music to the fullest. The idea actually came from some sheet music. A Box Full Of Sharp Objects represents a measure of time on paper with quarter notes. We all thought that it was a very strong metaphor.
"It's the song that we really realised that working together and having the different influences we all have could work really good for us," the band said.
Their second album 'In Love And Death' was released in 2004 and is their most successful album to date. The album peaked at #6 on the Billboard charts and by 2006 had sold over 642,000. The title and music reference is a number of tragic events that surrounded vocalist Bert McCracken during the album's production, notably the death of his pregnant girlfriend.
The lead single of their second album 'In Love And Death' Take It Away saw The Used experimenting progress in a heavier and faster direction. It hit #13 in the US Modern Rock Tracks by Billboard Magazine and is a real fan favourite.
The tour is a once in a lifetime opportunity for fans of The Used to experience and enjoy what should be a super nostalgic tour, reminding 'Used fans young and old exactly why they fell in love with these iconic albums.
The Used 2016 Australia Tour Dates
MON 21 NOV
170 Russel, Melbourne (New Show)
TUES 22 NOV
170 Russel, Melbourne (New Show)
SAT 26 NOV
Metropolis, Freemantle
SUN 27 NOV
Metropolis, Freemantle
TUE 29 NOV
HQ, Adelaide
WED 30 NOV
HQ, Adelaide
FRI 2 DEC
Enmore Theatre, Sydney (Upgraded)
SAT 3 DEC
Enmore Theatre, Sydney (Upgraded)
MON 5 DEC
170 Russell, Melbourne
TUE 6 DEC
170 Russell, Melbourne
THU 8 DEC
The Tivoli, Brisbane
FRI 9 DEC
The Tivoli, Brisbane
Tickets are available Monday 2nd May, 9am AEST.
Get Tickets HERE