VIDEO SPOTLIGHT: Captives Make Dinosaur's Bad Vibes Extinct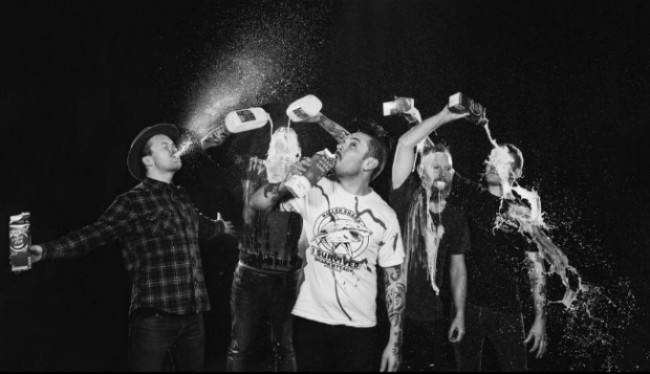 Tasmanian punks Captives have hit us with the first taste of the upcoming debut album and it's nothing short of brilliant! It's looking like the remainder 2016 is going to a big one for this boisterous bunch with the release of the album's lead single Vines with a hilarious music video and national tour.
Vines tells of the struggles of a punk-loving T-Rex who just refuses to let life's mishaps keep him down. Filmed with some friends over the course of a few hours this insane video encompasses the true spirit of punk and reminds us to keep the good times rolling. One could even say it's a "Jurassic Fark-ing Party!"
Captives have come a long way since their inception in 2013. After absolutely destroying ears with their 'Butterflies, Diamonds and Lightning" EP, this party-loving bunch have rounded up all the right ingredients for this new anthem.
Featuring Aaron Damon's signature growls, huge pounding drums, and aggressive guitar work, Vines will get your adrenaline pumping and is a sure sign Captives have got plenty of rowdy punk goodness up their sleeves!
Anyone who has seen Captives live knows how ridiculous things get! They'll be venturing across the country on a nine-date onslaught, hitting Adelaide, Melbourne, Sydney, Hobart, Davenport, Brisbane, Geelong, Bendigo and Ballarat.
Get involved with Captives' Vines below!
Captives 'Vines' National Tour

FRI 2 SEP
Crown & Anchor, Adelaide
SAT 3 SEP
Cherry Bar, Melbourne
SUN 4 SEP
Frankies, Sydney
FRI 9 SEP
The Brisbane Hotel, Hobart
SAT 10 SEP
Tapas Lounge Bar, Tasmania
SAT 17 SEP
The Milk Factory, Brisbane
THURS 29 SEP
The Workers Club, Geelong
FRI 30 SEP
Golden Vine Hotel, Bendigo
SAT 1 OCT
The Eastern, Ballarat
Get Tickets HERE