Watch Members Of My Chemical Romance, The Used Hit Stage with Andy Black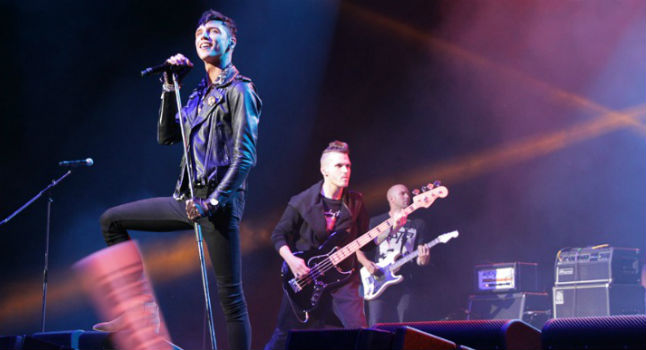 Black Veil Brides frontman Andy Black, has unleashed a bombastic performance following his recent solo album 'The Shadow Side'. Black's show at the Alternative Press Music Awards (APMA's) in July recently revelead a shock surprise to rock music fans.
The footage revealed Black's performance was accompanied by a dream "super group". Some of alternative rock's biggest band members such as Mikey Way of My Chemical Romance and Quinn Allman of The Used made a surprise debut along side Black delivering fans a solid performance.
As a unit the dynamic trio executed an explosive performance, dishing out tracks such as We Dont Have To Dance and Louder Than Your Love, off Andy Black's solo album 'The Shadow Side'.
Way (My Chemical Romance) and Allman (The Used) are well known for their own bands' success over the past decade. Both band members have delivered some of the most well known songs to their genre. My Chemical Romance is well known for hits like Im Not Okay, Helena, and Teenagers, and The Used had massive hits such as Taste Of Ink, I Caught Fire, and Im A Fake.
Through out the entire performance it was clear how much the "super band" fuelled Black's presence and energy on the stage. Black seemed invincible with his dynamic back up members. For fans it was a performance to remember!
You can check out the performance down below!