Welcome to the Wisdom Machine: A Journey Into The Mind Of The Bennies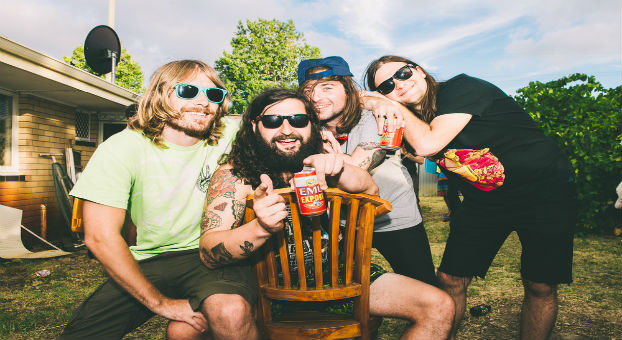 Welcome to the Wisdom Machine: A Journey Into The Mind Of The Bennies.
Melbourne party rockers The Bennies have unleashed their highly awaited second album 'Wisdom Machine', full of 11 invigorating tracks to fuel the soul.
The album is spearheaded by Party Machine, a song that almost wasn't to be. Written only days before entering the studio, the Psyfari (trance camping festival three hours out of Sydney) inspired the "disgusting party-banger" as singer Anty Horgan jokingly puts it.
Party Machine is everything you'd expect from The Bennies boys. A throwback to old school punk-rock, combined with a memorable chorus and synthesised keyboards, Party Machine is a must have on any summer playlist…and nothing says summer more than a keyboard solo groovy enough to turn any Australia Day BBQ into a beer pong tournament.
Not only will it keep you and your mates thinking "just one more tinny won't do any harm", it's guaranteed to have crowds losing their sh*t on the upcoming tour.
However, 'Wisdom Machine' is far more than just party anthems, with the album seeing The Bennies explore new directions, from the politically charged and Sabbath inspired Corruption, to the seven minute epic O Brother, Where Art Thou?
Further, the album saw some familiar faces giving their two cents artistically. Maybe We Could Get High features guest vocals from Jay Whalley of Frenzal Rhomb, with whom the band toured alongside NOFX in late 2014, as well as Ezra Kire from New York band Morning Glory who sings on Turning Around. 
There was also their gritty pub-rock performance on triple j's Like A Version, which saw TISM's (He'll Never Be An) Ol' Man River get an aggressive facelift from the Melbourne four piece.
The Bennies will tour 'Wisdom Machine' across Australia in March and April with support from Minneapolis punk band Off With Their Heads and Adelaide's Hightime.
THE BENNIES 'WISDOM MACHINE' TOUR
SUN 27  MAR
Club 54, Launceston
MON 28  MAR
Brisbane Hotel, Hobart
THUR 31 MAR
Adelaide Uni Bar, Adelaide
FRI 1  APR
Corner Hotel, Melbourne
SAT 2 APR
Amplifier, Perth
SUN 3 APR
Prince of Wales, Bunbury
WED 6 APR
Transit Bar, Canberra
THUR 7 APR
Cambridge Hotel, Newcastle
FRI 8 APR
Oxford Art Factory, Sydney
SAT 9 APR
Woolly Mammoth, Brisbane
SUN 10 APR
Sol Bar, Maroochydore
Get Tickets HERE