Why We're Excited For Discourse's Debut 'Megalomaniac'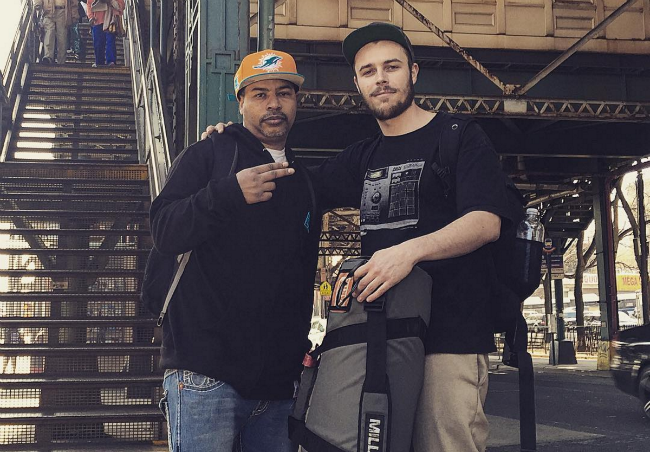 There's no doubting Discourse's commitment to the Australian hip hop scene, spending over a decade invested in the culture and music around it. With production credits on classic hip hop releases, Discourse has managed to permanently mark himself as Melbourne's premiere producer, DJ, filmmaker, and even label owner, running one of the most genuine Aussie hip-hop labels Crate Cartel.
Whilst working with so many artists, Discourse has never fully focussed on releasing his own music, until now! He's announced he'll be releasing his debut producer project titled 'Megalomaniac', with the added hype of some seriously huge names from both overseas and Australia cropping up on the tracklist.
The lead single from the album, The Martyr, is an incredible collaboration with Brisbane's own Lazy Grey. Discourse's rough, boom-bap production really shines with its haunting guitar riffs, shrilling piano chords, and absolutely unforgiving drums. Therefore, it's no surprise the 'Banned In Queensland' rapper works perfectly on the track, delivering brutal bars revolving around society and political conformance. The tune is is an all-round savage introduction to the project.
Second single Testimony is another incredible tune which drips that classic New York sound, and who better to represent than Bronx's own AG, acclaimed rapper from the duo Showbiz & AG and hip-hop royalty Diggin' In The Crates, featuring Big L (RIP), Lord Finesse, and Diamond D.
Known for his work with production kings DJ Premier and Showbiz among others, AG fits right in over Discourse's simplistic yet marching beat. Atmospheric piano keys and synthesisers layer over with a punchy guitar strum and snappy drums, the instrumental no doubt pays homage to Discourse's idols. On top of that there's no doubting AG's lyrical capability, packed with charisma and raw bravado, after 25 years grinding there's a damn good reason why…
The album's latest single Be About It sees Discourse journey down to Queens, linking up with yet another New York rapper,Tragedy Khadafi. Dropping even more heat, the producer this time focusses heavily on a piano driven beat, which unsurprisingly works perfectly with Khadafi's style. Applying his incredible flow, wordplay, and just general rhyme scheme, the tune is nothing short of incredible. Among this, classic DJ cuts glide in forming as the hook of the track, accentuating the emphasis the track has on the classic.
With these three tracks boasting absolutely incredible production alongside some serious lyricists, there's no doubt this project is going to be one hell of an album. If you thought this lineup of collaborators so far was incredible, the full list leaves no stone unturned. Journeying across the water to the UK and back to Aus, Discourse has managed to pull artists such as Agallah, Starvin B, Cappo, Ramson Badbonez, Maundz, and so many more. With his debut now under a week away, we're on the edge of our seats!
Discourse's debut album 'Megalomaniac' will be released July 28!
If you're liking what you're reading add AAA Backstage on Snapchat [aaa-backstage] and follow us on Instagram [@aaabackstage]