With Confidence Release New Single & It's A "Keeper"!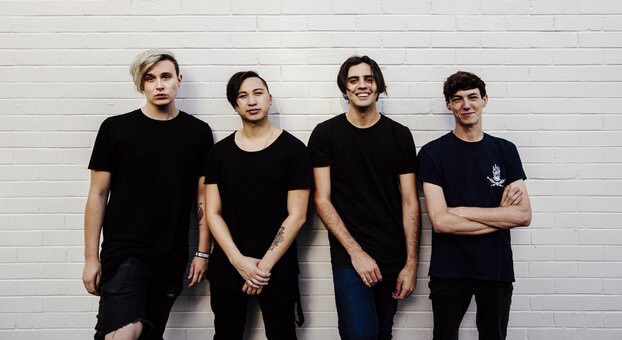 Sydney pop punk rockers With Confidence have released the music video for their latest single Keeper, which sees the band moving away from the traditional sound of the genre.
The song, written about keeping feelings of anxiety and depression inside rather than sharing them, is the first single from the quartet's forthcoming debut album 'Better Weather'.
With Confidence have been making waves in the Australian alternative rock and pop punk scene, supporting the likes of You Me At Six, Real Friends, and The Maine. The 4-piece are also about to embark on a tour of Japan with label mates The Wonder Years, a UK tour with As It Is, and then finishing it all off by playing the Vans Warped Tour in the US later this year.
The music video for Keeper sees the band playing in a grungy concrete room lit by flickering lights, as the walls are progressively painted graffiti-style with lyrics from the song. The camera continually cuts from the band, with their instruments slung low in true pop punk fashion (and the occasional guitar spin), to the graffiti artist as he sprays lines such as "is someone there/I need your help" on the walls.
The song itself is a great track, balancing between the ever-converging genres of pop punk and alt-rock. The vocals have the distinctive pop punk produced delivery during the verses, while the choruses are where the alt-rock genre shines through with overdriven guitars and strong vocals. The guitar sound is also reminiscent of Fall Out Boy's 'From Under The Cork Tree', giving that classic nostalgic tone for pop punk fans.
With Confidence's debut album 'Better Weather' is due for release on Friday 17th June.
With Confidence Australian Tour Dates
THU 24 MAR
Last Night, Perth
SAT 26 MAR
YMCA HQ, Perth (All Ages)
FRI 8 APR
Fowler's Live, Adelaide (All Ages)
SAT 9 APR
Arrow on Swanson (All Ages)
TUE 12 APR
Drone, Newcastle (All Ages)
WED 13 APR
The Brightside, Brisbane (All Ages)
FRI 15 APR
38 Berwick St, Brisbane (Under 18s)
SUN 17 APR
Oxford Arts Factory (All Ages)
Get Tickets HERE