Young Henrys Reveals Lineup For Rock n Roll Circus at SXSW Sydney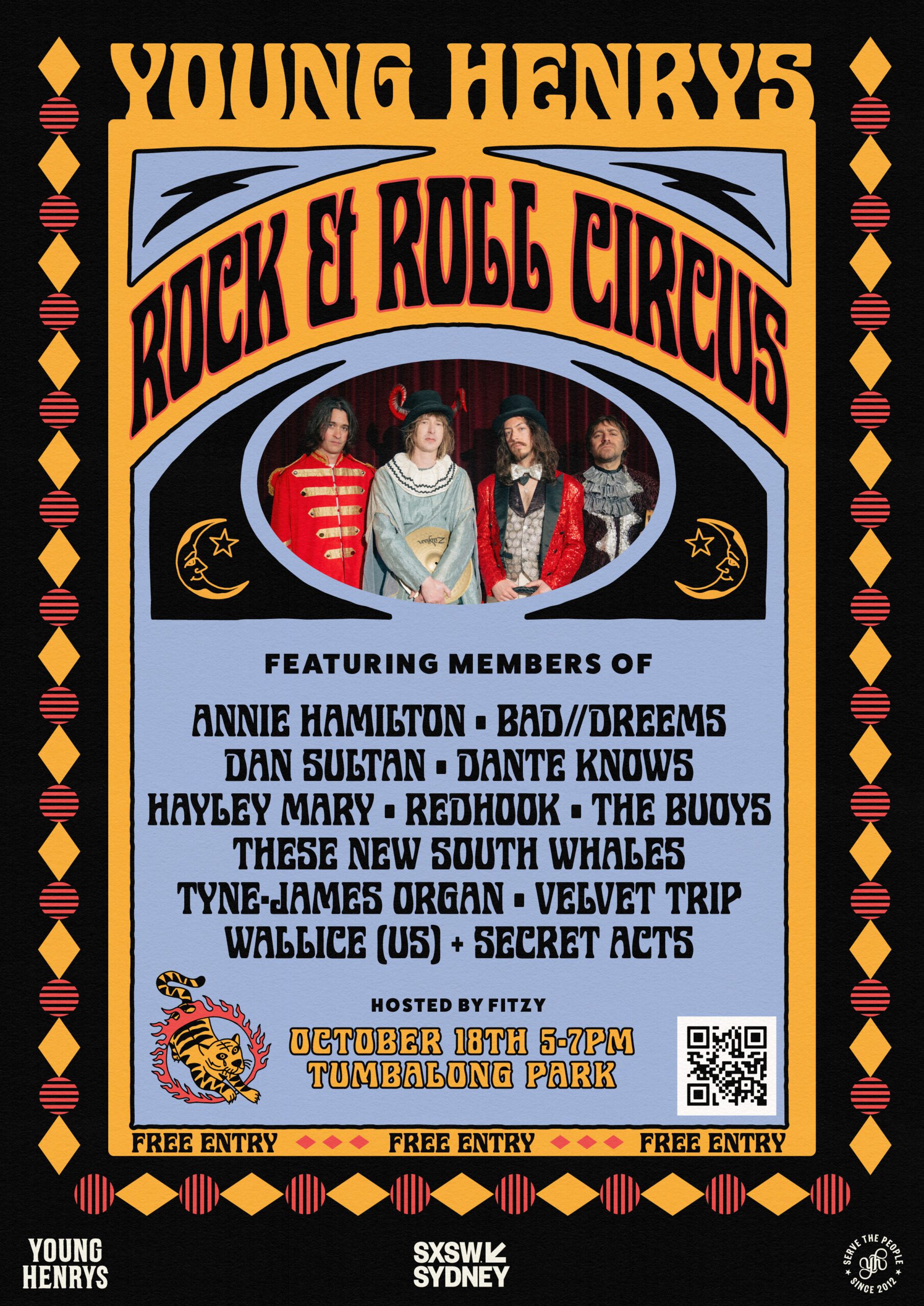 The musical maestros of the Inner West and iconic craft brewers, Young Henrys, are all set to kick off Australia's most colossal music, screen games, and technology conference and festival with a bang. Holding the prestigious title of the Official Music Festival Major Sponsor for SXSW Sydney® 2023, these Newtown artisans will be taking centre stage at Tumbalong Park on Wednesday, October 18, with their legendary Rock & Roll Circus, promising to be its grandest edition yet. A stellar lineup of both local and international music stars will be belting out beloved rock & roll classics, making this an unmissable event for anyone's social calendar.
The forthcoming Rock & Roll Circus marks yet another thrilling chapter in the harmonious collaboration between these two cultural powerhouses. While SXSW Sydney® is a recent addition to Sydney's cultural tapestry, Young Henrys has long been a vibrant cornerstone of its community. The festivities will commence with the unveiling of exclusive, festival-themed Newtowners, giving a taste of what's to come. With an unwavering commitment to nourishing Sydney's creative minds, artists, musicians, hospitality stalwarts, and hometown heroes, Young Henrys and SXSW Sydney® have an array of enchanting surprises waiting in the wings.
Prepare to be dazzled by an extraordinary ensemble of talent as Young Henrys brings together a star-studded cast. Joining forces with the YH House Band, which includes luminaries from The Preatures, The Delta Riggs, and True Vibenation, a stellar lineup of performers will set the stage ablaze. The bill boasts the likes of Dan Sultan, Wallice (US), Ben Marwe (Bad Dreems), Hayley Mary, Tyne-James Organ, Emmy Mack (RedHook), Jamie Timony (These New South Whales), Zoe Catterall (The Buoys), Zeppelin Hamilton (Velvet Trip), Annie Hamilton, and Dante Knows. Anchored by the charismatic Fitzy as this year's host, get ready for a Rock and roll Circus that promises to be grander and more sensational than ever before!
"Young Henrys Rock & Roll Circus is a musical event we have been throwing for nearly 7 years now. It sees our various friends from all manners of the musical realm coming together to collaborate and have fun on a communal stage. We are so proud to be able to bring this awesome celebration of music and mates to the very first SXSW Sydney and for the crowds of Tumbalong Park in Darling Harbour to be treated to a stellar line-up of national and international guests, enjoying the expression of music together" – Oscar McMahon, Young Henrys Co-Founder/Director.
In the tradition of SXSW®, Young Henrys will also be adding a sprinkle of excitement by unveiling a surprise roster of special guests as the event draws nearer. Stay tuned and keep a vigilant watch on their Instagram page for the freshest updates and thrilling announcements!
If you're a fan of good drinks, good music, and good times, this is an event you can't miss. Round up the crew and head to the Young Henrys Facebook page here to RSVP.
YOUNG HENRYS ROCK & ROLL CIRCUS AT SXSW SYDNEY®
TUMBALONG PARK, DARLING HARBOUR
WEDNESDAY, OCTOBER 18
5PM – 7PM
FREE ENTRY + YOUNG HENRYS POP-UP BAR
RSVP HERE
YOUNG HENRYS ROCK & ROLL CIRCUS LINE-UP (IN ALPHABETICAL ORDER)
ANNIE HAMILTON
BEN MARWE (BAD DREEMS)
DAN SULTAN
DANTE KNOWS
EMMY MACK (REDHOOK)
HAYLEY MARY
JAMIE TIMONY (TNSW)
TYNE JAMES ORGAN
WALLICE (US)
ZEPPELIN HAMILTON (VELVET TRIP)
ZOE CATTERALL (THE BUOYS)
+
SECRET ARTISTS (TBA)
BACKED BY THE YH HOUSE BAND FEATURING MEMBERS OF THE PREATURES, THE DELTA RIGGS AND TRUE VIBENATION.