A Boutique Festival Like None Other: Maroochy Music & Visual Arts Festival
Strength for strength, Maroochy Music & Visual Arts Festival may just be Australia's best boutique festival. Granted, there is Meredith Music Festival and Golden Plains, but now in its third year, MMVAF continues to hold its own.
To understand why MMVAF should be a required mark in everyone's calendar, we must first recognise what makes a good boutique music festival. It's no lie that more than half the music festivals kicking around end in, "…and Arts Festival." Adding that moniker to the end phrase of any Australian festival should, ultimately, indicate there is something alternative to the music to be shown. Well, in MMVAF's case, they certainly deliver in that regard. The visual artist bill is regarded as highly as the artist bill with this year's edition bringing out the likes of Lucas Salton and Beastman. Littering the festival grounds will be art installations including inflatable art pieces which light up as the day draws to night.
A philosophy drives deep at MMVAF: If you're not from here, welcome home.
Let's discuss Maroochydore, more specifically, the Sunshine Coast—where MMVAF resides. Barely considered a stretch from Brisbane and the Gold Coast, striking only an hour or two in the car, the Sunshine Coast is bookended by beach, forestry and small pockets of CBD. For the foodies, Maroochydore, and on a much wider scale, the Sunshine Coast, is a haven for the hipster cafes free of landline telephones and seafood restaurants on the water that scream perfection. While in the region for MMVAF, read some food guides and take the time to appreciate and explore the culinary appetisers of the Sunshine Coast.
Music venues are a little few and far between in Maroochydore—the biggest name puller being the Sol Bar. So when August strikes in the region, music fans rejoice and celebrate the festival's arrival. Think of it this way, MMVAF could be considered north Queensland's Splendour the Grass—people from far-and-wide flock to its gates with the bill naming some of the country's, and with this year's lineup, the world's names.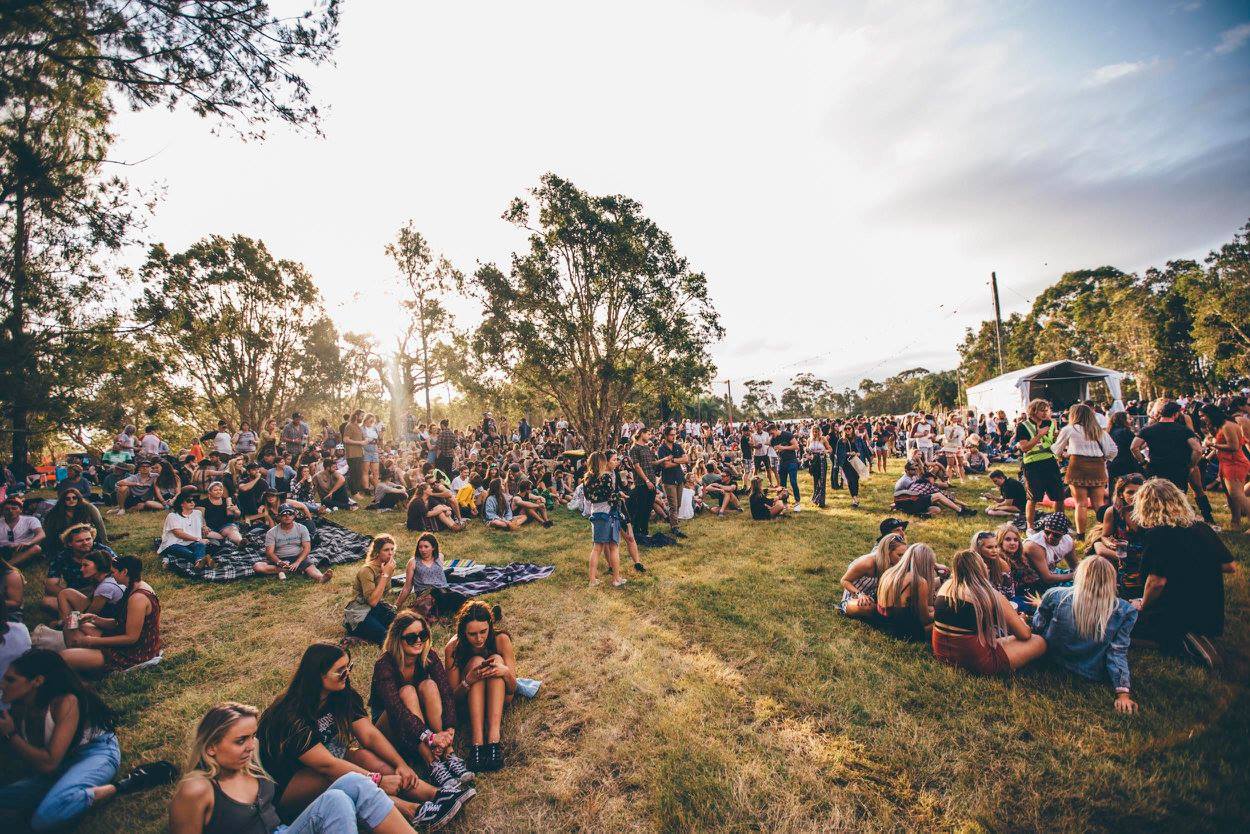 Let's take a moment to appreciate MMVAF's self-employed "no dickhead" policy. You've been there before: sitting on the shuttle bus to any other festival, some bloke assuring you he's Mace Windu and that he actually has the power of the force. At MMVAF, you can be sure this won't be the case. It's all good vibes: bean bags screwed around the grounds, art installations to take edge off, etc. There's a clever strategy in place at the festival and, as the organisers so kindly put it, "act in a manner that your Mother would be proud of."
Finally, and for some this is MMVAF's most important aspect, the truly incredible music lineup! Last year, Maroochydore's infamous grounds were graced by the likes of Matt Corby, Peking Duk, Client Liaison, Alex Lahey and way too many more to name. This year, however, it seems to have even topped itself yet again with some legendary names such as Bernard Fanning and Alison Wonderland seeing out the night. The Presets will be making their live return at the MMVAF stage and, we can only assume, the electro-punk duo will have new music to share. Gang of Youths will be showcasing their sophomore record along with festival favourites Horrowshow and Northeast Party House. MMVAF will be graced by an international presence this year with Norway's stunning, Anna of the North.
Tickets to MMVAF are currently on sale HERE with a few different packages available. See the full lineup below and for more details on the festival, go HERE. Read over last year's MMVAF review HERE and photos galleries HERE and HERE.
Maroochy Music & Visual Arts Festival 2017 Lineup
Alison Wonderland
The Presets
Bernard Fanning
Gang of Youths
Horrorshow
Anna Of The North (Norway)
Northeast Party House
Skegss
Mallrat
Billy Davis & The Good Lords
OKBadlands
Visual Arts:
Lucas Salton
Beastman
Frank & Mimi
Bonnie Jenkins
Wintercroft
Design Lab vs Tiamco
Rhys Gordon
Conrad Square
Sepik Totems