AAA Backstage's Guide To Download Festival 2019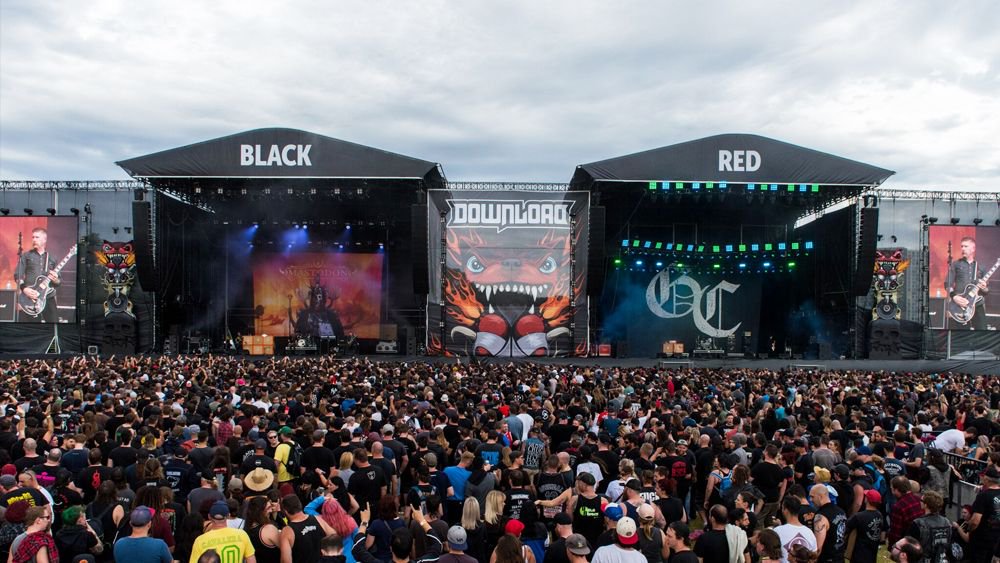 After announcing their expansion into Sydney mid-last year, it's all looking high for Download Festival Australia. With an excelled first year off the ground, the heavy music festival is back again this weekend with an even better lineup than before. Although it's been somewhat plagued with the dropout of headliner Ozzy Osbourne, there's still plenty to see.
Two of the four Big 4 are coming Down Under—being Anthrax and Slayer—as well as giant internationals such as Ghost, Judas Priest, Rise Against, Alice In Chains and more. The lineup is also chuffed with local talent such as Eat Your Heart Out, Justice For The Damned and Polaris.
Set times for both festivals have also been released. You can check them out HERE. Tickets are also still available for the festival, grab one HERE.
Redhook
For you Sydney attendees, you're in some serious luck. Thanks to triple j Unearthed, Redhook are opening the stage for the day and you will want to arrive early for them. Being one of the most buzziest buzz acts around, Redhook are not only playing the Australian leg of Download Festival, but also the acclaimed and OG Download Festival in UK. This is all thanks to their impressive energy and magnetism on stage.
High Tension
Speaking of an energetic band on stage, High Tension have energy in droves. The Karina Utomo-lead group is definitely heavy and make no compromise for their death metal incursion. Now three albums deep, and still riding very high from last year's 'Purge', the four-piece are an early attraction at the festival, though an important one if you want an early head bang to get you nicely warmed up.
Polaris
What's there to be said about Polaris that we haven't already? This band is forever killing it and they do not stop touring. It's commitment to the cause and their undying passion that sets Polaris apart from the rest. Still riding ever so high from their 2017 debut, 'The Mortal Coil', Polaris still know how to tear up a mosh pit, please an audience and make some heads move.
Converge
Stretching between hardcore punk, metal core and even some math-rock, Converge might be the dark horse of Download Festival 2019. It's not for everyone, but what you'll get is a thrilling experience heavy with tracks from their 2017 opus, 'Dusk In Us'. And for a mid-afternoon set, you're in for something extremely heavy.
Ghost
Also another band that's fond of heading our way is the melodramatic doom metal kings, Ghost. Once staples to Big Day Out, Ghost are real showman. Not only does their music bang, but their on stage performance is enthralling to say the very least. With an unfortunate clash with Slayer (see below), it will be a difficult decision to see which band will close out your Download Festival 2019 experience. Either way, you chose correctly.
Slayer
These will be Slayer's final shows in Australia. Should there be any other reason not to see them? Having been staples of the long-dormant Soundwave Festival, Slayer are kings of thrash metal and no strangers to Australia. They're likely to throw some special tracks into their usual musings as it is their farewell tour.
Download Festival 2019 Lineup
Redhook (Sydney only)
Windwaker (Melbourne only)
joining…
Airbourne
joining…
Justice For The Damned
Aversions Crown
Devilskin
Eat Your Heart Out
The Beautiful Monument
joining…
New Years Day
joining…
Sum 41
Pennywise
They Art Is Murder
Twelve Foor Ninja
Slaves
Voyager
joining…
Polaris
joining…
Ozzy Osbourne
Slayer
Judas Priest
Alice In Chains
Ghost
Rise Against
The Amity Affliction
Anthrax
Halestorm
Behemoth
Me First And The Gimme Gimmes
Code Orange
Andy Black
The Fever 333
War On Women
High Tension
Outright
Ruins
Alien Weaponry
Download Festival 2019
SAT 9 MAR
Parramatta Park, Sydney
MON 11 MAR
Flemington Racecourse, Melbourne