Album Review: Broods 'Conscious'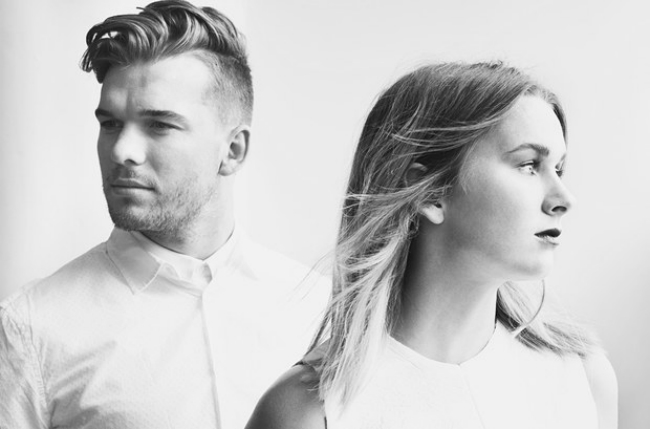 New Zealand duo Broods have released their sophomore album 'Conscious', and it's electronica heaven! Following the release of their 2014 debut album 'Evergreen', the sibling duo have stuck to their signature ambient synthesiser-driven pop bangers sprinkled with a couple of emotional slow burners for good measure.
Kicking off with their lead single Free, Broods set the direction for where the album is headed: Dirty bass lines, the use of every synth line imagined, and Georgia Nott's angelic voice smashing high notes left right and centre! Free is full of booming percussions and hand claps that make for an all electronic power ballad.
Second track of the album We Had Everything uses a simple organ melody accompanied by a happy-go-lucky vocal line, exhibiting similarities to something you'd hear from Katy Perry. The corniness of this track does get a bit much, but in saying that there's not a bad word that can be said about Nott's god damn voice!
"This is an emotion-drenched track that ends with both songstresses playing vocal tug-o-war, resulting in goosebumps everywhere!"
Are You Home holds a thriving bass melody that provides a darker tone compared to their previous songs. The verses bear plenty of synth notes paired with a subtle chiming metallic sound that is hardly recognisable at first listen, but once noticed adds great texture to the track. It's also a song that anyone that has been or is in a sh*tty relationship can relate to, with its raging lyrics such as "Are you home tonight? Are you alone tonight? You've been drinking and I'm thinking always/ thinking/ Yeah, I just want to fight!".
Heartlines is a feel-good song that belongs in every sappy rom-com ending ever! The second single from the album, Heartlines sticks with the vibe that Broods have taken on for the 'Conscious' album. Beginning with a soothing almost acapella verse, this track gives off a calming feel until the chorus kicks in with a wall of instrumentation.
Featuring the vocals of Swedish singer Tove Lo, Freak Of Nature holds a slow piano driven intro that beholds both Tove Lo and Georgia Nott beautifully harmonising with each other. Freak Of Nature is a slow track that combines smooth synths and a stomping beat that jumps up a notch throughout the chorus. This is an emotion-drenched track that ends with both songstresses playing vocal tug-o-war, resulting in goose bumps everywhere!
Continuing the more subdued style of the previous track, All Of Your Glory is an absolute tear jerker and definitely a highlight of the album! With heartfelt lyrics and quiet instrumentation this track compliments the complexity of Nott's voice, showing off the pitch range and power her voice can grasp. All Of Your Glory is a 10/10 slow burner that'll have you reaching for the Kleenex in no time!
Worth The Fight debuts the dreamy and almost whispering vocals of multi-instrumentalist Caleb Nott. The song is crashing drums and tambourine bangs a'plenty! Worth The Fight is basically an all-verse build up to the powerful and heartfelt chorus, "I pray I will/I pray I might/Still be somebody worth the fight".
"Broods experimenting with a more melancholy sound has certainly paid off!"
As the album comes to an end Broods slowly taken their cutesy tone darker and darker. Giving off a lethargic feel by the slow and (super) low beat accompanied by piercing harmonies, Bedroom Door is a heart-wrenching track that will not only stick in your head, but will leave you envious of the crazy high notes Georgia Nott can hit.
Ending track and the album's title, Conscious is the most unique sounding track on the album…and a personal favourite. Beginning with a typical Broods' sounding verse, the song takes a darker turn when the chorus hits and Georgia Nott's soft and cutesy vocals turn into a muffled and distorted yell, "Wait for the explosion!". Finishing the album on a definite high, Broods' experimenting with a more melancholy sound certainly pays off!
All in all, listening to this album can be compared to eating a bag of pop rocks, very sweet and poppy! Having not drifted away from the sounds of their previous album, 'Conscious' is 13 tracks of synth-pop heaven that finishes on an impressive bang. Very funky, yet very (emphasis on the very) Broodsy!
Check out Brood's collaboration with Jarryd James HERE