Album Review: Dope Lemon's Debut Album 'Honey Bones'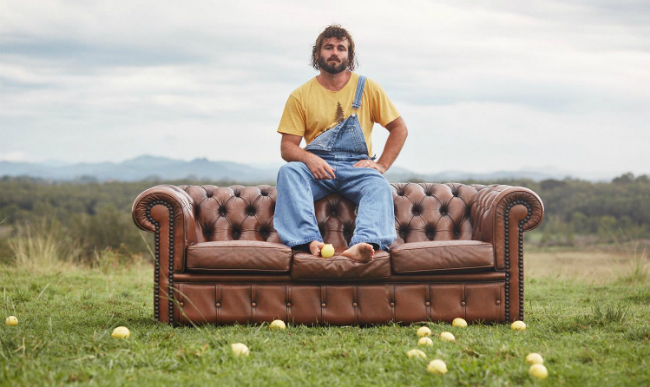 Angus Stone (sans sister Julia), and his good friends have dropped the debut album for their side project Dope Lemon, 'Honey Bones'. Unlike what comes from when you and your friends get together to jam in a basement, 'Honey Bones' is a beautiful psychedelic-folk album that brings so many different ideas together seamlessly in one release.
The album takes you on a psychedelic journey, working you through so many different effects and layers that at times it can be a struggle to be entirely sure what you're hearing and how it was created. The album is best experienced with headphones on, as the mixing definitely plays with your perceptions as sounds move around your ears and you're caught in the swirling maelstrom of effects.
Opening track Marinade is a sneak peak of what's to come later in the album. It's a slow track that never reaches any great tempo or crescendo, but the mixing showcases some of the upcoming trippiness, moving all of the bassier tones to one side, while the chiming guitar and vocals are moved to the other.
"F*ck Things Up would be the perfect addition to sitting on a balcony watching a summer storm roll on by."
Lead single Uptown Folks is the rockiest that 'Dope Lemon' ever manages to get, with its faster tempo and more punchy drum beat. However it's no headbanger, and by all measures, it would still be considered a chilled out number. From here on in the album starts to disintegrate in the most enjoyable, psychedelic way, and congeals itself back together after an entirely relaxing and trance-like headtrip.
Third track F*ck Things Up is far closer to the acoustic Angus & Julia Stone roots than most songs on the album, however by the end of the track you're in the perfectly relaxed state of mind to experience the later tracks. The song builds from the foundation of simple guitar chords overlaid with subtle but intricate finger plucking, adding piano, trumpet, and synthesiser notes without losing its relaxed attitude. F*ck Things Up would be the perfect addition to sitting on a balcony watching a summer storm roll on by.
How Many Times presents a dark and broody sonic pallet from the beginning, using reverb, delay, and palm muting to give the rhythm guitar an almost synthesiser-like background sound. A slow-and steady drum beat is offset with a constant syncopated beeping sound. Throughout the track other instruments fade in and out, from eerie lead guitar and a slowly pulsating bass to whirling synth and organ sounds. These all combine to give the song the effect of melting slowly around you.
Stonecutters abruptly interrupts the trance-like state that How Many Times placed you in, as you're shaken out awake by the jarring sounds of banjo. However, like you were awoken by you annoying mother on the weekend, no sooner have you been shaken you roll back over into your dream state as the banjo fades into its own effect driven soft riffing. Like the previous track, this is backed up with a steady beat and smooth bass line and the sound of seemingly far away guitars chiming.
Title track Honey Bones takes an exotic excursion, employing a tabla drum beat and constantly jangling sitar in the background to paint a meditative backdrop, which is only further layered by long, drawn out bass notes, and repeating guitar lines. Almost inaudible vocal harmonies add a psychedelic texture to this track in the chorus.
"…four songs in you're taking a psychedelic journey thanks to unadulterated guitar effects and fun layering."
After descending into the lull of psychedelic trance, you're slowly awoken through the remaining tracks. The Way You Do emphasises an electronic beat, and bluesy, almost honky-tonk piano riffing, while the vocals are resigned to the background of this track. Won't Let You Go continues with the slightly electronic sound to its percussion, and slowly fades in the vocals over the course of the track with multiple washed out guitar lines.
Finally, Best Girl is a slow, acoustic, and at some times, plodding finale, that never quite manages to wake you from its dreamy state. A combination of lazy strumming, whispered vocals and soft harmonies continue to keep you in a half-awake state that is a perfect come down from the psychedelic trance you've experienced through the middle of the album.
'Honey Bones' is at its best when it totally throws your expectations out of the door. Initially, you're led to believe that it would be a throw back to one of the earlier Bob Dylan albums that first used electric guitar work. However, four songs in you're taking a psychedelic journey thanks to unadulterated guitar effects and fun layering. At times it sounds like a young guitarist who has tried to apply every guitar effect in his arsenal, but with a beautiful polish and direction that comes with an experienced songwriter like Angus Stone.
Read our interview with Angus Stone HERE